The drive to help people help themselves is inherent to knowledge sharing. There's business value in operationalizing knowledge management (KM), sure, in supplying timely content to a customer service rep or to an enterprise client trying to navigate onboarding.
But in the end, it's always about people.
People search, click, and read. They gather the information, too.
Traditionally, that process involved interviewing subject matter experts (SMEs) and distilling that information, two-stepping through feedback, maintenance, and publication, and then starting the whole process over in a new quarter.
While the above process works, it's not true collaboration. A collaborative knowledge sharing culture has a few more layers to it:
A shared awareness and vision with the other teams in the business.
Ongoing efforts toward educating and including everybody in the content development process.
KM maturity or more simply, how well your organization can identify, capture, and index information, can impact onboarding new employees, promote collaboration between departments, and resolve issues for new and existing customers alike. It can also impact the information available to add to a Generative AI tool, because the more information there is, the better answers it can provide.
That customer support agents are a critical part of the KM process is no surprise. Support agents are often fielding byproducts of inadequate KM… While this might seem like it's costing dollars, it's actually a huge opportunity.
For many enterprises, achieving a high level of KM maturity requires some profound changes. And that includes knowledge sharing.
Why It's Difficult to Build a Culture of Knowledge Sharing
If anything is about people it will be complicated. Even professionals with the best intentions have their foibles, including how and when they choose to share (or hide, according to the Harvard Business Review) knowledge.
In the ongoing effort to build strong organizational knowledge sharing, an enterprise tends to encounter a few obstacles:
People think their value will decrease if they give up hard-earned knowledge.
Employees don't have tangible incentives for sharing knowledge.
It's difficult to capture and circulate nuanced tacit knowledge.
At the executive tier, few leaders prioritize KM strategy.
The latter point is a glaring one. Only 7%-8% of companies are at the most mature phase in the Technology Services Industry Association (TSIA) Enterprise Knowledge Management Maturity Model. This is where interest in and funding for KM initiatives happens.
How to Make Knowledge Sharing an Organization-Wide Priority
Start by answering the right questions about your organization.
First, who should be involved in the knowledge sharing process? The answer will lead you to the team members with skin in the game, from executives to SMEs. Discussing the current KM capturing process with these different perspectives will also help you spot gaps.
Next, how do you incentivize participation in knowledge sharing? Will participation be tied to some form of compensation, or incorporated into job descriptions? Maybe certain business units (customer service, for example, or the KM team) will scrutinize knowledge sharing during performance reviews.
By answering these two questions, teams can lay the groundwork for four specific strategies that help grow knowledge sharing culture.
1. Streamline KM Across the Organization
Take the most mature KM activities from various business units and standardize them across the organization. At the very least, each business unit should have dedicated KM functions and roles, though that might not be the case at the outset.
In addition, implement some form of governance. Many enterprises now appoint dedicated knowledge leaders to oversee the governance of their KM programs.
Industry Best Practice: The Agile Doc Sprint
An agile doc sprint is a collaborative authoring session that takes place over hours or days. During the sprint, SMEs themselves will author or update content, rather than tasking a non-expert writer to create everything from scratch.
With Google, Atlassian, and Adobe as examples of successful enterprise case studies, the agile doc sprint is a terrific means for improving knowledge contributions and quality.
2. Make Content Improvement Part of Support Agents' Day-to-Day
That customer support agents are a critical part of the KM process is no surprise. Support agents are often fielding byproducts of inadequate KM. Most commonly, this is when a customer seeks an answer, but cannot find it. Instead of self-serving on a digital channel, they pick up the phone and contact support for expert help.
While this might seem like it's costing dollars, it's actually a huge opportunity. Agents can create and improve knowledge content while talking with the customer, right in the flow of their daily work.
After all, who has their fingers more precisely on the pulse of customer experience than support agents?
Industry Best Practice: Knowledge-Centered Service (KCS)
Knowledge-Centered Service (KCS) is, according to the Consortium for Service Innovation, "a proven methodology for integrating the use, validation, improvement, and creation of knowledge into the workflow."
The KCS methodology encourages support agents to create and reuse content as they solve cases. When implemented, KCS supports knowledge sharing in a few ways:
Agents help other agents solve similar cases in the future (content reuse).
Agent-sourced content fills gaps in the knowledge base, leading to shorter resolution times and reduced case submission, i.e. deflection.
Agents continuously improve content accuracy in real time.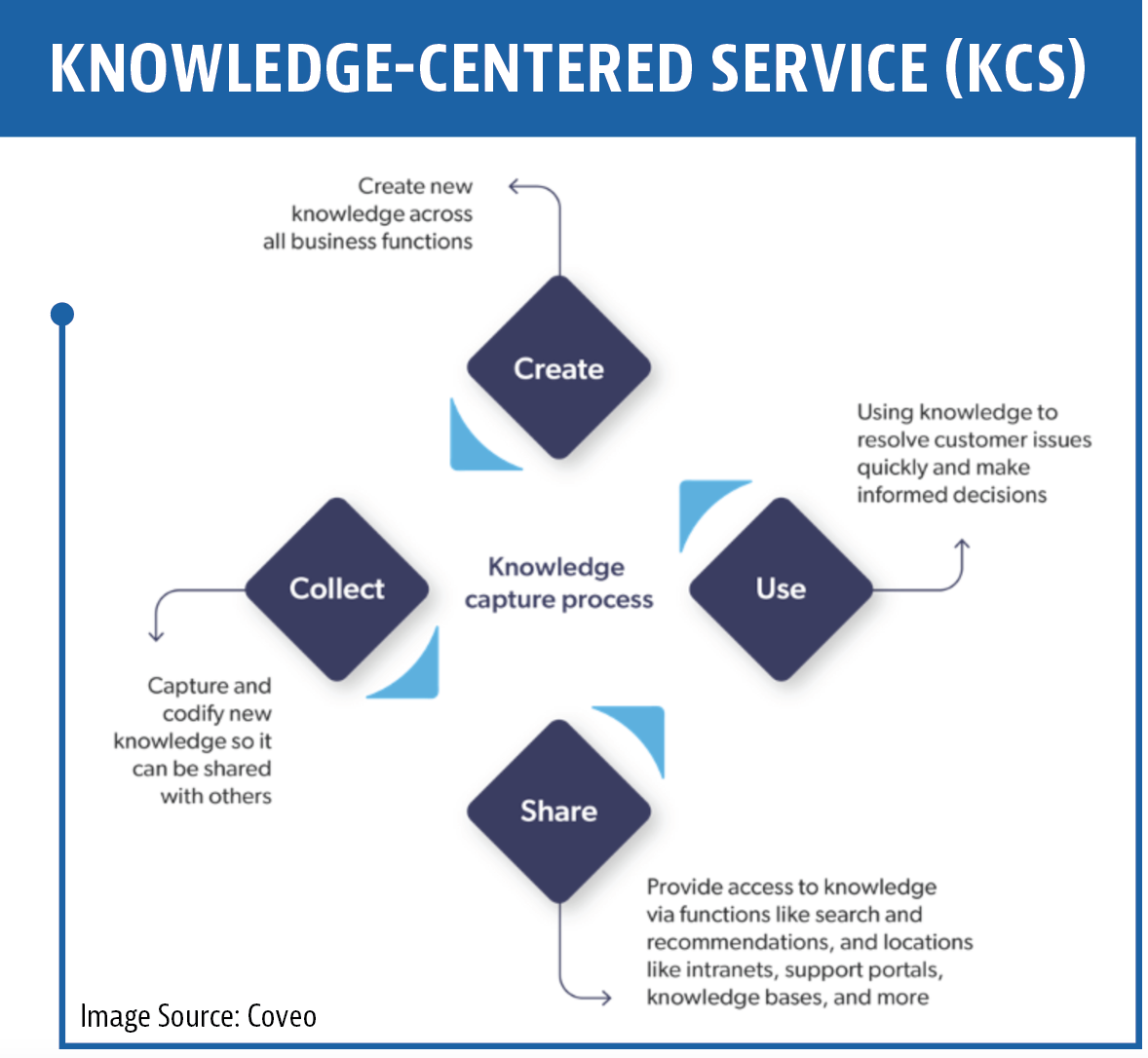 3. Expand Content Curation to Other Groups
Traditionally, you'd find some combination of engineers, support agents, and technical writers handling documentation. But what about the SMEs running sales demos for high-profile leads? Or internal legal experts well versed in all things compliance?
Your enterprise likely has SMEs outside of the engineering team that can contribute significant value to the organizational knowledge base. These SMEs have a different perspective on business ops, customer experience, and so on, often leading to the discovery of unseen gaps and inaccuracies.
Industry Best Practice: DocAthon
A DocAthon is similar to the agile doc sprint, but more expansive in terms of participation. During a DocAthon, experts from more than one department get together to collaborate on certain knowledge base topics. These might be hand-selected participants or volunteers.
Typically, a DocAthon goes something like this:
Sign-up
Assign roles (writer, editor, project manager [PM])
Establish guidelines (rules for timeline, process, etc.)
Execute
DocAthons emphasize quality over quantity: they can provide a foundation for content development covering a wider variety of perspectives, enabling the development of richer answers. The process helps develop documentation advocates, while supporting cross-team knowledge sharing. Plus, it's all repeatable.
4. Invite Contributions from Customers
Many customers not only interact with organizational knowledge but are eager to make contributions of their own. Customer communities come to mind, which can themselves become knowledge sources. In fact, many enterprises will index community content into search experiences to further enrich their knowledge base for employees and customers alike.
Which is all to say, this behavior should be encouraged, incentivized, and celebrated.
Industry Best Practice: How to Streamline Customer Contributions
You'll need three key ingredients:
Delivery path (where customers will contribute, such as a form submission or email).
Workflow (for reviewing, improving, and publishing this content).
Reward (such as badges, public acknowledgement, and spotlights).
It's critical to maintain a healthy customer community, so don't let it become an afterthought.
How Search Stitches It All Together
These four strategies focus on bringing in the participation of different groups. There's another adjacent aspect to knowledge sharing: findability. That is, how and when do enterprises stitch together their knowledge sources into cohesive experiences that bring answers to people wherever they are?
…knowledge sharing is less about technology and more about finding ways to bring valuable knowledge out of people's heads and freeing it from organizational silos.
Even with very little content, or a disorganized amalgam of articles, Wikis, and PDFs, an enterprise search platform can support knowledge sharing in a few ways:
Evolve knowledge sharing from simply creation and storage to include distribution and use.
Automate content storage processes (tagging, search personalization, etc.)
Gather data on the content that people need.
Speaking of data and analytics, don't overlook the importance of measuring knowledge sharing. Important metrics will vary depending on business goals. But using analytics to understand how customers and agents are interacting with the knowledge made available allows you to contextually personalize their experiences.
Wherever You Start, Make Knowledge Sharing a Priority
A knowledge sharing culture can evolve into a sophisticated practice. In many cases, it will make sense to layer in technologies in support of knowledge sharing strategies, such as enterprise search platforms, or data and analytics tools.
At the core, knowledge sharing is less about technology and more about finding ways to bring valuable knowledge out of people's heads and freeing it from organizational silos. Doing so means doing four things well:
Operationalizing KM.
Underpinning processes with fieldwork.
Incorporating other departments.
Encouraging customer participation.
Iterate on this formula long enough and your KM maturity will thrive, as will customer service and success.