I recently had the pleasure of speaking with Denis Francoeur regarding his recent Podcast, Enhancing Customer Service in a Personalized Contact Center. Denis talks about the evolution of contact centers, how expectations have changed for agents and customers alike, and how personalization is a game changer for customer experience and satisfaction.

Here is my conversation with Denis summarizing his podcast.
Linda: We have a long history of personalization in the contact center. In the early days, it was caller ID. Through technological advances, we can do so much more. Please share with us your thoughts about how personalization enhances both the customer and agent experience.
Denis: One of the best ways to conceptualize this is with an example. Something almost everyone has encountered at least once is calling into a customer service call center, and having the conversation start something like this:
"Hello, thank you for calling CompanyA. My name is Denis and I will be assisting you today. Can I start by asking your last name please?"
"Francoeur"
"Okay, great. Let me just look that up here…. one moment… … … … umm, could I ask you to spell that please?"
"F R A N C O E U R"
"Sorry, I didn't catch all that. One more time please?"
"F R A N C O E U R"
"Thank you so much. One moment…. … … …. Would this be listed under another name by any chance? I'm not finding this one in the system."
This is just the tip of the iceberg.
Perhaps the customer has already been online and did a live chat with someone.
Perhaps there was a previous call, but the line got disconnected.
Maybe the caller will need to be transferred to another department, often having to start from the very beginning with a new agent.
Customers want to have easy engagements with companies and report higher satisfaction when they receive a personalized and efficient customer experience. That could look like:
Giving a customer a choice on where and how they interact with a business – such as voice or chat.
Ensuring a customer's information, situation and history is readily available, avoiding them having to repeat themselves.
Having their issues addressed promptly and accurately.
Being given consistent information from multiple people at the same company.
Agents' jobs are hard enough without repetitive mundane tasks and technical hurdles getting in their way.
Give agents a "single pane of glass" view of the account, so they don't have to swivel between screens.
Use technology to surface things like phone numbers, names, account history, special notes or handling instructions, etc.
Allow agents to focus on quickly assisting the customer, and the customer relationship.
"Customers want to have easy engagements with companies and report higher satisfaction when they receive a personalized and efficient customer experience." —Denis Francoeur
Linda: What are the components needed to make personalization functional in today's call center?
Denis:
First, you need a solid system of record that includes all of the information relevant to the customer — often referred to as a CRM.
Second, you need to ensure all of the customer interaction channels (both voice and digital) feed into that system. Outliers complicate both the customer and agent experience.
Third, you need to ensure call center agents have quick and easy access to all of this information.
Fourth, utilize technology to surface the right information at the right time.

Computer-Telephony integrations (CTI) like Upland InGenius connect enterprise phone systems to leading CRMs.
Knowledge solutions like Upland's Panviva and RightAnswers help ensure compliance and speedy, accurate resolutions.
Bots and Conversational Intelligence solutions assist agents in wading through the loads of data to find just the right thing.
Linda: We have various channels of communication through which our customers can contact us. How does personalization help us to know more about our customers preferences in how they would like to communicate with us?
Denis:
Customers are omni-channel, they research, browse, shop and request support via multiple channels.
They want the ability to contact customer service/sales via the channel of their choosing as well. Think telephone, chat, email, SMS, socials (Twitter, Facebook, etc.)
Customers want agents to know their details, such as name, previous interaction history, and the reason they're calling, and they certainly don't want to have to repeat themselves as their issue gets transferred and escalated.
They want their issues to be taken care of as soon as possible, with minimal time on hold.
Linda: What are the benefits we can expect by utilizing personalization in our centers? (reduced call times, workload balance, training, satisfaction, etc.)
Denis: The benefits for customers, agents, and businesses are huge. Customers have easy, efficient experiences through the channel(s) of their choosing. This leads to increased satisfaction, and happier, more loyal relationships. Agents benefit by being able to focus.
Focus on helping the customer rather than jumping through technical hoops.
Focus on an accurate, efficient solution knowing that peripheral details have already been collected.
Focus on one screen rather than swivel chairing through several applications/tools.
Focus on the task at hand, rather than trying to balance interactions from separate, disconnected systems.
Businesses benefit in several ways:
Increased satisfaction for both the customer and agent leads to greater retention — enabling businesses to focus on acquiring new customers and talent rather than being reactive, trying to keep what they have today.
Shorter handle times means contact centers can process more interactions without adding extra bodies.
Easier access to the appropriate knowledge increases first contact resolutions, avoiding customer frustrations and repeat interactions.
The data provided through integrated contact center solutions enable supervisors to focus training and coaching on the agents who need it.
"Customers have easy, efficient experiences through the channel(s) of their choosing." —Denis Francoeur
Linda: What is the role that Upland InGenius can play in making this work?
Denis: Since 2008, InGenius has been increasing the efficiency of contact centers by seamlessly integrating leading telephony systems and CRMs. It is the glue between the two.
InGenius enables remote control of your telephony inside the CRM interface. The phone acts the same, agents can pick up calls, place callers on hold, transfer calls, and so on.
InGenius captures information such as caller ID and IVR (interactive voice response) data and attaches it to the phone call that it passes to the CRM. Agents can resolve calls faster with intelligent process automation.
Features, such as screen-pop, help an agent personalize the experience. Before an agent picks up the call, the caller information is displayed on their screen.
Screen transfer allows agents to pass the entire case to another agent, therefore the history and information already given by the caller does not need repeating. Again, the agent's time is freed up and can focus on the caller. The caller is greeted by name and does not need to repeat their information.
InGenius saves agents time and effort by removing manual processes such as pulling up records and typing names and phone numbers, which can be fraught with errors.
The customer feels valued and does not get frustrated by having to repeat themselves.
---
Thanks for sharing your information on the podcast that covers such an impactful technology.

About Denis Francoeur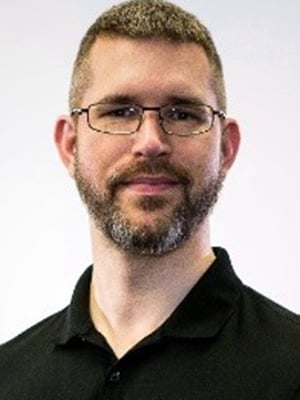 Denis Francoeur is Director of Product Management at Upland Software, focusing on InGenius in the Contact Center Productivity business unit. He has over 25 years of experience delivering exceptional customer service across multiple industries. Denis began his InGenius journey in 2017 in Customer Support and then moved to Product Management.