When it comes to contact center business continuity and disaster recovery (BC/DR), and cloud migratory challenges, one voice has been notably absent from the conversation: the telecom carrier.
IT leaders typically view carriers as merely a means to obtain voice, emergency, and messaging services, rather than the strategic launching point for your contact center.
It's time to flip the script of composability, continuity, and disaster recovery on its head, once and for all.
Whether in the cloud or on-premise, creating a resilient contact center depends on one key aspect of your comms stack: your carrier. It's both the backbone and the hidden vulnerability of your entire customer experience (CX) ecosystem because it powers your voice channel.
Even as text-based channels grow in popularity, telephone/in-person is the preferred channel for 71.4% of customers during escalations, according to Forrester.
Centering the carrier in your decisions around BC/DR puts resiliency at the forefront of your operations. Only then is it possible to create a scalable, modern contact center that's prepared for the unexpected.
Focusing on the Carrier First
Your voice carrier's impact permeates into almost every other part of your contact center, from customer and agent experience to migratory ease, regulatory guidance, and ultimately ROI.
Most businesses select their contact center platform first, leaving the carrier as an afterthought.
But as we'll see later, this leaves crucial contact center metrics, resiliency, and BC/DR also as afterthoughts, which downplays the impact of a poorly designed network infrastructure.
However, modern enterprises have uncovered a secret: by choosing a cloud-based carrier, they can put BC/DR first in day-to-day operations and lay a solid foundation to compose a prepared, crisis-hardened contact center.
Just like within Maslow's hierarchy of needs, you need certain elements of your contact center in place first in order to achieve others.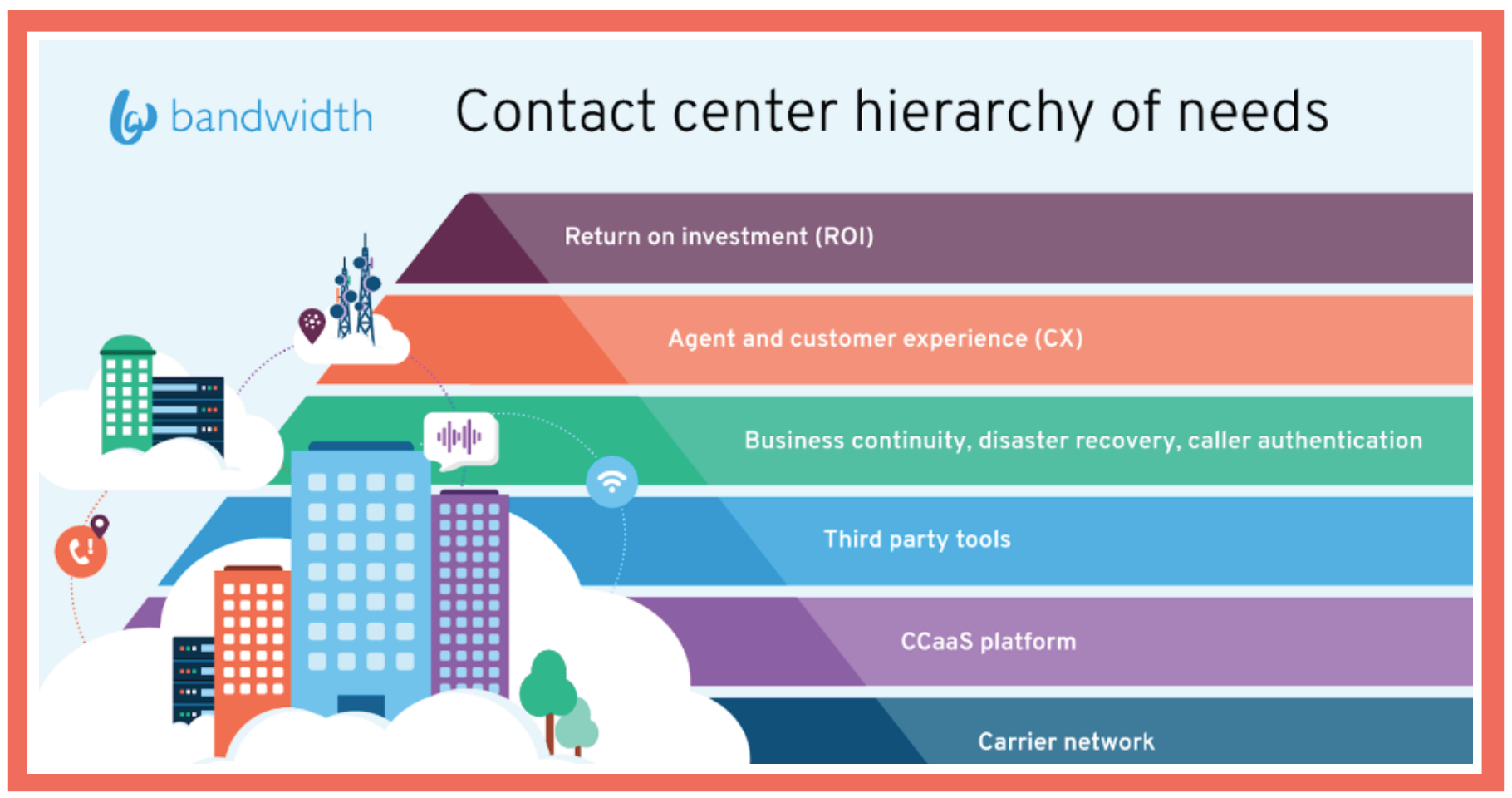 So, before you focus on BC/DR, you need a reliable cloud-ready telephony provider.
Companies in the Cloud Win
Today's contact centers have an intrinsic need for scalability.
Whether you're managing seasonal spikes in call volume, handling an influx of customer complaints, or expanding geographically, you need a setup that responds to changes in real-time.
On-premise, legacy environments struggle to keep up with rapid change. IT leaders could easily swap stories over the headaches caused by clunky, outdated infrastructure.
Yes, keeping your contact center on-premise gives you full autonomy over factors like call flow and which tools to imbed in your voice environment.
But maintaining on-premise equipment is no longer efficient or cost-effective, especially for businesses seeing massive growth in the voice channel.
To combat this, businesses of all sizes are migrating their communications including applications stacks to the cloud.
They are doing so for that environment's innovation, ROI, scale, and flexibility. Hybrid work is here to stay (more later on that).
The latest and greatest CX tools live in the cloud. Your managers want less overhead, and shift to monthly payments.
Picking the right carrier can help you migrate from on-premise to the cloud without disruption by separating as much of your migration as possible.
And once you're there, the right carrier can help you move around the cloud communications ecosystem with number management software.
Going BYOC
When contact centers have moved through applications to the cloud, buying telephony via the contact center-as-a-service (CCaaS) provider was the common choice.
However, the CCaaS provider is the middleman between the enterprise and network provider—making network configuration and troubleshooting more challenging.
But no longer. Businesses are now "unbundling" telephony through a model called Bring Your Own Carrier (BYOC).
In fact, one 2022 report (Metrigy) found that 42.2% of enterprises are already unbundling their voice communications from their software platform. Another 33.3% planned to BYOC throughout 2022.
When evaluating a carrier for your cloud setup, ask pointed questions about their cloud migratory expertise and how they plan large-scale ports (whether porting dozens or tens of thousands of numbers, the right carrier won't bat an eye).
Ask "Will my CX have any downtime during porting? Can you snap back numbers to the losing carrier if something goes wrong? How will I know if something goes wrong?"
Your new, trusted carrier of choice should also provide transparent insights into the happenings and setup of their network. What is the carrier's plan if a portion of – or their entire network – goes down? If an entire point of presence (POP) goes down?
Your carrier can and should offer to consult on building BC/DR plans for your contact center in many different ways, from migration support to platform integrations to network infrastructure and access.
Your Carrier Network's Impact on BC/DR
Not all carriers are created equal. Some voice providers don't own their own network, pushing you farther away from a resolution during disruption.
Others have single-threaded networks, leaving you high and dry during an outage instead of a multi-threaded network that can reroute your traffic during emergencies.
Still others might not offer the global or geographic reach you need, complicating your vendor management as you scale.
And most carriers don't have the resources allotted to help address your unique telephony challenges, leaving you alone as you navigate cloud migrations, integrations, regulations, and beyond.
As you look for a voice carrier to bring your contact center and workforce into the future, focus on these elements.
1. Call quality and uptime
You don't have to buy from two, five, or 10 carriers to avoid being single-threaded.
Instead of managing many different vendors to avoid toll-free downtime, you can eliminate points of failure with a 5X redundant network. If an outage occurs on one thread, your carrier can automatically reroute your toll-free traffic for reliable service (and happier customers).
2. Infrastructure vulnerability
External events like hurricanes and earthquakes are unavoidable and uncontrollable. Sending your toll-free traffic through geographically diverse POPs will help mitigate risk during unforeseen circumstances and eliminate dependency on the specific network architecture.
3. Geographic reach
Part of continuity is scaling services up and down wherever your customers and agents might be to keep them connected. Look for a carrier who owns their network and numbers in the countries and regions where you need them.
4. Network innovation
As you move different parts of your comms stack off-premise gaps will arrive that limit you from rebuilding the same ecosystem in the cloud.
Critical third-party tools (think fraud mitigation, authentication, conversational AI, IVR, NLP) highlight why your telecom provider acts as the glue of your contact center. Without carrier-level integrations, it's nearly impossible to build a composable CX stack.
5. Software and integrations
You're expected to create a comms stack comprised of the best-of-breed tools in the cloud. Make sure your carrier can support your needs with BYOC solutions and number management tools that give you an open, innovative cloud future.
6. Support and people
During a disruption, you need a carrier that answers the phone (or email or chat) quickly, and works with you until issues are resolved. You also need full transparency into your contact center's network operations to prepare for any storms ahead.
Your carrier can take your contact center from good to great. Don't settle and listen to your intuition.
Prepare for Hybrid-First Work
COVID-19's initial impact on the workplace may be over, but the hybrid workplace revolution is just beginning.
Despite what looks like a new obstacle, creating BC/DR within a remote workforce is actually pretty simple, especially if your contact center lives in the cloud.
If your agent workforce is fully remote and something goes wrong at the carrier or platform level, bringing employees back into the office won't fix anything. In fact, this might even elongate resolution.
The root cause of contact center disruption is often your voice carrier, which is why your agents can be anywhere around the world—as long as your contact center is architectured for success.
What Happens During a Natural Disaster?
Whenever your customers call a local or toll-free number, your carrier routes the call through its infrastructure at a network POP.
But what if a natural disaster or emergency occurs and a POP becomes damaged or inaccessible?
To prepare for these situations, your carrier should be set up to route your traffic into geographically diverse POPs so even if one goes down, customers can still reach you.
However, each carrier designs its network a little differently.
In 2020, multiple carriers with telephony infrastructure in Nashville, Tenn. experienced outages after a bombing.
Businesses reliant on a single-threaded connection with the affected carriers experienced a hard outage, as their carrier(s) were unable to reroute traffic.
And in July 2022, a major Canadian carrier, Rogers Communications, suffered a systemwide outage of its telecom, internet, and TV services that also Impacted 911 services (Ed. Note: see "Safely Continuing Customer Contact" this issue).
The bottom line? Without the right carrier in place, it doesn't matter how sophisticated your contact center is.
Migrate Smoother with BYOC
If your contact center is already in the cloud, good news—you've taken a huge step towards BC/DR. If you're not quite there yet, we get it.
Migrating to the cloud is daunting, from outlining a plan to port your numbers, rolling out new software and training agents, and to concerns about toll-free disruption and gaps in integration capabilities. But all of this can be sidestepped, and even capitalized upon, with someone supporting your shift.
First, consider shifting to a BYOC setup to consume voice, phone numbers, and other communication features directly from the carrier.
Second, set up additional SIP trunks between your new carrier and on-premises environment.
Finally, port your numbers using APIs before bringing software into the picture. By splitting your porting and software migrations, you greatly minimize the risk of disruption as you move to the cloud.
By selecting your carrier before your CCaaS platform, you can reinvent your migration path from the ground-up.
Reorganize Your Contact Center's Hierarchy of Needs
Each contact center looks very different, and there's no one-size-fits-all approach to creating continuity and preparing for disasters.
The root cause of CX disruption, revenue loss, and toll-free downtime can often be traced back to your carrier network. Focus on building a strong foundation with your carrier, and they can help you figure out the rest.