The market shift to a cloud-based contact center, also known as contact center-as-a-service (CCaaS), is still growing even with a post COVID-19 pandemic economic slowdown.
While the CCaaS market enjoyed a rapid growth spike of 61% in 2021 at the height of the COVID-19 pandemic, according to Omdia's 2023 Trends to Watch: Contact Centers report, the market did not cool off completely. In fact, it is still growing at a year-over-year rate of over 16%, reports Omdia's 2022 SIP Trunking Market study.
Even with the latest devices and networks, voice is still the preferred method of communications into contact centers. However, voice communications still present challenges to contact centers' architecture.
Contact Center Challenges
Companies are beginning to recognize the impacts high-quality interactions may have on their bottom lines. However, these are often limited by a choice in architecture that affects how much control contact centers have over their networks.
Complex communications. Voice infrastructure is costly and hard to integrate whether on-premise or in the cloud. The contact center infrastructure often requires network upgrades and application maintenance.
As companies merge, and newer technologies are integrated, contact center solutions become incompatible with each other, often adding manual processes on the centers' agents. Proprietary, siloed, and customized contact center solutions are often roadblocks for modernizing contact centers.
Security. The Robinhood ransomware attack began with a contact center phone call and ultimately compromised the personal data of more than seven million customers.
This is just one example of the many ransomware attacks that began with a single voice call into a contact center. This increased focus by hackers on contact centers is rising. Voice networks are a popular path of least resistance for bad actors.
Network intelligence. The Omdia 2023 Trends to Watch: Contact Centers reported 33% of contact centers recognize they lack network resources and plan to add management tools to improve voice, video, and network performance. 57% of contact centers plan to increase their investments in intelligent 5G guided agent assistance.
Disjointed on-premise multi-vendor contact center solutions are costly and complex to manage. Every vendor has their own feature set and management interfaces.
Introducing enhancements requires integrating different systems, implementing common policies and troubleshooting problems, which are all fraught with challenges. And to make matters worse, many companies rely on systems designed to support office workers and desktop phones, which are becoming less common and less relevant across the industry.
A Blueprint for Customer Engagement
Connecting Cloud Communications
In order to overcome these challenges, contact centers need a strategically designed approach. A good design for contact centers reduces the complexity through cloud architecture, provides intelligent insight into contact center operations, and protects the voice networks from interactive intrusions.
An example of this is CCaaS, which is a cloud-based customer experience solution that allows companies to utilize a contact center provider's software without the overhead of on-premise IT support.
With CCaaS, businesses purchase only the technology they need to run a contact center, reducing the overall cost. CCaaS offers scalable, flexible architecture to provide enterprise support with most of the communications infrastructure in the cloud.
In selecting a cloud provider, contact centers should also ensure that a vendor pre-tests, integrates, and is certified with all other contact center vendors in use.
As environmental factors such as climate change threaten on-premise data centers, moving the data and processing to a secure and reliable cloud architecture ensures business continuity.
But while migrating to a CCaaS architecture may be the best option for a company in the long-term, the short-term integration of CCaaS to their existing network is complex and not straightforward.
Contact centers often take advantage of a variety of cloud communications and collaboration services that are called unified communications-as-a-service (UCaaS). There are several contact center services that utilize network functionality through communications platform-as-a-service (CPaaS).
However, CCaaS deployments or upgrades may take longer than expected or cost more if the interfaces between CCaaS and CPaaS, or CCaaS and UCaaS are untested. In the following visual example, a contact center may have to integrate between the on-premise equipment at the bottom, to the CCaaS providers on the left cloud, to the UCaaS providers at top, and the CPaaS providers on the right cloud.
In selecting a cloud provider, contact centers should also ensure that a vendor pre-tests, integrates, and is certified with all other contact center vendors in use.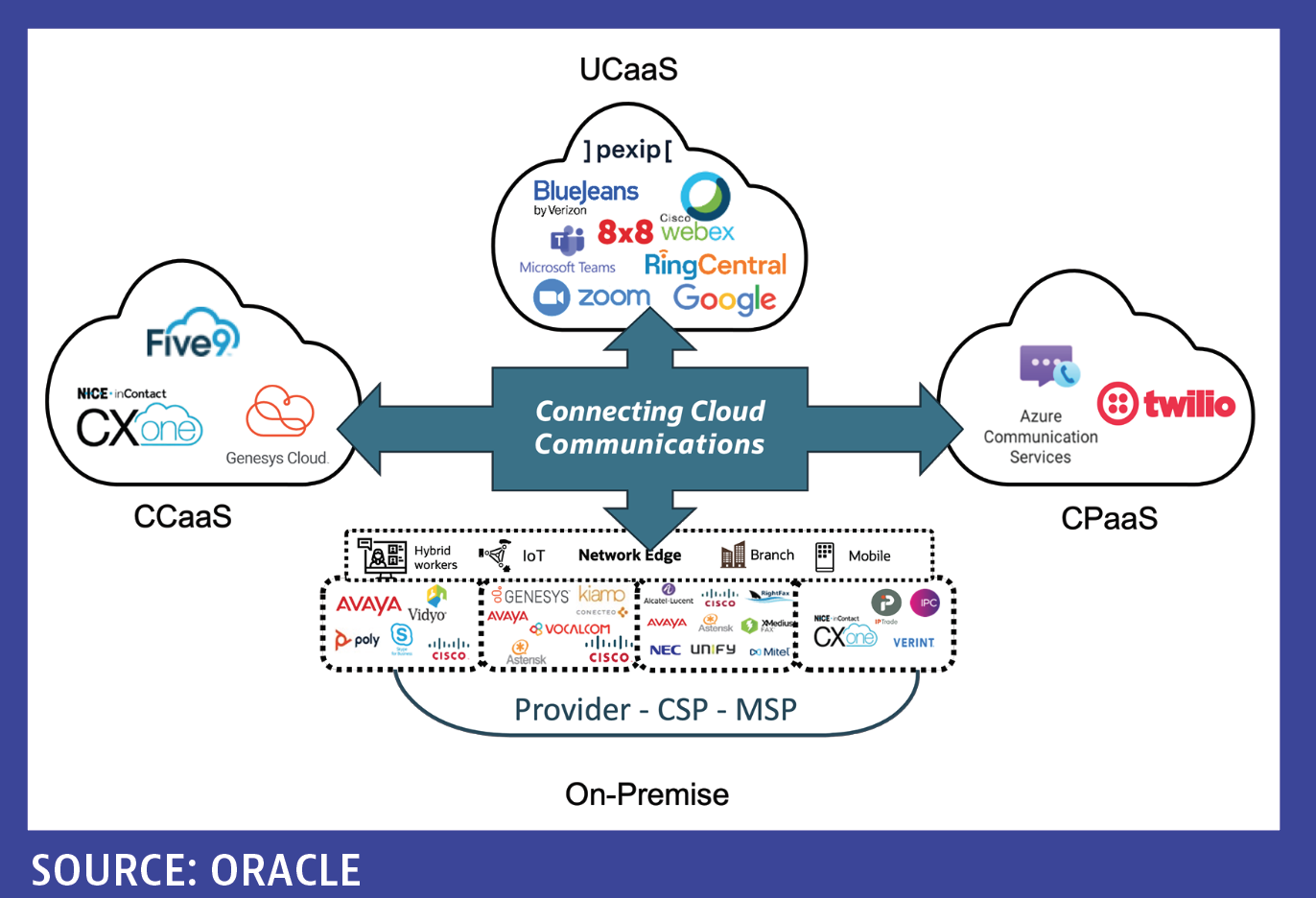 As companies evaluate the best solution for their specific needs in order to provide frictionless digital transformation, they need to ensure they create a seamless integration between all the communications services a contact center employs.
But once a cloud architecture is in place, it provides contact centers with the ability to swap out legacy platforms or make updates with minimal disruption.
Moving to a cloud architecture reduces the pain of network management while simultaneously offering unlimited scale as contact center capacity increases. It also provides a better migration path where individual network components are strategically moved to the cloud or left on-prem for a cloud-to-ground, or hybrid cloud processing.
As well, contact centers may decommission outdated and underused systems over time to save on contracts at the same time delivering newer capabilities by rapidly deploying UCaaS or CPaaS services.
In the Metrigy 2023 Future of Contact Center report, while the majority of companies have moved to the cloud, 41.5% are using an on-premise solution. Hybrid contact centers are when a portion of the contact center solution in on-premise and another portion is in the cloud.
A hybrid contact center benefits companies going through a corporate merger or acquisition (M&A). An M&A often leaves companies with supporting two or more contact centers.
Instead of force-fitting the hardware and software into one contact center solution, a migration to a CCaaS solution makes the transition easier with less disruption of service.
Leveraging cloud-based technology reduces cost and has the potential to improve productivity while increasing customer satisfaction.
Because of the rapidly changing landscape in communications services and capabilities, it's essential that any cloud solution be carrier or solution agnostic: what we refer to as a "Bring Your Own Carrier (BYOC)" approach. Interoperability with any vendor enables the contact center control over services and networks that is best for their business.
Securing the Contact Center Perimeter
Connecting to a carrier of choice and to an on-premise solution requires a readjustment to secure the enterprise communications perimeter.
Because contact centers are an open, friendly environment for customer interaction, they are often a primary target for social engineering. Social engineering refers to any voice call aimed at a contact center agent attempting to reveal specific information or to perform a specific action for illegitimate reasons.
The burden of screening social engineering and authenticating a call is placed on the contact center agents. Unfortunately, they spend most of their time authenticating whether a call is trustworthy. Often, an agent does not have the time to do a lengthy authentication and several social engineering calls penetrate a company's security.
Every call going into or out of a contact center contains metadata which includes information of where the call originated, the time, and destination.
While the receipt of a call's metadata at a specific location may not provide much useful information locally, collecting and correlating the metadata for all calls going in or out provides far more information for accurate security measures.
The call's metadata may be used to:
Automatically screen fraudulent/nuisance calls in real-time.
Calculate the call risk based on external data or network modeling of calls.
Route the call to specific agents to optimize operations.
Provide automatic updates to customers' data.
Highly secure, real-time call validation is rapidly becoming "table stakes" for every contact center in order to protect against fraud and safeguard customer data without undermining the customer experience (CX).
Advance Intelligent Network Management
In a multi-vendor, move-to-the-cloud industry, contact centers must rely on advanced intelligent network management to provide a convenient, seamless CX, with secure cost-effective deployments.
It is important for companies to invest in solutions that deliver automated call routing capabilities, extensive network insights, and advanced protection while connecting multiple vendors into a hybrid cloud environment.
Design for Success
For the modern contact center, it is important for companies to invest in solutions that will solve challenges that may arise.
Leveraging cloud-based technology reduces cost and has the potential to improve productivity while increasing customer satisfaction. However, good customer engagement and customer satisfaction – even with voice communication – does not happen by accident; it must be a core strategy of the company and have a well-defined design.
A well-designed contact center provides intelligent resources for greater insight through analytics. Implementing hybrid cloud solutions can help facilitate optimal security with the necessary intelligence to succeed.