The opening months of 2023 were gloomy with a tightening job market and a slowdown in business activity fueling fears of a recession.
Organizations across nearly every industry have been focused on increasing customer loyalty and satisfaction, reducing costs, and maximizing value.
Meanwhile, senior management are facing increased pressure by ever-more-demanding shareholders to generate more growth and increase shareholder value, to meet but better yet exceed Wall Street expectations.
This economic and business environment presents many challenges, but it also gives contact centers a tremendous opportunity to showcase their value.
The biggest factor in customers' minds when it comes to contact center satisfaction…was agent empathy.
The Qualtrics XM Institute surveyed more than 33,000 consumers in 29 countries around the world to find out what contact center leaders need to do to win. Let's take a look at the data and four key contact center trends that will shape their operations and business.
1. Empathy overtakes speed and efficiency as the top customer satisfaction driver.
Not surprisingly, satisfied customers spend more. Driving customer satisfaction has always been a core tenant of any contact center but organizations will be doubly focused on improving those CSAT scores in 2023.
The biggest factor in customers' minds when it comes to contact center satisfaction wasn't short wait times or efficient service, as you might expect. It was agent empathy. Agent empathy has almost twice the impact on satisfaction versus wait times.
While "empathy" has become the corporate buzzword flavor du jour, the research shows building that human connection has a massive impact in the contact center. But a large swath of customers (42%) aren't happy with the empathy currently shown by agents.
That's an unacceptably high percentage with major financial implications. Research from Qualtrics finds that globally, organizations risk 6.7% of their revenue or $3.1 trillion, when they lose customers due to poor experiences like bad customer service.
Any contact center that is not supplementing its core operational data like AHT with metrics that measure how empathetic its customer service interactions are is making a big mistake.
Companies will need to invest in omnichannel text and speech analytics that can capture customer sentiment, effort, emotion, and intent. They also need to provide agents with real-time guidance and reminders to show empathy during customer interactions.
2. Agent wellbeing takes center stage.
You cannot talk about building empathetic relationships without taking into account the experience of the people responsible for the organization's customer service.
Agents take the brunt of customer dissatisfaction when things aren't going well. 60% of agents said customers became ruder and more aggressive during the COVID-19 pandemic. And one in five (20%) think about quitting every week, according to Qualtrics research.
On top of that, nearly half (46%) of contact center agents do not believe their leadership invests in their team or function. Over a quarter (27%) do not think they are provided with the tools or training needed to be successful.
Contact center agents are human too. Measuring them only in terms of operational efficiency is likely to damage morale and push even more agents toward quitting.
Qualtrics research found that 33% of customer service agents felt their performance was not fairly evaluated. And only 41% said they were incentivized to offer personalized, empathetic experiences to customers: two key drivers of customer satisfaction and loyalty.
Many contact center teams weren't even provided the flexibility to work from home during the height of the pandemic. Just over half (55%) of contact center agents reporting they were afforded that ability: much lower than the percentage (76%) reported by contact center managers.
The number of center agents forced to work mostly or full-time in the office is likely to increase in 2023. However, Qualtrics research shows only 13% of office workers want to return to the office full-time.
Contact center leaders will need to address these gaps and invest in measuring their own agents' wellbeing. They need to place an emphasis on providing service agents with the tools and incentives to implant empathy at the heart of every customer interaction.
3. Contact centers rely more heavily on unstructured feedback.
When 63% of customers say companies need to do a better job of listening to their feedback, it's a clear sign there is a gap in the status quo.
The days of relying on a CSAT survey are over. Contact centers need to do a better job collecting and acting on different kinds of unstructured feedback generated from the myriad of customer calls, chats, posts, and texts to truly understand what's happening in their business.
In fact, 80% of customer data is projected to be unstructured by 2025, reports VentureBeat. Yet most companies harvest only a tiny bit of insight from these critical interactions.
Going forward, contact centers will put a big emphasis on bringing all their data streams together. They will be using conversational analytics that helps agents surface customer sentiment and intent hidden in speech, chat, email, and other interactions with customers: and do this on a large scale.
In a down economy, customers will be even more discerning about how they spend their money. And the companies that demonstrate an ability to listen to and act on their feedback will win their loyalty.
4. Centers find the right balance between in-person and digital service experiences.
Today it's a given that customers want to be able to interact with brands on a myriad of different channels and most people today prefer to interact with brands over digital channels.
However, there are still many cases where customers want to deal with a living, breathing human. The data surfaces a number of clear examples: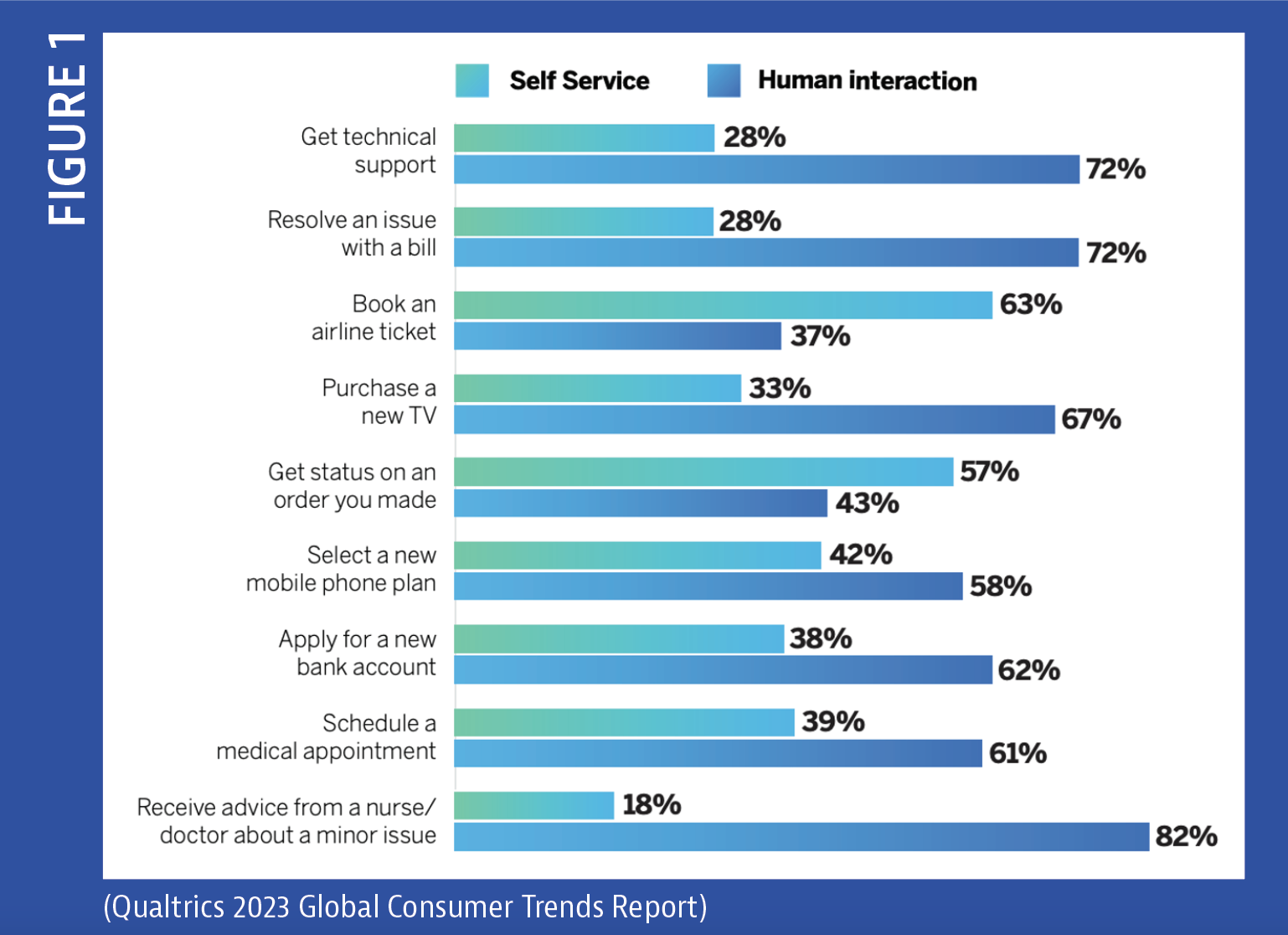 Designing a seamless omnichannel experience is fairly complex. Organizations need to maintain a consistent brand voice and experience across all their engagement channels while providing distinct, optimized journeys suited to the format of each channel.
Each channel you add creates new opportunities for bugs or flaws to crop up in a business's operations, from shipping or returns to marketing and branding. The same can be said for omnichannel customer service.
Contact center teams will need to tap into preference data to further outline which interactions are more appropriately handled by a live agent versus a chatbot or self-service channel.
Defaulting to digital will not work. Leading organizations will design the service experience with each unique business use case or service challenge in mind.
Advances in natural language processing enable new contact center solutions that are savvy enough to quickly diagnose customer intent and channel preference. This allows contact center teams to make swift, meaningful changes to their customer service journeys.
For example, these solutions provide the intelligence necessary to help a chatbot determine when a live conversation with a real service representative is needed to solve a truly complex customer issue. While also summarizing the key points about the customer's problem to the agent in real-time so the customer doesn't have to repeat themselves.
Ultimately, contact center success will be centered around an organization's ability to design and improve experiences that meet – or exceed – customer expectations.
Customers are telling businesses what to do, but organizations will need to uncover these answers in their unstructured data.
Contact center and customer experience teams need to collect as much data on their customers' journeys across all their channels. With it they can analyze and outline the types of interactions that are essential to customers' success at key moments, how customers feel about their experiences, and how their behaviors change as a result. And the impact on business results.
Finally, contact centers need to incentivize and prioritize empathy across all customer service interactions: they shouldn't forget that agents need support to provide the kind of service that will win loyal customers. To accomplish this centers should invest in intelligent technology that automatically demystifies customer intent, identifies solutions, and automates the next-best-actions.
With the right approach and technologies the contact center is uniquely positioned to become a core driver for both customer loyalty and business growth during an uncertain time.