Tesla (TSLA) won't bring about widespread adoption of electric vehicles on its own, according to a new white paper that promoted General Motors (GM) as a viable EV alternative. 
The house that Elon Musk built delivered a record 241,300 vehicles in the third quarter, despite a semiconductor shortage that has challenged the auto industry. However, activist investment firm Engine No. 1 insisted that Tesla has something to learn from old-line car makers.
In fact, the paper asserted that if Tesla wants to achieve its mission "to accelerate the world's transition to sustainable energy," it should look to incumbent automakers like GM, Ford, Toyota, Volkswagen, and others. 
These original equipment manufacturers (OEMs) can be as nimble as the newcomers when it comes to the evolving automotive landscape, the firm added, singling out GM in particular, as a front-runner. Engine No. 1 also announced it has taken a stake in GM.
"For the first time in a century, the automotive industry is undergoing a transformation so fundamental that it could upend competition and remake entire markets," the analysts wrote. "For mobility to become electric at the pace the world needs, Tesla and emerging start-ups in the new BEV ecosystem, such as Lucid, Nio, and Rivian, will not be enough."
According to the firm, what could make this wave of electric vehicle adoption more lucrative than those in the past is a virtuous cycle created by mutually reinforcing corporate strategies, investor commitments, consumer demand, and government policy actions.That cycle could spell the end of the internal combustion engine era, it added.
Still, electrifying a sector that accounts for nearly a third of all U.S. greenhouse gas emissions and has entrenched fossil fuel interests is no small feat. The scale of the challenge of transitioning to battery electric vehicles (BEVs) "is beyond what Tesla and other new entrants can surmount in the time frame needed to bend the emissions curve," the white paper noted.
Investors 'would be wise to pursue' automakers scaling EVs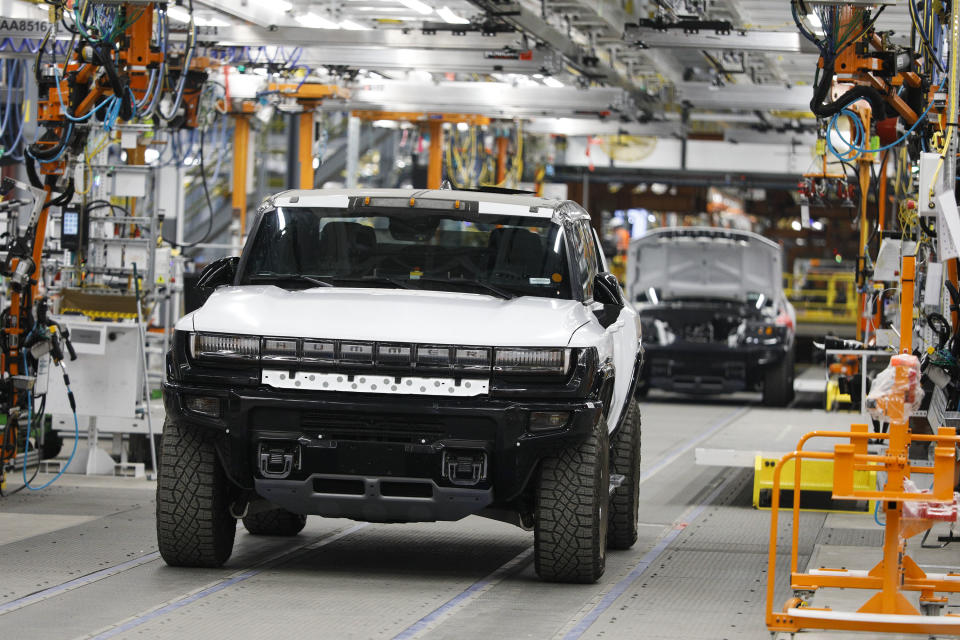 Engine No. 1 rose to prominence earlier in 2021, after installing three directors on Exxon Mobil's board, with the help of BlackRock, Vanguard, and State Street, in a push to get the energy giant to develop a more robust clean energy strategy. 
This time around, Engine No. 1 has thrown its support behind GM's plans rather than battle for changes at the corporate level. According to the firm, incumbent automakers like GM are not only capable of becoming the central players in the electric vehicle industry, they are motivated to do so.
The factors in the OEMs favor include a history of integrating technology into products and meeting regulatory and safety guidelines, as well as coordinating supply chains, which has become a major obstacle in recent months.
Furthermore, OEMs spend a great deal on research and development and have been churning out patents and electric vehicle intellectual property for years, Engine No. 1 analysts wrote. The automotive sector is in the top three when it comes to research and development (R&D) spending and patenting actvity. 
"In short, traditional OEMs provide access to BEV-scaling opportunities that investors would be wise to pursue," the analysts added.
Yet not all legacy automakers will succeed in transitioning to electric mobility, the firm noted, but voiced confidence in GM 
"Among traditional automotive OEMs, GM is certainly the current BEV front-runner in the U.S., and possibly worldwide, as it remains in close competition with Volkswagen (VW) for the latter designation," the paper said.
GM aspires to dominate the market in North America, aiming to do so by launching 30 new EV models by 2025.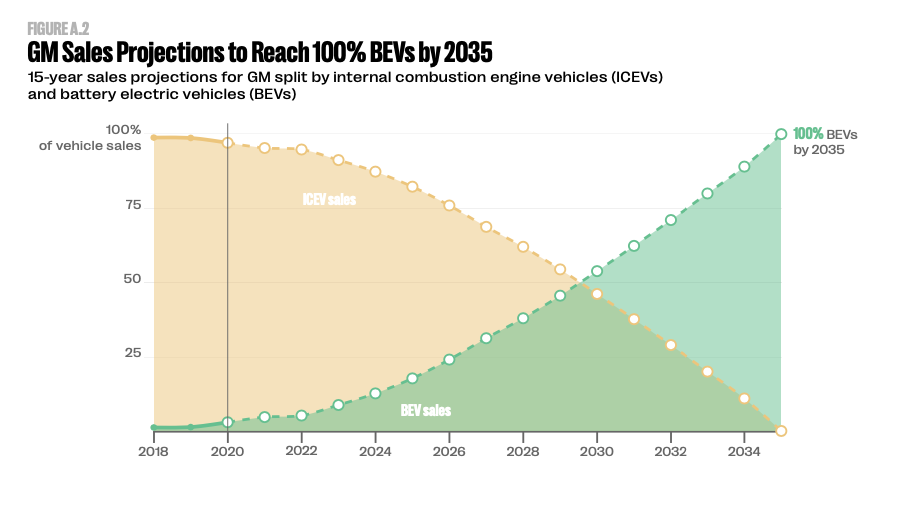 "For the first time in years, GM is poised to recapture market share," Edward Sun, a portfolio manager at Engine No. 1, said in a statement. "The company's advantages in battery technology and its plans to invest $35B in BEVs through 2025 position it well among its competitors."
One of GM's largest competitive advantages, according to the paper, is the development and procurement of improved batteries, particularly its Ultium battery pack platform developed in partnership with LG Chem that was unveiled in 2020. 
It uses a different design configuration than Tesla's batteries, and can be modified to fit a variety of car models, making them more versatile for scaling into GM's vehicles.
The Ultium batteries' other innovations promise greater capacity, wireless battery management systems, the ability to utilize fast charging stations, and the use of 70% less cobalt in favor of more readily available nickel.
GM has begun construction on the first of four new Ultium battery factories in the U.S, which will be located near Lordstown, Ohio. The second plant in Spring Hill, Tennessee, is expected to open in 2023, and the details of the remaining two plants have yet to be announced.
And bipartisan support for some of the Biden administration's "Build American" and "Buy American" infrastructure policies is seen spurring development of the EV sector.
In addition to GM, Volkswagen (VWAGY) is a leader in Europe and has a strong involvement in China — though less so in North America. Volkswagen's interest in EVs lagged behind until 2015, when the company strengthened its electric mobility plans after its brand was rocked by an emissions scandal. Volkswagen aims to have half of all sales be for EVs by 2030.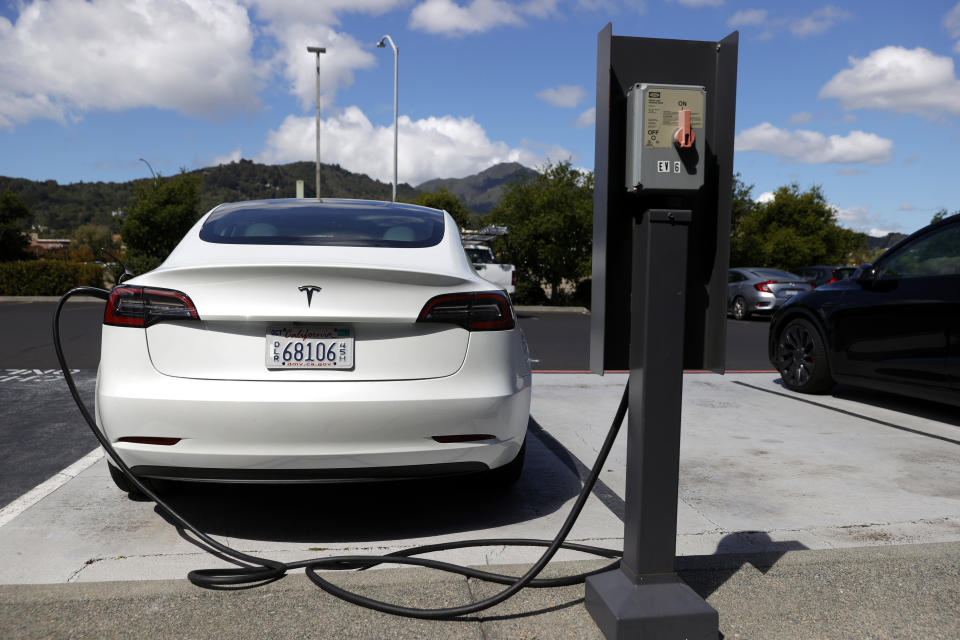 Toyota (TM) was an early leader in electric mobility with the Toyota Prius, but has since shifted its focus to hybrid vehicles in the short run and hydrogen fuel cell-powered vehicles in the long run. It aims to roll out 15 new EVs by 2025.
Ford (F) is investing heavily in electric vehicles — $30 billion in R&D by 2025 — and has seen high levels of pre-orders for the electric versions of the brand's iconic vehicles, such as the Ford F-150 Lightning and Mustang Mach-E. Ford plans to have 40-50% of all sales be for EVs by 2030.
The paper stressed that this is not a winner-take-all market, however.
"No single OEM has a sufficient early-mover lead to achieve market share so high as to pose a barrier to entry, or scale, that would keep other OEMs out of the BEV market," the analysts stated. 
Grace is an assistant editor for Yahoo Finance and a UX writer for Yahoo products.
Read the latest financial and business news from Yahoo Finance
Follow Yahoo Finance on Twitter, Facebook, Instagram, Flipboard, LinkedIn, YouTube, and reddit