JUST IN: Army Aims to Develop Light Electric Vehicle By 2025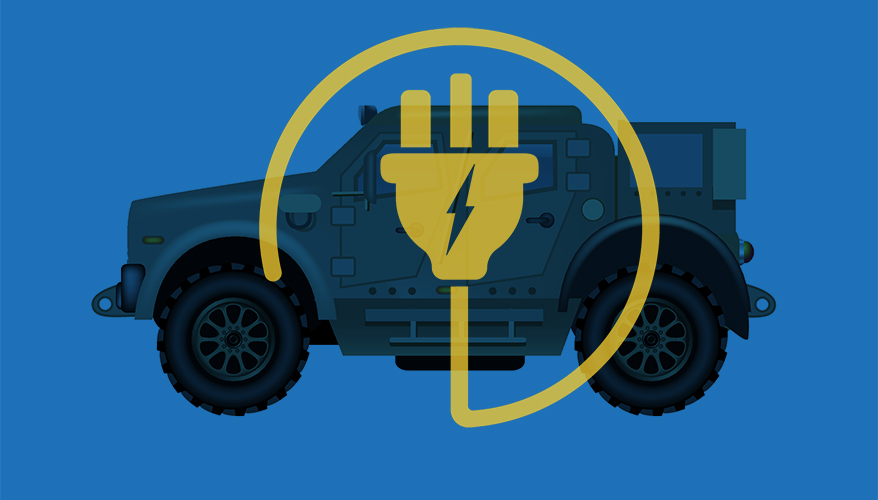 iStock illustration
The Army is working on electrification technologies for its platforms, and the service plans to build an electric light vehicle demonstrator that will be ready for testing as early as 2025, an official said March 16.
"That is in the realm of the possible," said Alfred Grein, acting director for Army Combat Capabilities Development Command's Ground Vehicle Systems Center. "I'm not saying [it's] a system that would be fielded, but certainly a system that we could put in the hands of soldiers and have them operate and get their feedback so we can help shape the requirements, and then drive towards a solution set for our tactical systems."
Full electrification of Army vehicles faces a number of hurdles, Grein said during a panel discussion at the Association of the United States Army's virtual Global Force Next conference. The service will need to take an incremental approach as it pursues the technology.
"I don't anticipate that we'll go directly from where we are today with internal combustion engines directly to full electrification," he said. "I anticipate that we'll go through a step process, which is a hybrid system first, and then eventually work towards full electrification."
The environments the military operates in are significantly different than what the commercial sector has to deal with, he noted. The Army has additional logistical and sustainment concerns it must consider. For example, it must determine how it can recharge electric vehicles in the middle of a fight.
"Where do you go? What … do your mobile charging stations look like?" he asked. "Those are all considerations that the commercial sector maybe doesn't have to worry about because … at the end of the day you go home, and you plug into … the socket at home and life is good. We don't have those out in the middle of wherever we're fighting."
However, there is a lot of work the commercial sector has already done that the Army wants to leverage to reduce the amount of technology development it needs to do, Grein noted.
"We don't intend to replicate things that can be leveraged from commercial industry, particularly with batteries," he said.
Battery technology has been a perennial issue for the military, with researchers working on ways to increase their lifespan while also ensuring they are safe to operate and not too bulky. Batteries play a key role in both electric and hybrid-electric vehicles, Grein noted.
Brig. Gen. Richard "Ross" Coffman, director of the next-generation combat vehicle cross-functional team at Army Futures Command, said battery recharging is a "wicked hard problem."
The service needs electric systems that can recharge an M1 tank in the same amount of time it would take to fill it up with petroleum, he said. That's "the sweet spot where we could go EV," Coffman said. "But up until that point, it's going to have to be hybrid."
Additionally, for combat vehicles, one of the biggest challenges associated with electric systems is thermal management, Grein said.
"We operate under armor and much of our systems are in a reduced volume in a space that's extremely small," he said. "We just don't have the air flow that you have in the commercial sector" vehicles.
Meanwhile, the Army is developing a family of robotic systems — including light, medium and heavy platforms — and major tests are on the way.
The RCV light is a diesel-electric hybrid system with a gross vehicle weight of no more than 8,500 pounds and a max payload of no more than 7,000 pounds, Grein said. A contract was awarded to QinetiQ North America and Pratt & Miller in March 2020. The service has taken delivery of the first four systems.
The RCV medium is also a diesel-electric hybrid system with a gross vehicle weight of 25,000 pounds. It is equipped with a remotely operated 30 mm cannon and has a top speed of more than 25 mph, he said. A contract was awarded to an industry team consisting of Textron Systems, Howe & Howe and FLIR in March 2020.
Delivery of the first system is expected in April with another three systems slated to arrive in May, Grein said. A partially completed RCV medium platform was delivered to the Army in February to integrate government-developed autonomy software known as the robotic technology kernel, or RTK, into the platform prior to the delivery of the fully functional systems, he said.
"That's to give us a little heads up in terms of any integration challenges we may run into on the system, but so far things are progressing very well," he said.
Both vehicles will undergo "shakedown" testing at Camp Grayling, Michigan, from April through September of this year, Grein said. In November, the vehicles will be shipped to Army Test and Evaluation Command for safety testing which should conclude by May 2022.
From June through August 2022, the Army plans to host a soldier operational experiment at Fort Hood, Texas, to test both the light and medium variants, he said.
The experiment will then transition into a situational training exercise and a live-fire training exercise, he said.
"We've got a lot planned for our robotic systems, and we know that these events are going to definitely help shape the future for Army robotic systems," Grein said.

Topics: Army News, Energy, Tactical Wheeled Vehicles