Consumer interest in electric vehicles continues to mount, with major marketing campaigns from automakers and the Biden administration's high-profile proposals to invest in charging and other related infrastructure buoying the rise.
However, despite the proliferation of new brands and models, new data from Morning Consult shows that early arrivals to the electric and hybrid market — Tesla Inc. and Toyota Motor Corp. — continue to dominate the public consciousness when it comes to electric and otherwise "eco-friendly" vehicles. 
"An electric vehicle is not really a foreign concept anymore," said Billy Kingsland, group director of brand communication at Siegel+Gale, a consultancy that has worked with auto industry brands such as General Motors Co. "Especially for younger consumers, they're more plugged into the conversation, and expect that the brands they shop are going to participate not only in that conversation, but in affecting change." 
And that expectation seems to be growing. Since Morning Consult polled the public in January, the share of adults who said they would likely consider buying or leasing an EV in the next decade has ticked up by 4 percentage points — from 39 percent to 43 percent — according to the most recent survey, conducted March 30-April 2.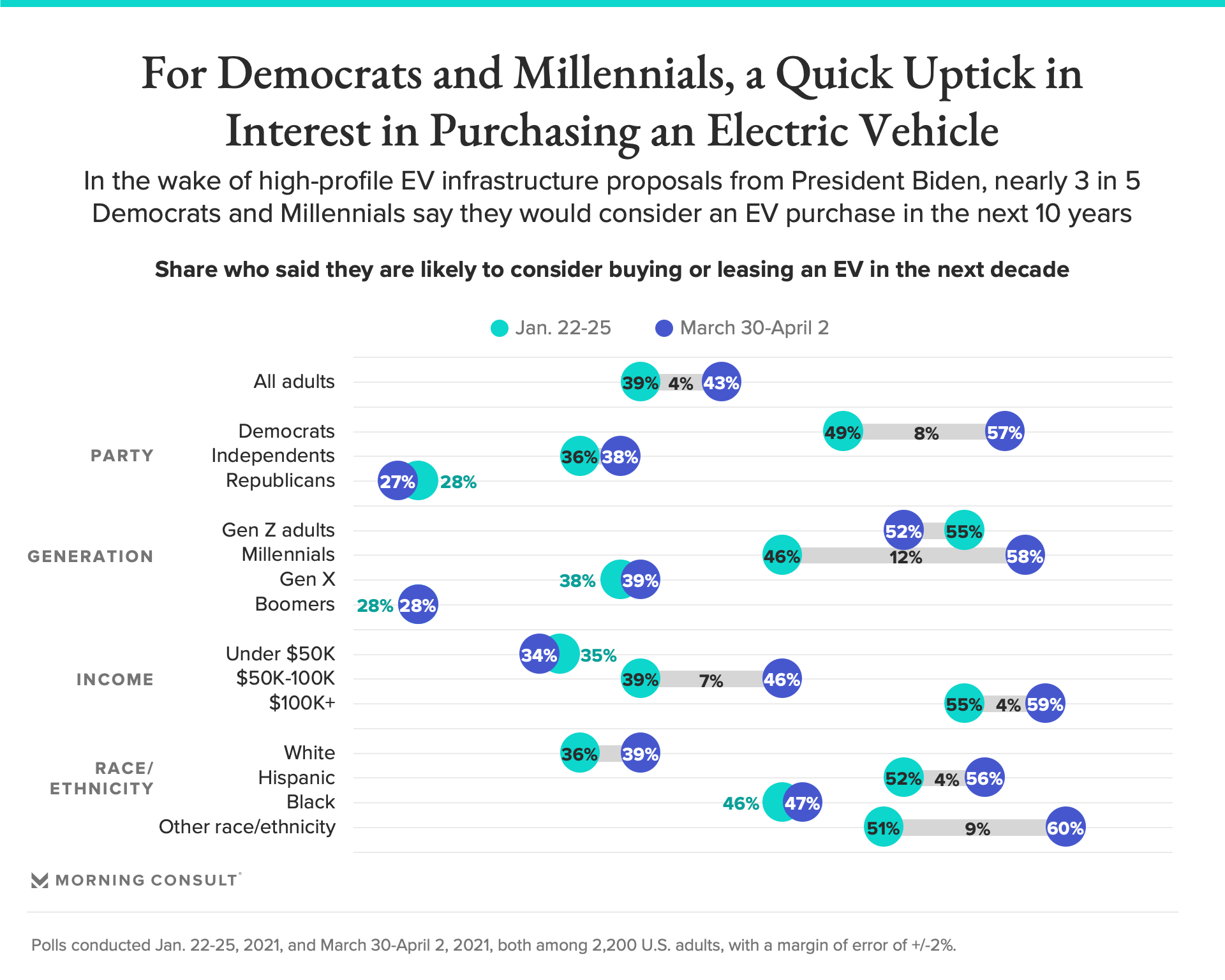 Democrats and millennials have seemed to fuel this shift, exhibiting jumps in their EV interest of 8 points and 12 points, respectively. In both groups, nearly 3 in 5 respondents said they would consider buying or leasing an EV, assuming they were in the market for a car in the next decade. Comparatively, there was essentially no movement in the shares of both Republicans and baby boomers that said they are likely to do so, at a little less than 30 percent for both. 
Thirty-nine percent of white respondents said they were likely to consider an EV in the next 10 years in the latest poll, compared to 56 percent of Hispanic respondents, 47 percent of Black respondents and 60 percent of respondents of other races and ethnicities who said the same. In past polls, respondents of color were more likely than white respondents to say they are concerned about climate change, as well as more likely to say climate change had a large role in natural disasters.  
In any case, the EV market has a long way to go to achieve the kind of market saturation that both President Joe Biden and a number of EV startups entering the scene have envisioned. The most recent poll found that just 2 percent of U.S. adults own an electric vehicle, and 6 percent own a hybrid vehicle, while 19 percent said they do not own a car. 
And 29 percent of respondents said they have a friend or family member who owns a hybrid or electric vehicle, a question that elicited a 13-point partisan gap at 35 percent of Democrats and 22 percent of Republicans. But despite this meager market saturation, some auto companies are ahead of the curve in terms of brand awareness, having successfully positioned themselves as eco-friendly in the minds of many consumers.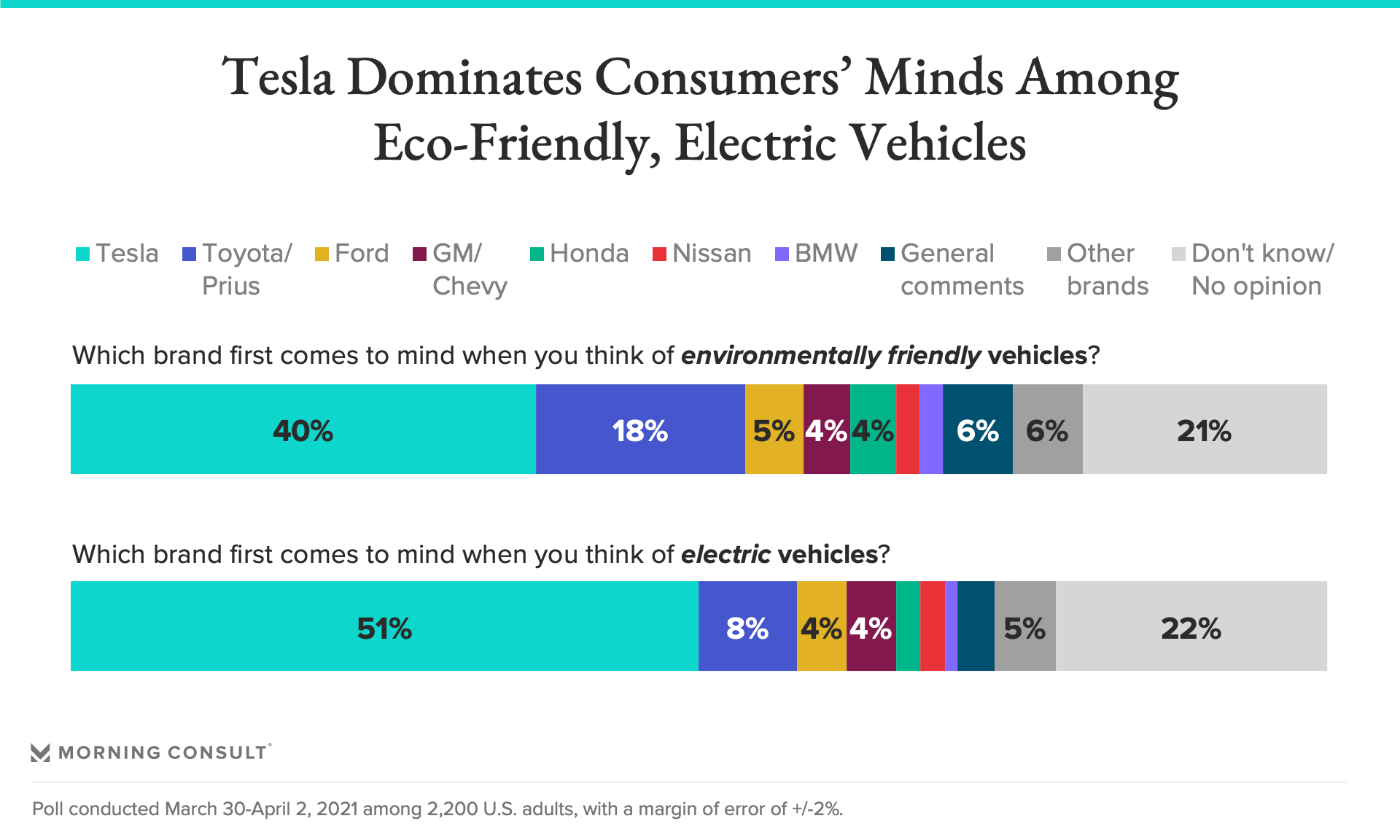 Morning Consult gave 2,199 U.S. adults a blank space and asked them to fill it with the first brand that came to mind when thinking of environmentally friendly vehicles, and 40 percent identified Elon Musk's Tesla. When asked to name a brand they most associated with EVs specifically, 51 percent said Tesla. 
Some of those respondents mentioned Musk by name, as opposed to the Tesla brand, pointing to the impact of the founder's reputation on the brand as a whole. Tesla also has a competitive advantage because, unlike other automotive companies, it does not have a history of burning fossil fuels.
Kingsland said Tesla benefits from Musk's "persona and his whole futurism angle. He positions himself, because he is, as someone who is very much part of the vanguard of the industry."
Toyota — and especially its early hybrid brand, Prius — was the second-most commonly named brand in response to both open-ended questions, although larger shares of consumers said they could not name a brand or had no opinion.
In the January poll, respondents who were unlikely to consider an EV said cost was among the main reasons for their reticence. EVs continue to fetch a higher up-front price than conventional cars, even as the fuel economy of conventional cars and hybrids continues to improve, leaving brands leaning into "green" bona fides regardless of their EV offerings.
While companies such as General Motors — which recently partnered with Malcolm Gladwell for a series of commercials promoting the company's aspirations for an all-electric future — have successfully conveyed their concrete EV goals, Kingsland said most brands have failed to highlight the lifetime fuel and servicing savings of a car that doesn't rely entirely on fossil fuels.
Hybrids have helped bridge the gap between gas- or diesel-burning cars and fully electric vehicles for both consumers and companies trying to be more environmentally conscious, but their continued viability will depend on the economics of their production, Kingsland said. Hybrids depend on both standard and electric engines, and it might not be feasible for automakers to continue producing both.
"There's a bit of an irony in this, because the vast majority of profits for automakers come from fossil fuel-burning cars, but they need those profits to invest in electric vehicles," he said. 
To address this dichotomy, the future of the auto industry could see more brand partnerships, such as the collaboration between Jaguar Land Rover and BMW Group to develop technology for electric engines. 
"It's to be seen how successful that will be, but it speaks to a kind of boldness and practicality in the industry that's not always common," Kingsland said. "Fossil fuel-burning cars aren't going to vanish, but potentially, auto manufacturers that are already moving away from them are benefiting from the way the larger climate-change conversation is being spotlit."
Both the Jan. 22-25 poll and the March 30-April 2 poll surveyed 2,200 U.S. adults and had 2-point margins of errors.