As electric vehicle startups looking to sell directly to consumers take aim at state laws that they say protect dealerships at the expense of consumer choice, all players have made the needs of potential EV customers a central part of their arguments. 
But even as tensions flare in state-level lobbying for and against direct sales, a March 23-26 poll from Morning Consult shows that neither side resonates overwhelmingly with most U.S. adults.
While the legal wranglings of the direct sales debate are likely not within the wheelhouse of the average consumer, when prompted with some basic information about the different sale models, respondents overall were split in their preferred EV-purchasing experience, with 37 percent of adults who expressed some interest in purchasing an EV choosing a traditional dealership and 21 percent choosing a manufacturer showroom.
Twenty-two percent said they would prefer to buy an EV through an online service, with delivery or nearby pickup of the car, a service that many EV startups have made their bread and butter, but that legacy car companies and dealerships are increasingly relying upon, as well.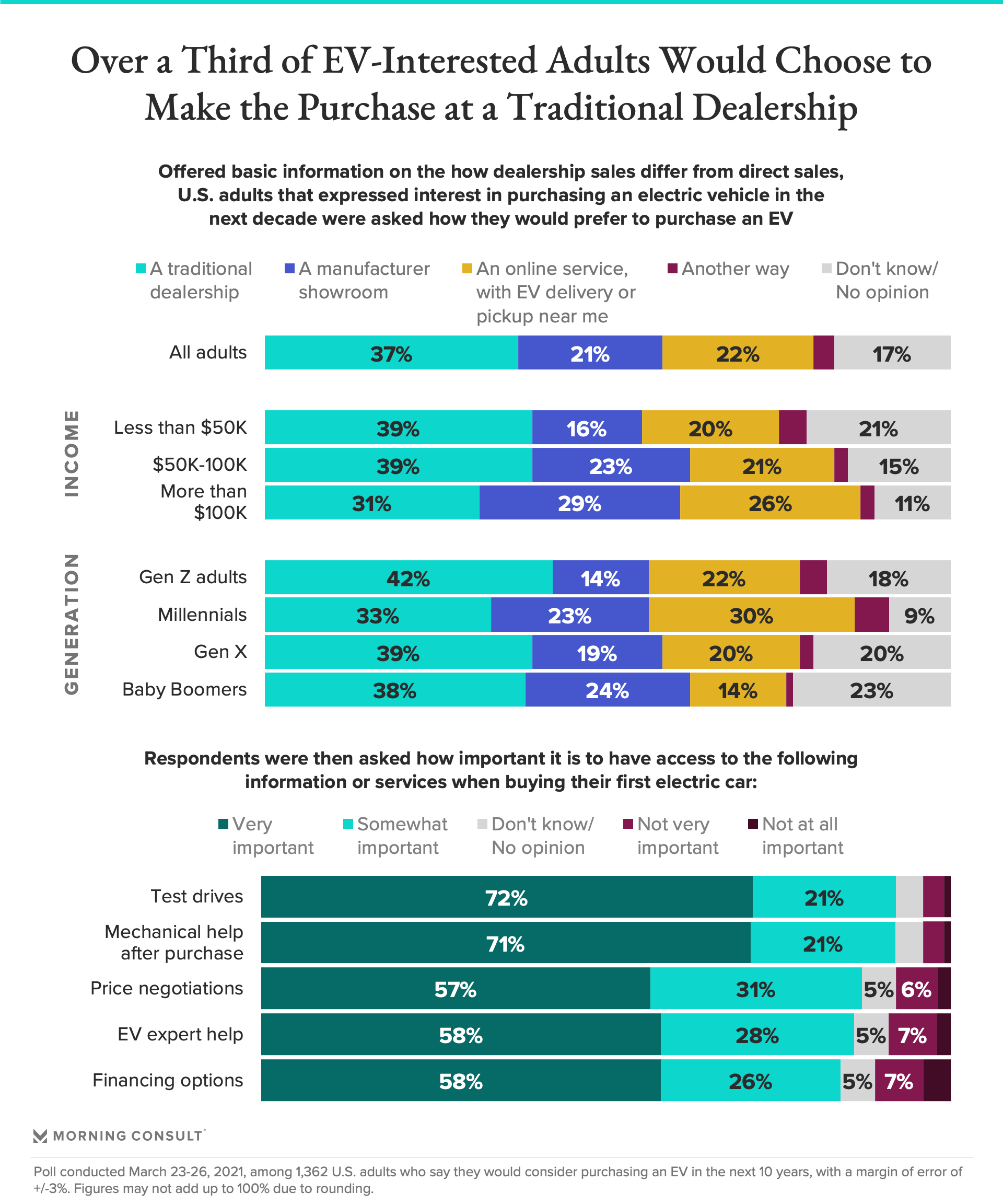 While society has had over a century to get used to the experience of owning a car with an internal combustion engine, EVs are still foreign to most: The survey showed that just 2 percent of U.S. adults own an EV. But roughly 3 in 5 expressed some interest in adopting the new technology in the next decade, with caveats for price and charging infrastructure concerns. 
Liza Borches, president and chief executive of the Virginia-based Carter Myers Automotive, said she expects the tide of EV interest will turn more decisively in the next two years, though there has been a slow growth of interest already beyond the environmentalists who led the first EV customers, as "people are starting to see that this is the direction of our industry and they're curious." She has seen the most interest in CMA's urban and suburban markets, such as Charlottesville, where charging infrastructure investments are already robust.
But actually getting EVs into consumers' garages remains fraught, said Ben Prochazka, national director for the Electrification Coalition, largely because manufacturing is not yet at-scale for EVs. He said there has emerged a tension in the market, between what consumers are currently demanding — predominantly gas-powered cars — and the widespread assumption that the market will transition to electric vehicles in the near future.
Many EV startups, including Rivian Automotive LLC, Lucid Motors Inc. and Lordstown Motors Corp., differ from dealerships in which approach they think will most successfully usher consumers through this technological transition: a traditional dealership or a manufacturer-run showroom. 
Part of the EV companies' pitch for direct sales is the idea that dealerships are unprepared or otherwise uninterested in selling their cars, a concern that has shaped EV companies' business models and has coalesced into a steady state-level campaign for direct sales.
Katherine Stainken, policy director for the pro-EV nonprofit Plug In America, said she has found that the retail showroom Tesla Inc., Rivian, Lucid and others are pushing for is the "purchase experience that the consumer really wants."
"You can get your questions answered by a salesperson — a specialist that knows about the car, knows about the batteries, knows about the charging," Stainken said. (The jockeying that has been part of the traditional dealership experience would no longer be an option in a showroom operating with set prices.)
But Morning Consult's survey found that 41 percent of respondents in the poll said they had a positive impression of car dealerships, while 22 percent said their impression was negative. One-third had a neutral impression. 
Among the 1,751 respondents who have purchased a car at a dealership in the past, impressions were slightly more positive, at 47 percent. 
And there was some generational division in attitudes toward dealerships, with millennials most positive (50 percent) and Gen Z adults least positive (33 percent). When asked where they would prefer to purchase an EV, however, the two groups reversed their apparent affections, with Gen Z more likely to say they would prefer a traditional dealership (42 percent) than millennials (33 percent).  
But the EV companies' skepticism about dealer preparedness is an attitude that Borches — who is a proponent of EV adoption and drives a plug-in hybrid herself — rejects, saying interest in learning about and selling EVs has been high in her dealerships. 
"People who work in auto retail typically love new innovation and product," she said, noting that the main challenge so far has been that most of her company's manufacturer partners make very few EV models, or none at all. However, in the next year she expects that to change, given the proliferation of EV models set to enter the market in the next 12 months.
And things are already beginning to change, as dealerships like CMA are asked by their manufacturer partners to make major investments in charging infrastructure, and some even decide to offer EVs as loaner cars to encourage their adoption.
When it comes to the information and services that could nudge potential EV customers to commit to making the switch, test drives and the availability of servicing or mechanical help after purchasing the car garnered the largest shares of respondents saying they are "very important," at 72 percent and 71 percent, respectively. 
Price negotiations, EV expert help and financing options all came in at nearly 60 percent. 
The quality of that potential servicing is another issue that crops up regularly in the debate on direct sales, with EV companies and advocates concerned that the dealership model incentivizes selling gas-powered cars due to their higher service requirements. 
Citing the fact that servicing and parts account for almost 50 percent of dealerships' gross profits, more than any type of sales, Prochazka said most dealerships are facing the parallel challenges of having to learn how to service vehicles with an entirely different system than the internal combustion engine, while simultaneously grappling with the fact that selling more EVs will likely mean less profit from that servicing.  
But asked whether the lower potential servicing costs poses a problem for CMA, Borches was largely unphased, saying the company has been through major market evolutions in its 97 years of operation — as has the dealership industry at large — and while there will be "a shift in the type of work" dealerships are called to do, they will continue to play a crucial role. Furthermore, she anticipates many consumers will need dealerships to essentially hold their hands after making the switch to EVs, considering things can go wrong when there is a significant new technology. 
The poll surveyed 2,200 U.S. adults and has a margin of error of 2 percentage points. The margins of error for dealership customers and non-customers are 2 points and 5 points, respectively.