New electric vehicle registrations – including plug-in hybrids (PHEVs) and battery-electric vehicles (BEVs) – jumped to 23,000 in the 2020/2021 financial year, new data from the Australian Bureau of Statistics (ABS) says.
It's a jump of 62.3% in sales when compared to 2019/2020 registration numbers of around 14,250 plug-in electric vehicles, signalling the increasing interest Australian drivers are showing in electrified transport.
The numbers include passenger vehicle, motorcycle and other vehicle sales. The ABS says that 20,095 electrified passenger vehicles were sold in the last financial year, alongside 2,706 electric motorbikes and 327 other vehicles.
The data is perhaps the most comprehensive in Australia as it uses registration data from states and territories rather than from sales figures submitted by carmakers to the Federal Chamber of Automotive Industries (FCAI).
While Tesla is a member of the industry body, it does not report local sales figures which means the Vfacts data collected on behalf of the FCAI is inaccurate in regards to EV sales.
However, the data could still be more granular, specifically in regards to plug-in hybrid sales versus electric vehicle sales.
As The Driven has reported most recently, an "army" of Tesla Model 3s descending on Australian ports could see more than 10,000 of the best-selling electric sedan alone registered in 2021.
Even looking at the latest FCAI data (half-year sales data will be published in coming days, again sans Tesla), it is clear that electric vehicles are pulling ahead of plug-in hybrids – in May year-to-date numbers just 1,122 plug-in hybrids have sold in 2021 compared to 1,691 battery-electrics – and the latter number is in fact far higher because around 4,200 Model 3s have been imported in the first half of 2021.
This is good news because as European clean transport lobby group Transport & Environment reported in 2020, how "clean" plug-in hybrids are depends on how often they are charged and how they are driven.
But a new influx of PHEVs competing against a slowly expanding BEV market has the potential to shift this trend as PHEVs are cheaper than their BEV equivalents because they have smaller batteries, and many consumers are not well educated to understand the differing benefits of PHEVs vs BEVs.
The above graph is also a snapshot in time before Australia had any meaningful incentives for drivers to go all-electric. There are now five states and territories – NSW, Victoria, Queensland, Tasmania and the ACT – which have various rebates and waivers in place to help make electric vehicles more affordable.
However, July 1, 2021 (today) also marks the first day that Victorian electric vehicle owners have to submit odometer readings in order to be taxed 2.5 cents per kilometre driven; a tax that is proving exceedingly unpopular and driving some EV owners to find creative ways to submit their readings to the state government: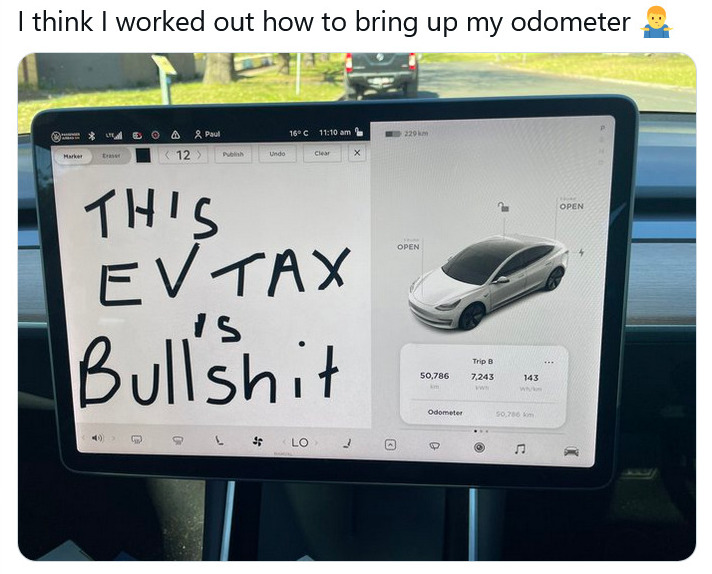 Bridie Schmidt is lead reporter for The Driven, sister site of Renew Economy. She specialises in writing about new technology and has been writing about electric vehicles since 2018. She has a keen interest in the role that zero emissions transport has to play in sustainability. She has participated in podcasts such as Download This Show with Marc Fennell and Shirtloads of Science with Karl Kruszelnicki and is co-organiser of the Northern Rivers Electric Vehicle Forum.