Stocks of electric-vehicle (EV) makers accelerated in 2020. And it's no secret that Chinese EV stocks were some of the most popular, as the largest automotive market in the world continues to move toward electrification in its transportation sector. 
EV sales in China surpassed 1 million in 2020, and the government hopes to grow that to 5 million by 2025. It could reach 10 million by 2030, and approach 20 million by 2040, according to research organization BloombergNEF. Two electric automakers looking to capitalize on that expansion are NIO (NYSE:NIO) and XPeng (NYSE:XPEV). Investors may be wondering which is the better buy, particularly after a correction has hit share prices in the sector.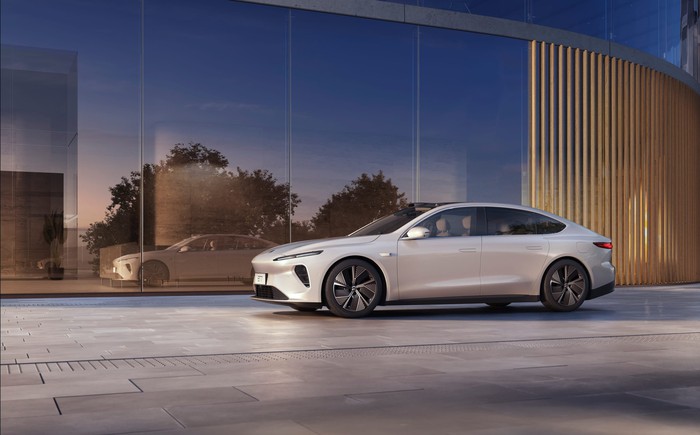 The right market
As noted above, the largest automotive market in the world has much potential for EV growth. The problem is, there will be plenty of companies seeking to capitalize. Tesla (NASDAQ:TSLA) built its second manufacturing plant in Shanghai for a reason. And though they're maybe the most well-known Chinese EV makers, NIO and XPeng combined delivered only slightly more than half the 131,000 battery-electric vehicles that BYD (OTC:BYDDY) sold in 2020.
NIO reached almost 44,000 vehicles delivered in 2020, while XPeng more than doubled its volume versus 2019 to 27,041. Both companies have recently introduced sedan models that each hopes will be significant drivers of future sales growth.
XPeng's P7 sports sedan has surpassed a total of 20,000 cumulative deliveries since its launch in early 2020, as it moves ahead of the G3 compact SUV as the company's most popular vehicle. That marked the fastest pace to 20,000 vehicle deliveries of any Chinese EV start-up. 
NIO introduced its new ET7 luxury sedan earlier this year. The ET7 will be available early next year, and has some intricate features. The sleek exterior includes autonomous driving sensors, a "crystal-like heartbeat" tail light, all-glass roof, and a digital entry system that extends the flush handle and automatically releases the door's "e-latch" as the driver approaches. 
Priced for perfection
The strong sales growth along with massive potential for Chinese EVs had investors already piling into these stocks. But after shares of both NIO and XPeng soared last year, the stocks are off January 2021 highs by 27% and 38% respectively, making now a good time to see which may be the better buy. 
Neither company is profitable yet, so one way to measure valuations is using sales rather than earnings. The price-to-sales ratios (P/S) are both very high, but sales are expected to grow quickly, and it's a relevant metric for comparing the two companies.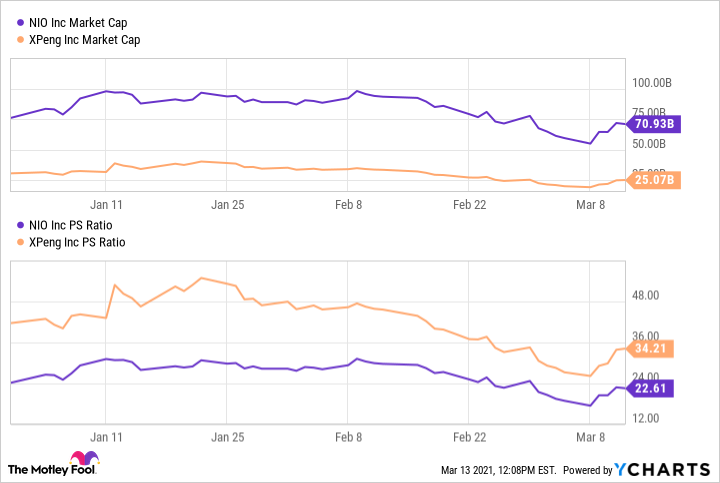 Though NIO has the higher market cap, it is less expensive than XPeng as measured by the P/S ratio. NIO also has a unique approach to the market with its battery swap program, which allows customers to "recharge" via a faster battery exchange. The company says its automated battery swap stations take only three minutes to produce a fully charged battery replacement.
Looking ahead
NIO's push into the luxury sedan segment with its ET7 could help advance the company to the next level. Gross margins, gross profit, and operating cash flow went positive in 2020, indicating the path to profitability is in sight. 
Both companies look to be adequately capitalized to fund planned growth efforts. As of Dec. 31, 2020, NIO had $6.5 billion in cash and cash equivalents, restricted cash, and short-term investment on its balance sheet, and XPeng had about $5.4 billion. The companies could raise more money by listing on the Hong Kong Stock Exchange, which is reportedly being considered by both. 
For investors looking to pick just one holding to participate in Chinese EV growth, NIO appears to be the better option of these two companies. Any investment still belongs in the speculative portion of a portfolio, with the potential for much volatility. But for those who can stomach that, and have an appropriate portion invested, the recent drop in shares helps make NIO a better buy than XPeng right now. 
This article represents the opinion of the writer, who may disagree with the "official" recommendation position of a Motley Fool premium advisory service. We're motley! Questioning an investing thesis — even one of our own — helps us all think critically about investing and make decisions that help us become smarter, happier, and richer.