British adventurer Chris Ramsey is planning to drive through 14 countries for almost 30,000km from the South Pole to the North Pole in a bid to raise awareness about the role electric vehicles can play in mitigating climate change.
The whole trip, which will cover three continents, is called the "Pole to Pole Project" and will be documented by Plug In Adventures who say it be the first electric road trip that stretches from pole to pole (hence the name).
Headed by Ramsay, who is founder of Plug In Adventures and is also an electric Guinness World Record holder for riding the longest distance on an electric bike, the trip will be the "ultimate test of range and durability".
"This is the ultimate test of range and durability, and by overcoming these obstacles we aim to prove that EV adoption is a possibility for everyone, while also raising awareness of sustainable lifestyles, conservation projects and renewable energy innovation along our route," Ramsey said in a statement.
"For some people climate change can feel like an issue that is too big for them to have an impact on, but with road vehicles accounting for more than 20% of all harmful emissions worldwide, the switch to electric cars powered by renewable energy could dramatically reduce our carbon footprint."
While we would note that the Pole to Pole project doesn't quite equal the breadth and length of the "Plug Me In" electric road trip completed by Dutchman Wiebe Wakker in 2019 (that covered 34 countries from northern Norway to the most southern tip of New Zealand over more than 100,000km), it will reportedly visit some of the world's most taxing environments.
"Our mission is to show that electric vehicles can tackle the harshest of environments – from the colds of the Poles (minus 30 degrees celsius) to the hot and humid jungles of South America (28 degrees Celsius)," says Ramsey.
Ramsey has not revealed which electric vehicle will be driven in the adventure, nor how it will be charged in remote regions. It is possible the project will use the all-electric Tembo 4×4 as featured on Arctic Truck's website.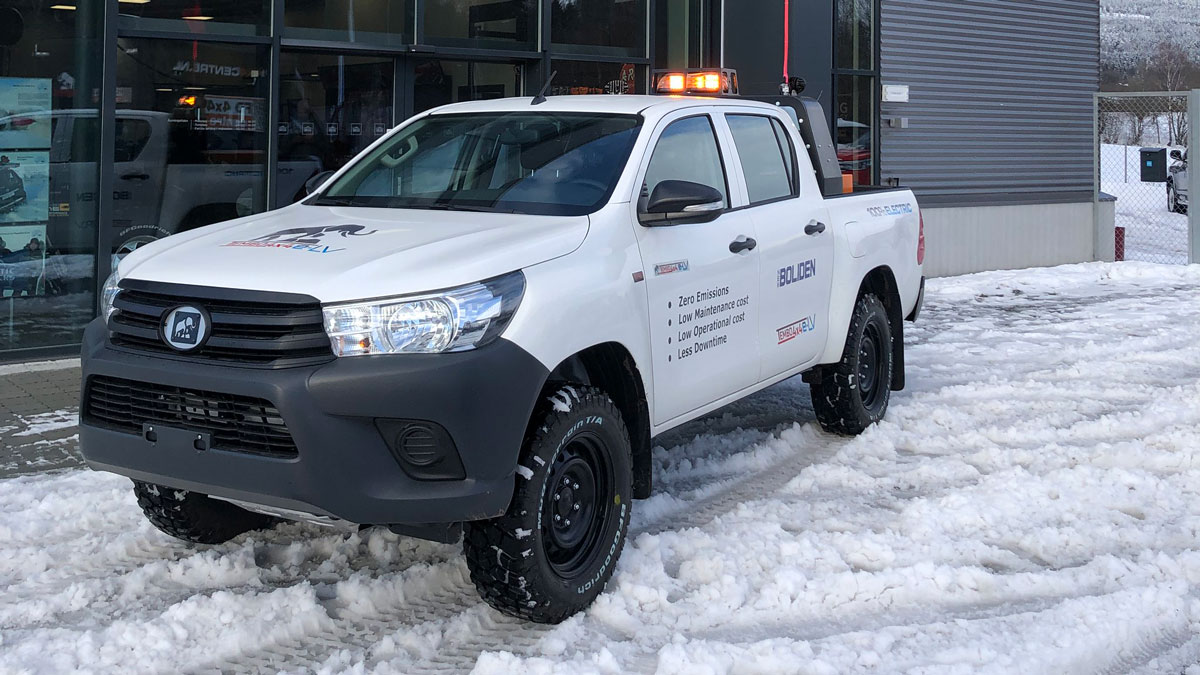 Or it could be something else completely, we will just have to wait and see.
The project will be supported by Iceland's Arctic Trucks, which specialises in the polar regions which are especially limiting for the driving range of EV batteries. It is the same outfit that took Top Gear's James May to visit an erupting Eyjafjallajökull in 2010 in an AT38 Hilux.
"We acknowledge that battery-based electric vehicles have important hurdles to overcome for use in the extreme cold, a challenge for which we are excited to be a part of developing solutions," said company chairman Emil Grimsson in a statement.
The Pole to Pole project will not be Ramsay's first long-distance electric trip. In 2017, he and partner Julie were the first team to complete the 16,000km Mongol Rally in an electric vehicle driving through 20 countries in 56 days.
Bridie Schmidt is lead reporter for The Driven, sister site of Renew Economy. She specialises in writing about new technology and has been writing about electric vehicles for two years. She has a keen interest in the role that zero emissions transport has to play in sustainability and is co-organiser of the Northern Rivers Electric Vehicle Forum.