WASHINGTON — China's lead in producing and selling more electric vehicles than any other country is only expected to grow in the coming years, experts say, outpacing American rivals enough to raise national security concerns.
One response: Democrats are pushing legislation that would pour money into helping U.S. automakers catch up. It's fueled in part by fear among some policymakers and analysts that the East Asian superpower is so dominant in EVs that it could weaponize its lead by "dumping" vehicles on the global market at artificially low prices to hurt competitors based in Michigan, among others, and their union workforces.
"China is over-producing electric cars and probably, as it did in steel, will dump product globally to try to wipe out the competition," said Rep. Marcy Kaptur, D-Ohio, and co-chair of the House Auto Caucus. "So we need a trade strategy that's very sophisticated to deal with non-market economies like China. We can't allow that kind of predatory practice to continue."
The Biden administration has pledged to use "all available tools" to fight unfair trade practices from China. The president insists the electrified autos of the future be made at home by unionized workers: he told a joint session of Congress two weeks ago that there's no reason why "American workers can't lead the world in the production of electric vehicles and batteries." It's a commitment likely to be punctuated by a presidential visit to Michigan next week ahead of Ford Motor Co.'s launch of the electric F-150 Lightning.
On Capitol Hill, Republicans and Democrats alike see China as the United States' major international competitor. The two largest economies offer starkly different visions for the world's political and economic futures — and technological innovation, including in electric vehicles, is central to each country's perceived path to winning.
"We will not hesitate to call out China's coercive and unfair trade practices that harm American workers, undermine the multilateral system or violate basic human rights," U.S. Trade Representative Katherine Tai told a Senate committee Wednesday. "We welcome fair competition. And if China cannot or will not adapt to international rules and norms, we must take the steps to level the playing field."
From steel to EVs
To understand the potential threat of dumping electric vehicles, Kaptur and others point to trends in Chinese steel production.
For the last several years, China has produced around half of the world's steel even as economists say there's more capacity than is needed. Europe and the United States have alleged state-backed companies in China are using their excess capacity to flood foreign markets with artificially low-priced steel, hurting companies and jobs.
Former President Donald Trump implemented stringent 25% tariffs on imported steel in an attempt to protect American companies, though some economists argued the tariffs were ineffective and overly broad. The Biden administration hasn't reversed course: Tai mentioned the country's protectionist stance against the steel glut in her Wednesday remarks, and Commerce Secretary Gina Raimondo has said the tariffs "helped save American jobs."
Now, some fear electric vehicles could be next.
China produces and sells just under half of the world's electric vehicles, according to data from research firm LMC Automotive. And the country is moving quickly to expand that lead: China is building electric vehicle factories faster than anywhere else in the world, and by 2028, it's projected to produce 8 million electric cars annually, compared with 1 million last year.
"There's no question that (dumping) is an option," said Michael Dunne, CEO of Hong Kong-based advisory firm ZoZo Go LLC. He estimates China will account for around 60% of global production by 2025.
"China is the king of capacity, whether it's steel or solar panels or electric cars. They're so far out of front of everyone else in terms of their ability to produce electric vehicles that they could conceivably swamp global markets, if they needed to."
So far, most of China's EV sales have remained within the country. That's been paired with stringent rules on who can produce in the country, until recently requiring that any foreign automakers partner with local ones. But Chinese automakers have said they plan to enter the European and American markets soon, with EV startup Nio Inc. announcing just last week it plans to start selling in Norway in September.
The Chinese strategy
Not everyone agrees that Chinese dominance in electric vehicles is an accurate indicator that foul play is ahead.
"The problem with EVs, in particular, is that a government (not just China's) might have good reasons to subsidize development of the product in order to keep costs low and encourage widespread adoption for environmental reasons" — especially in the beginning when upfront costs are high and volumes are relatively low, said Linda Lim, a professor of corporate strategy and international business at the University of Michigan. "So how do you distinguish this from 'predatory pricing?'
"The reason I don't think China will dump EVs as a national state-sponsored strategy is because they don't need to do so in order to reach scale economies — their own market is already the biggest and growing faster than elsewhere. They don't need to export to become cheap, and if they do, there are plenty of other big markets in Asia that they can export to" that don't have EV competitors.
Dunne agreed, at least for the short term. There's plenty of room for China to continue to grow EV sales within its borders, the second-largest economy in the world. "Next three to five years, look for growth to be concentrated in the People's Republic of China."
China's government-funded electric vehicle strategy began more than a decade ago, and other governments in Europe and North America have just recently decided to follow suit, said Mark Wakefield, global co-leader of the automotive and industrial practice at consulting firm AlixPartners.
Electric vehicles don't operate in a totally free market anywhere, he said. Whether through incentives or regulation, governments around the world are pushing electric vehicles anywhere they're being sold and produced. Recent regulatory and incentive changes have boosted sales in Europe and China.
"You haven't seen that same share gain in the U.S. because there hasn't been a fundamental shift in the regulatory framework — the stick part of it, which you must do — or the carrot part of it, the incentives," Wakefield said. "China sees there's an opportunity to leapfrog and has been playing a longer game for quite some time to push electrification."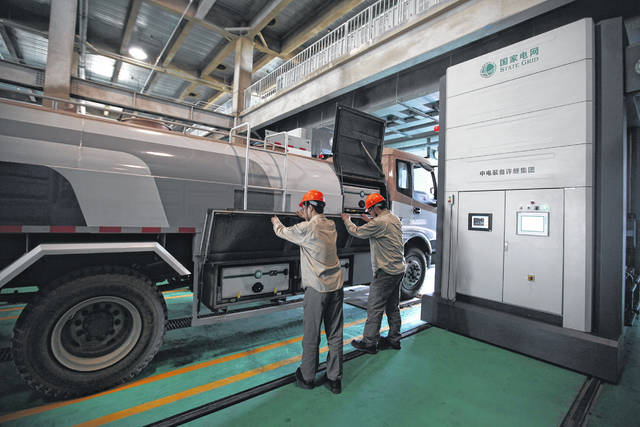 Chinese workers prepare an electric-powered truck for its batteries to be changed at China's largest electric vehicle battery recharging station in Beijing, China in 2012.
How that's bad for US automakers