The price of cobalt has jumped 40 per cent so far this year on persistent demand from electric vehicle makers, underlining the challenge in reducing reliance on the rare metal to make batteries for longer-range cars.
Electric carmakers including Tesla and Volkswagen have pledged over the coming years to reduce their use of cobalt, which is largely dependent on mining in the Democratic Republic of Congo, deterred by human rights abuses in the supply chain and by the high price.
Prices for the world's most expensive battery metal hit their highest level since January 2019 in March — at $25 a pound — and currently hover around $21, according to data company Fastmarkets. Analysts at RBC say they expect cobalt prices to reach $28.50 a pound this year, and rise to $40 in 2024 as alternatives are expected to remain scarce.
After a 40 per cent rise in 2020, electric car sales more than doubled in the first quarter of 2021 compared with the same period a year earlier, according to the International Energy Agency. "The supply side is not reacting right now," said Michael Widmer, an analyst at Bank of America. "So I forecast really big deficits potentially, which begs the question, where will the cobalt come from?"
"The growth in EV volumes is drowning any effect of substitution. Range anxiety still hasn't gone away," he added.
More than 60 per cent of the world's cobalt supply comes from the Democratic Republic of Congo, where production is dominated by Chinese companies and London-listed Glencore.
This month China's largest battery maker, CATL, said its subsidiary had bought a share in an undeveloped copper and cobalt project in the DRC for $138m, in an indication of future demand for the metal.
"They are not going to be investing in a mining operation unless they have pretty good visibility that they will need the cobalt," Caspar Rawles, an analyst at consultancy Benchmark Mineral Intelligence, said.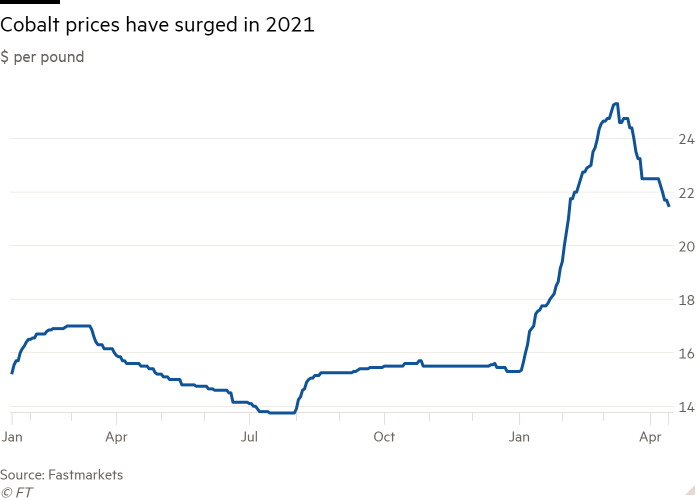 But hundreds of individual miners also account for a large slice of supply. Allegations of child labour have deterred car companies from buying cobalt from the DRC, where an estimated 15 per cent of supply is mined by hand, often by children. BMW has said it would buy cobalt only from mines in Australia and Morocco for this reason.
Last month the Congo's government moved to crack down on abuses by launching a new government entity tasked with buying all of the hand-mined supply and developing controlled cobalt mining zones.
The Entreprise Générale du Cobalt will eliminate child labour in the mining sector and also trace the cobalt as it moves into the manufacturing process, according to the company's managing director Jean-Dominique Takis Kumbo, and is looking to sign deals with major carmakers.
"The child labour is not slavery, it is livelihood" in poor communities, he said. "We need to respond to all these concerns — to take out the children is a must. And that is absolutely the first intention. Then we need to ensure that the population that are making their livelihood out of the minerals can make a more sustainable income."
While a growing number of electric cars in China, the world's largest EV market, are using an alternative lithium-iron phosphate (LFP) chemistry that does not use cobalt or nickel, but this has been outweighed by growth in global demand for more powerful batteries.
"I still think cobalt will be an important battery material going forward," said William Adams, head of base metals and battery research at Fastmarkets. "Even though there will be less cobalt in batteries it will still put production under strain because of the vast uptake in EVs and energy storage."
Tesla's Model 3 cars produced at its Shanghai factory mostly use the alternative lithium-iron phosphate batteries. BYD, a Chinese automaker, said that all its models would use these batteries and Volkswagen said last month it would use LFP batteries for its entry-level models globally from 2023.
Still, LFP batteries accounted for only 14 per cent of battery energy stored globally in February, according to consultancy Rho Motion. It expects this to reach between 15 to 20 per cent by 2030, mostly in smaller cars.
The EGC has partnered with the Swiss commodity trader Trafigura, which will market the cobalt to international buyers. Cleaning up the cobalt supply should help make it more palatable to car buyers, according to James Nicholson at Trafigura.
"Artisanal production is absolutely required if we are to meet these aggressive targets that have been set in terms of reduced emissions," he said.
Cobalt prices are notoriously volatile. They rose to $45 a pound in 2018 before falling to a low of $12 a pound the following year. Glencore, the world's largest cobalt producer, which supplies Tesla among others, shut down its Mutanda mine in the Congo in the summer of 2019 due to low prices. Prices may need to get above $25 for more large mines to enter production, according to Widmer at Bank of America.
Follow @ftclimate on Instagram
Climate Capital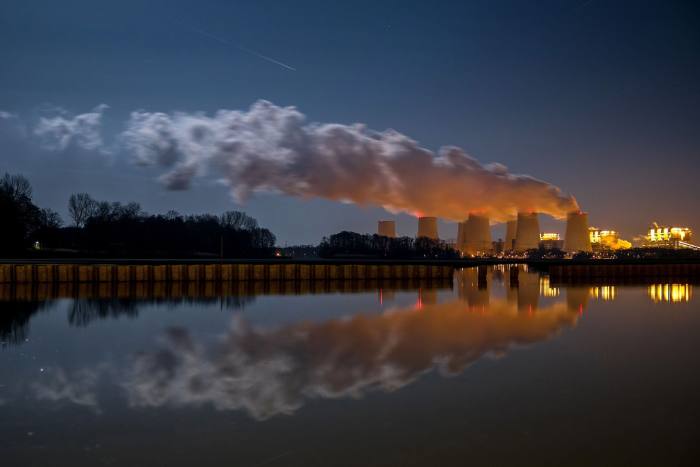 Where climate change meets business, markets and politics. Explore the FT's coverage here 
mate