There has been a lot of buzz around electric vehicle (EV) companies as of late. In April, Toyota unveiled plans for 15 new battery-electric vehicles. In May, Ford debuted the Lightning, an all-electric version of its famed F-150.
Whether it's a legacy automaker diversifying its product line or a pure-play start-up, several players are now gunning for a share of the growing EV market. Despite all the competition, few companies seem to compare with Lucid Motors, which plans to raise $4.6 billion in cash through a merger with a SPAC called Churchill Capital IV (NYSE:CCIV). Here's why Lucid Motors could be a millionaire-maker growth stock worth buying now.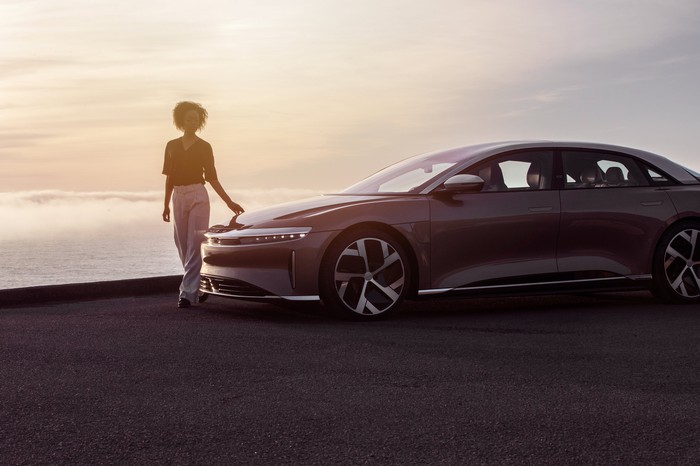 The gameplan
Lucid Motors is expected to begin production of its luxury sedan, the Lucid Air, at its manufacturing plant in Casa Grande, Arizona, starting in the second half of 2021. The Air is expected to come in four different trims. Lucid plans to roll out the trims in order of price, with the most expensive offering (the Dream Edition) being made first and the cheapest version (the Lucid Air Pure) coming out sometime in 2023. The Dream Edition comes packed with an EPA-rated range of 503 miles, 1,080 horsepower, 0-60 mph in less than 2.5 seconds, and a sticker price of $169,000 before federal tax credits while the Air Pure is expected to have a range of over 400 miles, 480 horsepower, and cost $77,400 before federal tax credits.
In February, Lucid had around 7,500 reservations across its Air product line. It increased that number to over 9,000 as of May 2021, representing over $800 million in anticipated sales. With reservations for the Dream Edition now closed, investors should shift their attention to production deadlines and delivery volumes.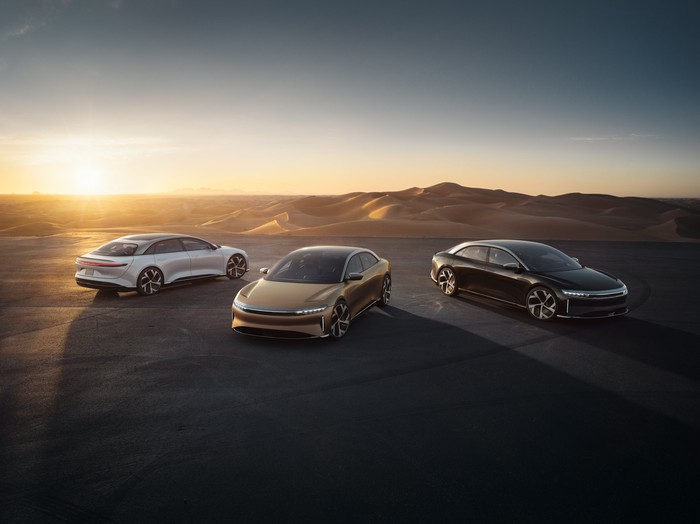 Lucid's big-picture goal is to have three divisions: Lucid Motors (cars), energy storage systems (ESS), and technology. For cars, the plan is to begin with Air luxury sedans, add project Gravity (an SUV) in 2023, and then gradually expand production and model offerings to bring the sticker price down.
ESS involves selling battery packs and battery management systems to residential, commercial, and utility-scale customers.
Lucid sees an opportunity to supply its battery packs and software to EV racing teams. Beyond that, there could be potential to supply technology to the industrial sector, with applications including aircraft, military, heavy machinery, agriculture, and marine. 
In 2022, Lucid's goal is to produce at least 20,000 vehicles, earn $2.22 billion in revenue, and turn a slight profit. It then expects to grow revenue at a compound annual growth rate of nearly 60%, reaching upwards of $22 billion in 2026 revenue, gross profit of over $5.2 billion, and production of 250,000 vehicles.
These early projections should be taken with a grain of salt, as Lucid has yet to sell a single vehicle. Management recognizes that its brand and reputation depend on timely delivery, performance, and positive reviews of the Lucid Air Dream Edition.
Competitive advantages
Speaking of management, Lucid's C-suite is stacked with talent. Eighteen people out of its 20-person team have experience working for rival automakers and various Fortune 100 tech companies. And eight out of the 20 used to work at Tesla (NASDAQ:TSLA). Lucid's CEO, Peter Rawlinson, was the chief vehicle engineer of the Tesla Model S and is the leading engineer behind the Lucid Air
Of course, none of Lucid's short or long-term goals matter if its vehicles can't stack up to the competition. Given its current price point, Lucid sees itself mainly competing with the Mercedes-Benz S-Class and then Tesla when rolls out its sub-$100,000 trims. Despite the stiff competition, Lucid believes it is the "clear winner" when it comes to EV technology because of its faster charging time and longer range with a smaller, lower-cost battery pack. 
Lucid Air's key advantage is that it combines long range with performance. The Lucid Air Grand Touring, which is the company's second-most expensive trim, sports a battery efficiency of over 4.5 miles per kilowatt-hour (mi/kWh) of stored energy. According to Lucid, that's higher than the Tesla Model S, Jaguar I-Pace, Porsche Taycan, and other competitors. "It is my belief that [battery efficiency] is the single most relevant metric of the prowess and provenance of an EV company. If you had to distill it down to a single figure, this is it," Rawlinson said during the company's February presentation.
Lucid is able to achieve a high-efficiency rating mainly because it designs its own technology and plans to do its own manufacturing. The battery pack, motor and transmission, inverter, charging system, and software are all developed in-house, giving the Air an integrated powertrain that doesn't rely on components and parts from independent suppliers.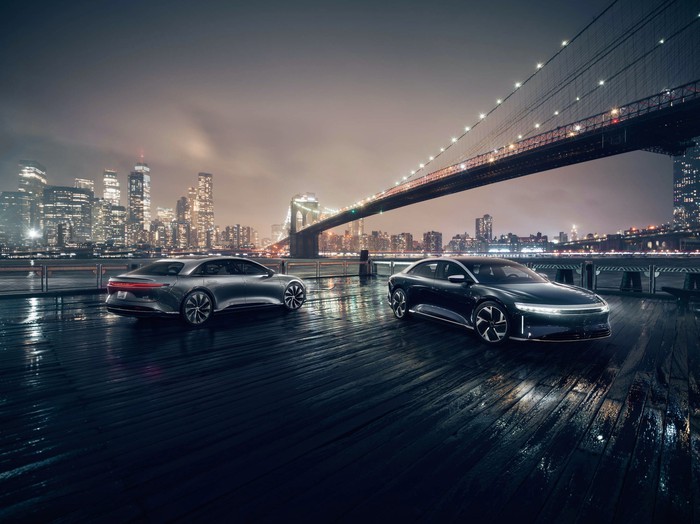 It's worth mentioning that if the Air Dream Edition achieves its intended specs, it would be the first EV to have a range that exceeds 500 miles and one of just two EVs to offer over 1,000 horsepower (the other being the newly released Tesla Model S Plaid). High price tag or not, that would be an incredible engineering achievement that could help elevate Lucid's brand and expand its customer base. 
The bottom line
Lucid Motors has spent the last five years developing competitive technology. Today, it is a legitimate company that now has the funding needed to scale. Early interest in the Air Dream Edition, Lucid's 2022 delivery target of 20,000 vehicles, and the goal to turn a slight profit as early as next year are encouraging. Investors should bear in mind that Lucid's timeline and projections could vary wildly, and the company's stock is sure to be volatile for quite some time. However, given the long-term potential of EVs and Lucid's competitive advantages, the company seems to offer the highest growth potential of any automotive stock on the market today.
This article represents the opinion of the writer, who may disagree with the "official" recommendation position of a Motley Fool premium advisory service. We're motley! Questioning an investing thesis — even one of our own — helps us all think critically about investing and make decisions that help us become smarter, happier, and richer.