Battery-powered electric vehicles (BEV) accounted for more than 1 in 10 (10.7%) of new car UK registrations last month, according to figures from the Society of Motor Manufacturers and Traders (SMMT).
Despite a global shortage in semiconductors hindering vehicle supply, the SMMT said a total of 186,128 new cars were registered in June as the UK's new car market continued its post-pandemic recovery. 
Last month's new registrations figure was up 28% on June 2020, when most dealerships reopened after the first lockdown. 
Overall registrations for the first six months of 2021 came in at just under 910,000 according to the SMMT. This figure was down around 27% compared with the average of 1.2 million registrations recorded over the past decade.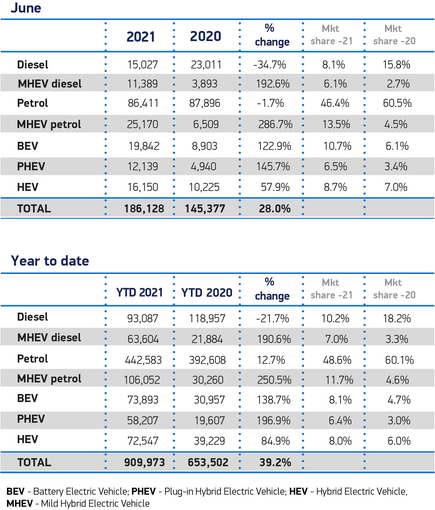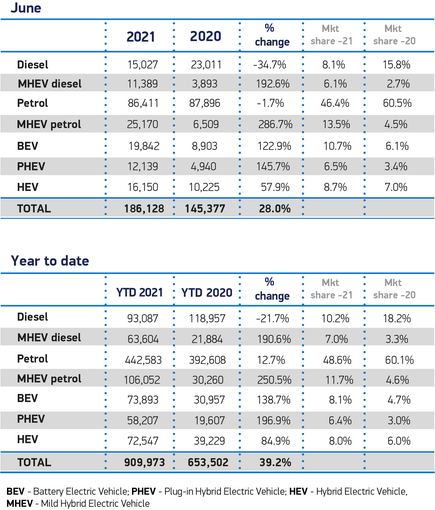 Against this depressed statistic, the SMMT said June was an encouraging month for sales of BEV and plug-in hybrid vehicles (PHEV). 
In combination, BEV and PHEV represented a 17.2% market share, equating to just under 32,000 units of all new vehicles hitting the road in June.
Following government reductions to the Plug-in Car Grant made earlier this March, PHEV uptake continued to grow faster than BEV uptake for the third month running. The government currently makes grants of up to £2,500 available for electric vehicles on cars priced under £35,000.
Recording sales of 5,468, Tesla's Model 3 was June's biggest selling model, followed by the Volkswagen Golf (4,629) and Ford Puma (4,477).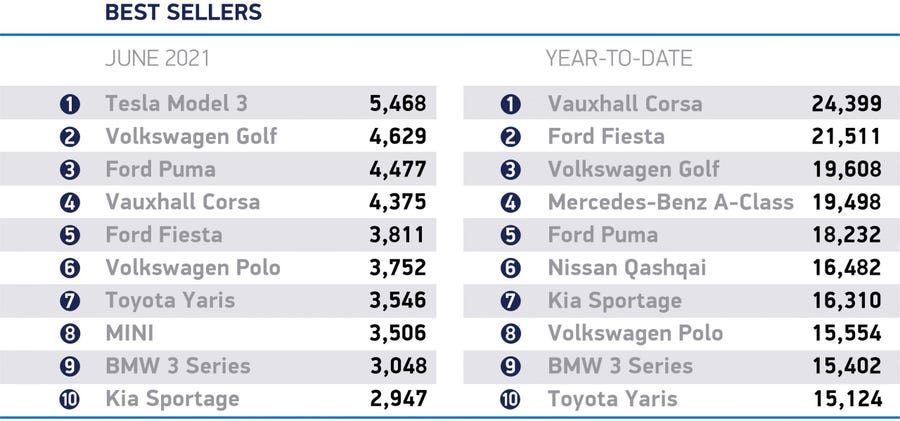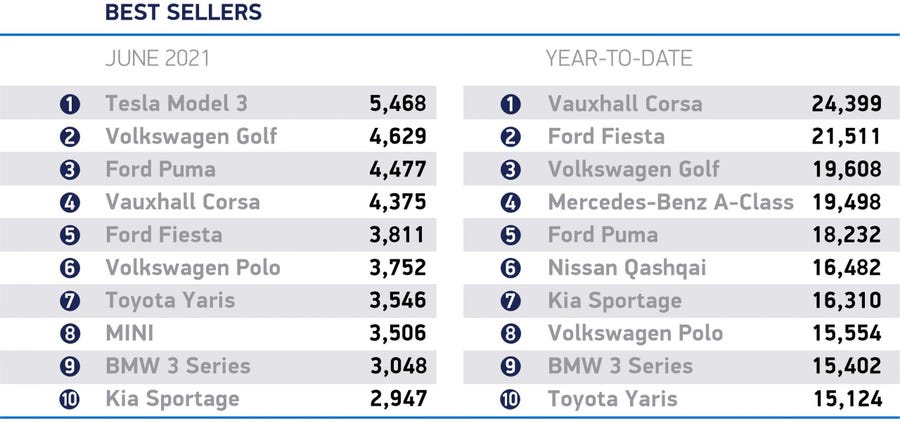 SMMT added that, for the year-to-date, 2021 is the third-best year on record for new van sales, with the rise in home deliveries seen as a driving factor for this growth. Van registrations for sectors such as the building trade are also regarded as a bellwether to wider economic activity.
Mike Hawes at the SMMT said: "The automotive sector is now battling against a 'long Covid' of vehicle supply challenges. The semiconductor shortages arising from Covid-constrained output globally are affecting vehicle production, disrupting supply on certain models and restricting the automotive recovery.
"With the end of domestic restrictions later this month looking more likely, business and consumer optimism should improve further, fuelling increased spending, especially as the industry looks towards September and advanced orders for the next plate change."
---
Motoring organisation, the AA, is urging the government to scrap VAT on the sale of electric cars in its Autumn Budget to boost their uptake and help the UK reach its 2050 Net Zero emissions target. 
In a recent survey commissioned by the AA, two-thirds of drivers said scrapping VAT on electric vehicles (EV) would be the most influential policy towards buying one. 
Edmund King at the AA said: "Many drivers still feel priced out of the electric car market, so more has to be done to encourage their uptake. Scrapping VAT, as happened in Norway, is the best way to accelerate their growth and give consumers confidence.
"Giving the EV market a jump start will not just boost UK car manufacturing, but will also help reduce CO2 across the country."
---