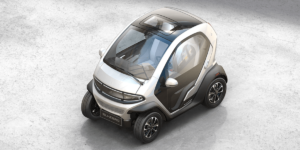 According to a media report, the start-up Eli Electric Vehicles has begun production of its Zero, an L6e class electric light vehicle first presented as a concept at CES 2017.
The production partner is to be based in China and sales will begin in the coming weeks, initially in small numbers in 13 European countries, according to Techcrunch. The starting price is to be 11,999 US dollars (approx. 10,230 euros). However, US prices are before taxes.
The electric light vehicle was first shown at CES 2017. At that time, there was still talk of a top speed of 40 km/h. The range was supposed to be up to 100 kilometres. Almost a year ago, the start-up came back with an update. They had made some improvements to the Eli Zero that should make it possible for the electric car to be approved for road traffic in the USA and the EU. However, Eli did not provide more concrete information on the technical data at the time.
The Eli Zero electric light vehicle has a length of 2,250 mm, a width of 1,380 mm and a height of 1,588 mm. The wheelbase is 1,600 mm. There is room for a total of two people. The load volume is given as 160 litres. Propulsion is provided by an electric motor with a rated output of 4 kW, which is supposed to enable a top speed of 45 km/h. The Eli Zero is to be available in a range of models. The Eli Zero will be available with a 5.8 kWh battery and an 8 kWh battery. The latter is supposed to be sufficient for a range of up to 80 kilometres and 110 kilometres, respectively. If the battery is empty, it can be recharged at a household socket within 2.5 hours or 3.5 hours.
Eli recently launched a crowdfunding campaign via the StartEngine platform. So far, just over 236,000 US dollars have been raised, which will be used to finance production, among other things. Eli had previously raised around US$1.4 million on StartEngine's platform and over US$6.5 million.
While Eli Electric Vehicles is based in Los Angeles, its production partner is in China, he said. The "geopolitical tensions" are said to be one of the reasons why the startup is initially focusing on the European market. In addition, different laws in the individual states would make it difficult to obtain a road licence for a vehicle of this class.
In Europe, on the other hand, this is much easier. "In a lot of European cities, for example in Paris, they now have a very strict legal speed limit of 30 kilometers per hour (19 mph), and I think we see that being a trend in European cities like Vienna and Amsterdam," said Marcus Li, CEO and founder of Eli. For distribution, the startup is relying on KSR Group, which plans to bring the vehicle to Austria, Germany and Switzerland first. After that, other European countries will follow.
techcrunch.com, eli.world (technical specifications)
– ADVERTISEMENT –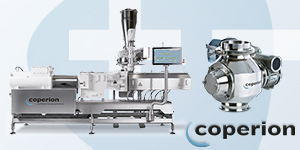 Coperion technology for continuous production of battery materials. Reliable process technology solutions that secure a consistently high product quality: The ZSK twin screw extruders, the components and the gravimetric feeders from Coperion and Coperion K-Tron are specifically designed for toxic and hard-to-handle materials in continuous production processes.
www.coperion.com