Mazda is a strong supporter of the motor press in general and Torque News in particular. We were invited to attend the media launch event for the upcoming MX-30 battery-electric compact crossover vehicle, but were unable to attend due to a scheduling conflict. To help ensure our readers have access to the visual information gained at that event, we searched for and found a video from a publication with which we have no affiliation. This Torque News author has never worked with or provided content to Out of Spec Reviews, but we have come to respect the work done by Kyle Conner and his team. Mr. Conner is a technically savvy detail-oriented electric vehicle expert who produces enjoyable Youtube content for those who want to dive deeply into a given topic. You can jump to the detailed video below if you wish, but we have prepared a succinct overview of the conclusions for you here.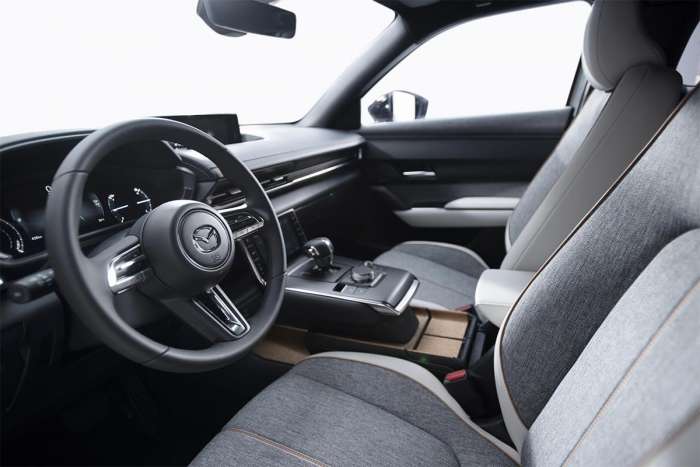 Related Story: Mazda's New MX-30 Cork Trim- A Sustainable Nod To Mazda's Origin
What is the Mazda MX-30?
The MX-30 will be a line of compact crossover electrified vehicles. The Mazda CX-30 crossover is one of our favorite vehicles, and we were excited to hear that Mazda had created a battery-electric (BEV) and plug-in hybrid-electric (PHEV) vehicle based on the same chassis.
The MX-30 is a front-wheel-drive-only crossover that is intended to be used in warm-weather urban environments. Unlike some electric vehicles, the MX-30 is not targeted at everyone. Where it might work is in a place like where the launch event was held, sunny Southern California.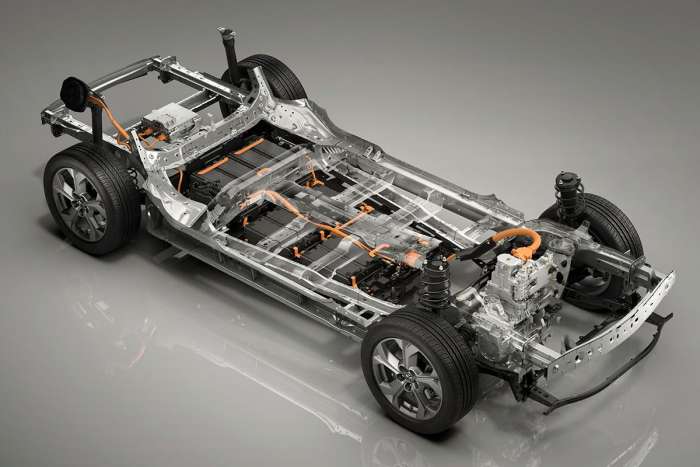 Range and Performance
The Mazda MX-30 has a battery pack offering just 100 miles of range. We will pause while you boo. It also isn't the quickest $35K battery-electric vehicle in the marketplace. However, as the video proves in exacting detail, it is a blast to drive on back-country roads. Mazda took great care to bring its MX-30 owners a vehicle that lives up to the zoom-zoom roots underpinning every Mazda.
We will let Kyle's video tell you more but here are the upsides and downsides that Out of Spec Reviews found to be of note in testing during the MX-30 media event:
Upsides
Attractive design, particularly from the front and front ¾ view
Excellent interior – a Mazda trademark.
Fun to drive hard.
Fun to drive in the city.
Roomy enough for a 6" 1" driver or rear seat passenger.
Neat coach-style rear doors.
Qualifies for federal tax incentives (as of now).
PHEV version to follow.
Interesting Mazda vehicle loan plan for 10-days of road trips per year.
If you know and love the Mazda infotainment system, you will be happy to hear it carries over to the MX-30.
Downsides
May only be a California-market car.
Limited production planned (under 600 units in the first year of sales).
Front-wheel drive only.
Limited range of 100 miles
Slow charging speeds by comparison to other BEVs.
If you are not a fan of the Mazda remote interface infotainment system, be warned.
If you enjoyed Kyle Conner's video and would like to see more such videos, please let us know in the comments below. Also, tell us what you think of this 100-mile range EV in a world where the minimum has become 250 miles.
John Goreham is a long-time New England Motor Press Association member and recovering engineer. John's interest in EVs goes back to 1990 when he designed the thermal control system for an EV battery as part of an academic team. After earning his mechanical engineering degree, John completed a marketing program at Northeastern University and worked with automotive component manufacturers, in the semiconductor industry, and in biotech. In addition to Torque News, John's work has appeared in print in dozens of American news outlets and he provides reviews to many vehicle shopping sites. You can follow John on TikTok @ToknCars, on Twitter, and view his credentials at Linkedin
Re-Publication. If you wish to re-use this content, please contact Torque News for terms and conditions.