EV Charging Stations Quickly Becoming the Norm Around the State, Nation, and World
Electric vehicle (EV) drivers travelling along Highway 395 in Inyo County and Highway 58 in Kern County can now recharge using five newly installed fast charging stations.
[MSN reports–Washington state has announced it would ban the sale of petrol and diesel cars here by 2030. Automobile manufacturers are increasingly moving towards electric car and plan to phase out gas and diesel vehicles.]
"Fast chargers are essential to continue growing EV adoption in California and meeting our state's goals for combating climate change," said Caltrans Director Toks Omishakin. "Expanding the availability of convenient fast-charging stations along state highways is significant for the future of California transportation."
The chargers are located at the following locations:
Coso Junction Rest Area on Highway 395, north of Pearsonville
Boron Rest Area on Highway 58, west of Boron – two charging stations, one in each direction
Division Creek Rest Area on Highway 395, south of Bishop
Caltrans office at 500 S. Main Street in Bishop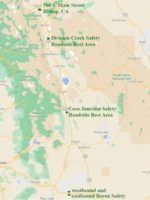 The Level 3 DC fast chargers provide an approximate 80 percent charge in 30 minutes to EVs with fast-charging capability. The chargers have universal connectors to serve most EVs on the market, including Teslas with an adapter. Charging is free with no time limit.
District 9 Director Ryan Dermody said in a statement, "These chargers bring increased mobility for travelers and residents to many of our long-distance destinations along California's eastern corridor. The addition of these chargers encourages the use of electric vehicles and fulfills part of Caltrans' commitment to reducing emissions to tackle climate change."
According to the California Air Resources Board, 70 percent of the state's transportation sector greenhouse gas emissions come from passenger vehicles such as cars, SUVs, and light-duty trucks.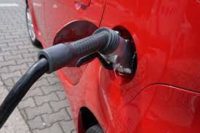 In addition to the five newly installed chargers, Caltrans has 22 fast chargers in the Central Valley, six in San Diego County, two in Monterey County, one in San Luis Obispo County, two Level 2 charging stations in Napa County and three in Contra Costa County – all available to the public.
To view EV charger locations throughout the state, visit the U.S. Department of Energy searchable database on public alternative fuel stations in California and nationwide at: https://afdc.energy.gov/stations – /find/nearest?fuel=ELEC. Charging station locations at Caltrans rest areas may also be found on the Caltrans QuickMap app.