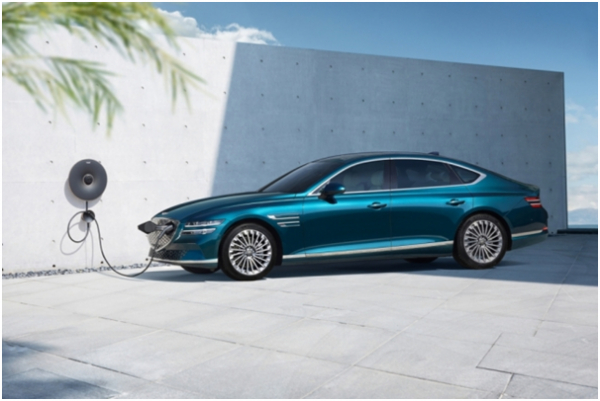 Interest in Genesis Brand's first electric vehicle G80e is growing in overseas markets.
Hyundai Motor Group said on May 19 that major media outlets around the world have continued to praise the G80e since the model made its debut at the 2021 Shanghai International Motor Show in April. In China, favorable reviews are focused on its design. "Its design show the Genesis' own style well," a Chinese online car media outlet said on the G80e. "It suggests an original interpretation of luxury."
"It shows a perfect balance between dynamic and elegance," said the Global Times of China.
The model enjoyed a high evaluation of its design in the United States as well. "The interior and exterior design of the G80e boasts a very attractive style," said Car & Driver, an American automotive media outlet. "The design of the G80e is more elegant as it utilizes eco-friendly materials such as recycled wood, textiles and leather processed with natural dyes," online automotive media outlet Autoblog said regarding the G80e's exclusive built-in color and two tones of dark green
The G80e's electric vehicle technology was highly evaluated. The model is loaded with batteries of 87.2 kWh which allow the model to run up to 427 kilometers on a single charge. Besides, new technologies were applied to boost the model's performances and efficiency such as Solar Roof which can charge an average of 730Wh of electric power per day with solar energy and the disconnector actuator system (DAS) which can separate and connect a car's electric motor and driveshaft depending on driving conditions.
Based on these reviews, many media outlets predict that the G80e will emerge as a new leader in the luxury electric vehicle market. "The G80e will compete with Tesla Model S and Mercedes-Benz EQS in the near future," said Auto Bild, a German auto magazine. Another German car magazine, "Auto Motor und Sport" also predicted fierce competition between the G80e and other models, saying that the G80e is taking aim at the EQS and the Model S."
Hyundai Motor Group will start selling some Genesis models in European regions starting in June following China. Starting by receiving orders for the flagship G80 and GV80, the company will introduce the mid-sized sports sedan G70 and the mid-sized urban-style SUV GV70. The automaker is planning to launch two electric vehicle models including the G80e after them.