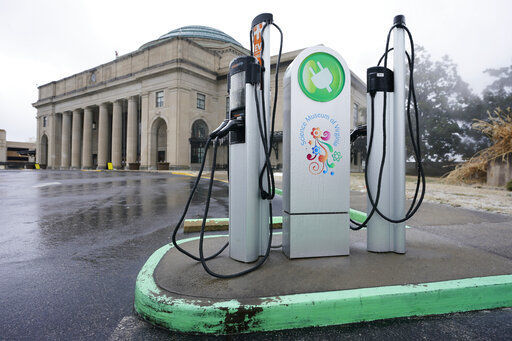 It's becoming a bit more common to see electric cars on roads these days, but they still account for a fraction of traffic.
Still, the push to drive electric seems to be growing, spurred primarily by Tesla, and Virginia transportation planners want to be prepared.
Brad Shelton, with Michael Baker International, presented a report on the state's electric vehicle infrastructure last week  to the Commonwealth Transportation Board.
Virginia ranks 13th in the U.S. for electric vehicle registrations, according to the report. The state ranks 11th for its number of charging stations, with 2,095 charging outlets at 701 stations providing the service. Those figures have increased since the report was finalized.
Locally, electric vehicle charging stations can be found at a variety of locations, including gas stations. Some area Giant grocery stores recently added charging stations.
Shelton noted in the report that while electric vehicle use and infrastructure continues to grow, "range anxiety" and concerns over infrastructure support are major hurdles to people buying electric vehicles.
Yet, Shelton mentioned a 2019 study projecting electric vehicles would comprise 12 percent of new car sales by 2030.
"Electric vehicles are coming," he told the board.