Motorsports fans have a reputation of being averse to change, particularly if it might mitigate the sound of roaring internal combustion engines and the smell of burnt rubber and gasoline. Even so, new survey results indicate that race fans are more open to adopting hybrid and all-electric vehicles than the general population.
A recent Morning Consult survey found that motorsports fans are more likely than the public to consider buying or leasing an all-electric vehicle within the next 10 years, assuming they were in the market for a new car. Among all adults, 43 percent of respondents said they would likely consider such a vehicle, compared with 55 percent of motorsports fans and 75 percent of "avid" motorsports fans.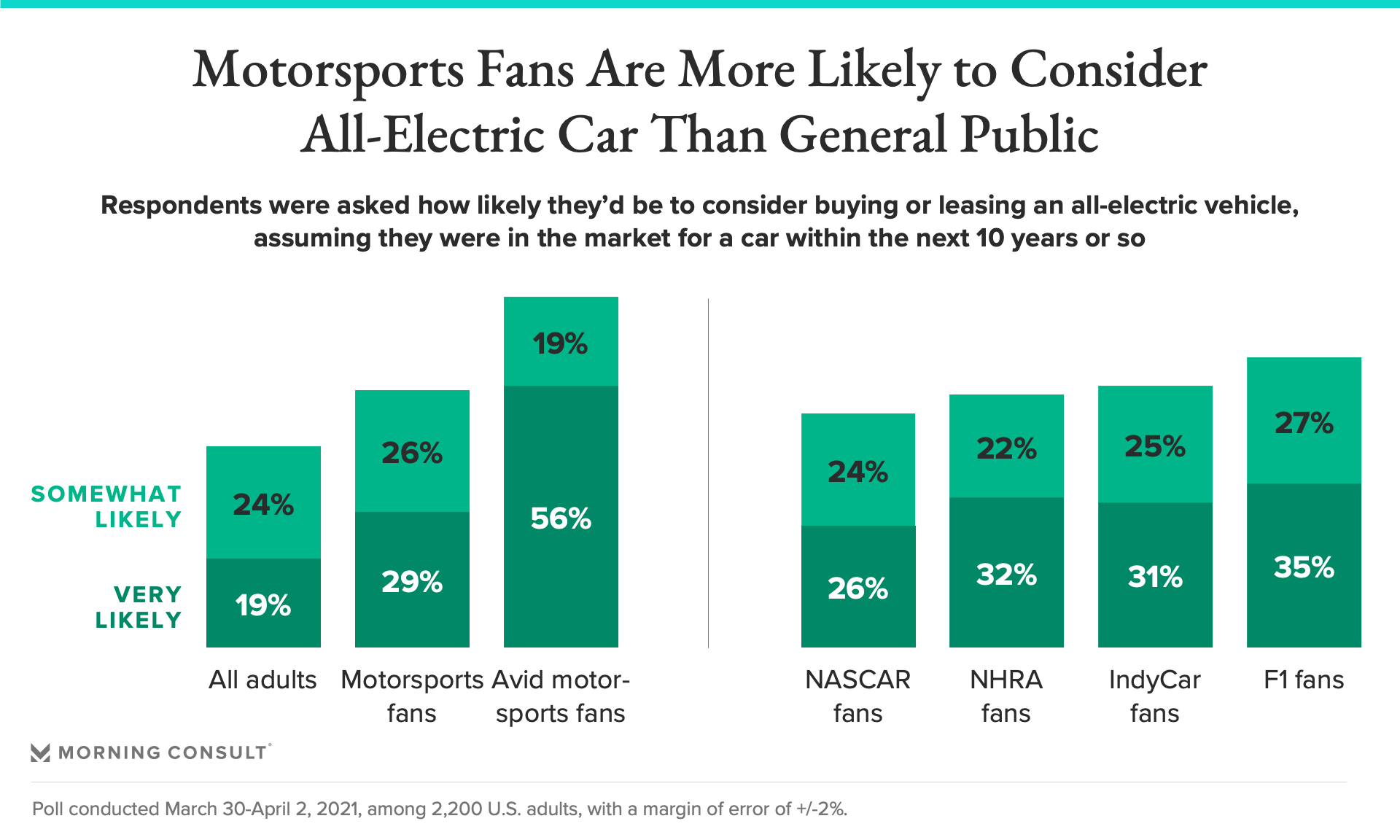 Fifteen percent of motorsports fans said they already drive a hybrid or all-electric automobile, compared with 8 percent of adults. In addition, about 1 in 4 avid motorsports fans said they own a hybrid or all-electric vehicle. The share of survey respondents currently driving hybrid cars was about three times as large as the share driving all-electric vehicles.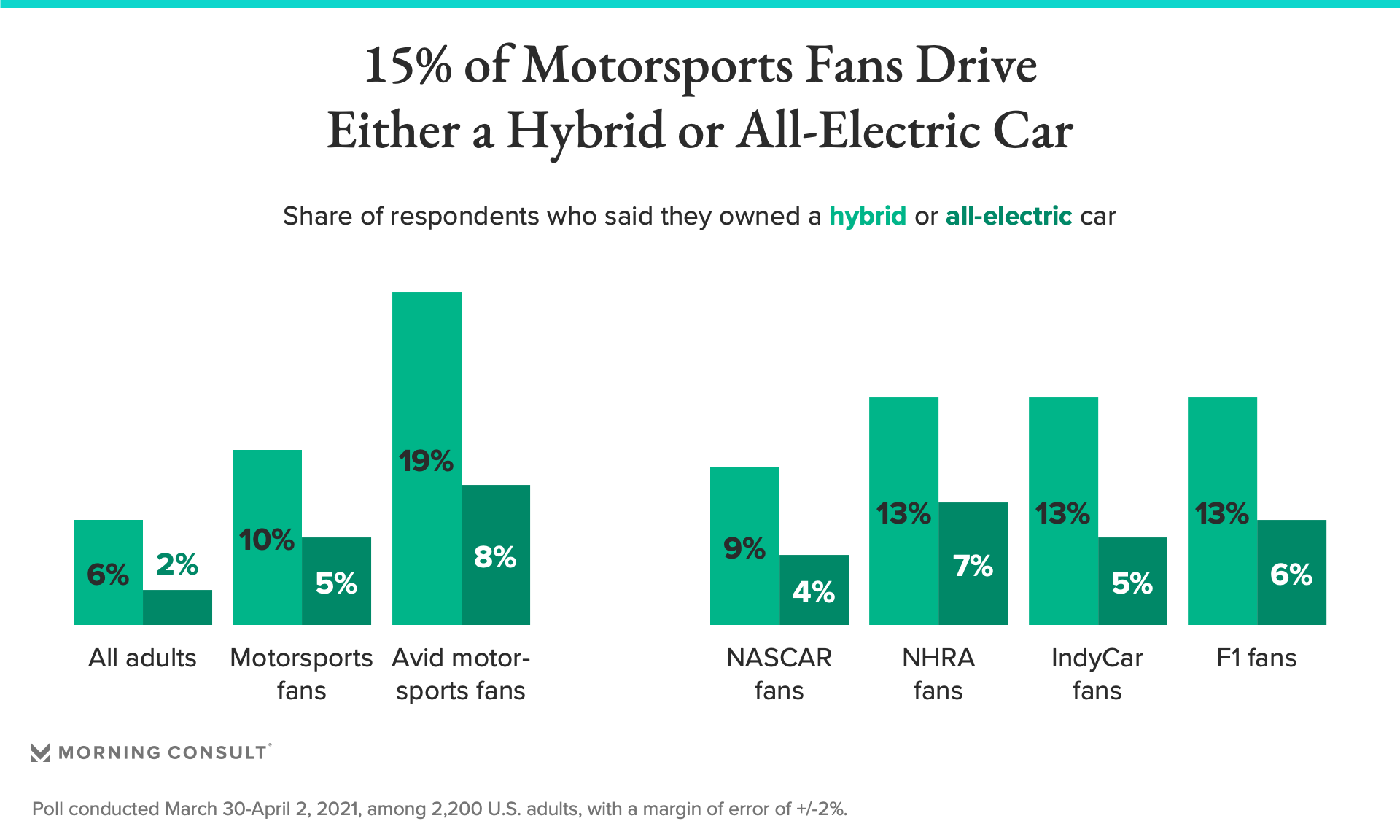 The March 30-April 2 survey of 2,200 U.S. adults carries a margin of error of 2 percentage points, while the margins of error for the subgroup of 736 motorsports fans and 205 avid motorsports fans are 4 points and 6 points, respectively. 
Alex Beer, chief client officer for GMR Marketing, said that while there's truth to the notion that some traditionalists within the motorsports fan base see electric vehicles as a threat to the sport they know and love, most car aficionados are fascinated by the newest automotive developments.
"A car fan is a car fan: They know more statistically about vehicle makes, models, what's coming out new, what is being talked about or rumored than the general public," Beer said. "I'm sure there'll be a portion of that fan base that doesn't want to see change or may be resistant to change, but most car people are interested in just cool cars and, more importantly, cool technology."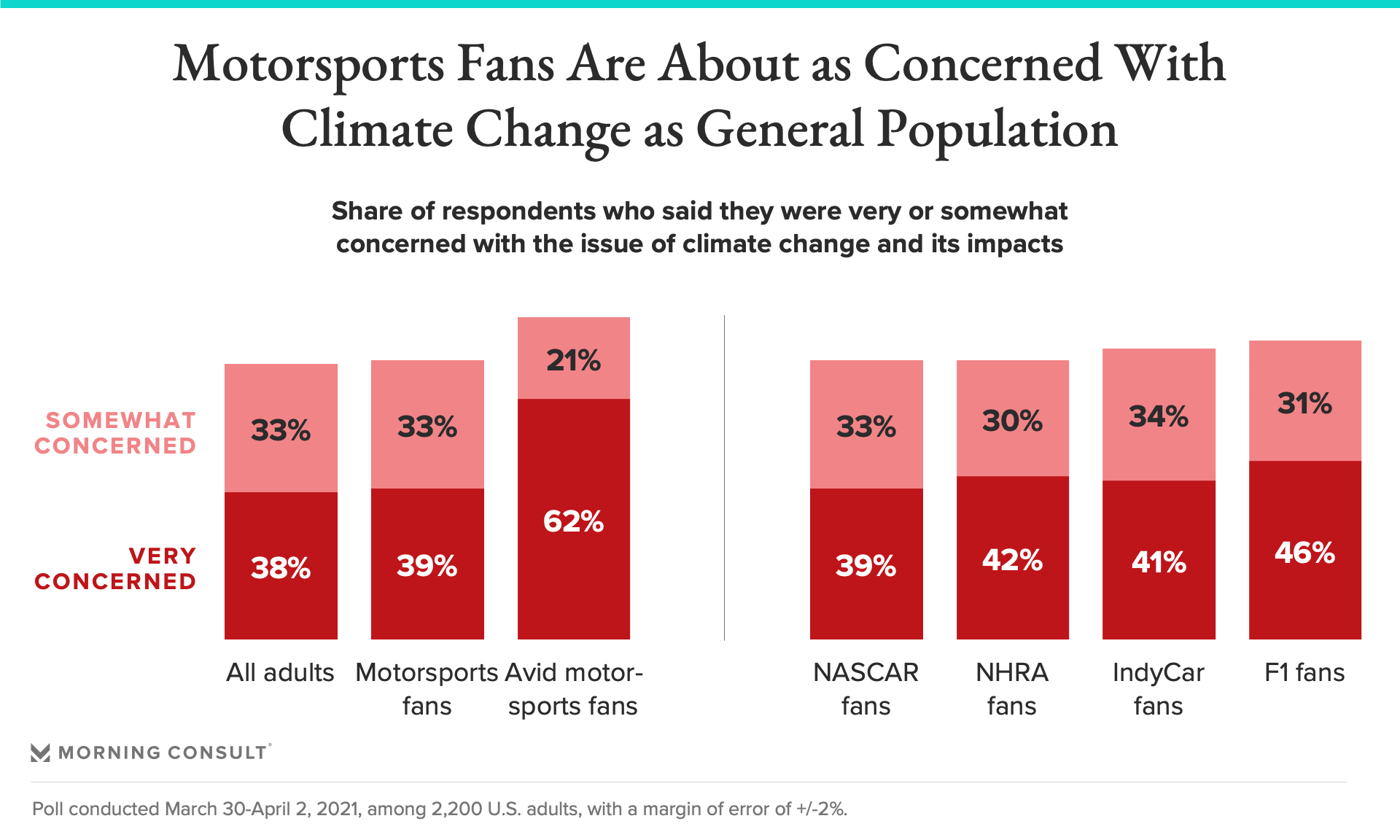 Motorsports fans expressed similar levels of concern about climate change and its impacts as the general population, with 39 percent saying they were "very concerned" and 33 percent saying they were "somewhat concerned." Sixty-two percent of avid motorsports fans were "very concerned" about climate change, with another 21 percent identifying as "somewhat concerned."
Rob Johnston, marketing manager in the performance division of Ford Motor Co., said Morning Consult's findings about motorsports fans' receptiveness to electrification are "very encouraging because it means that where we're putting our plans is correct." 
Late last year, Ford started selling the 2021 Mustang Mach-E, a new all-electric crossover SUV that represents the Mustang brand's first extension beyond its iconic muscle car in more than 50 years. Ford, which has used motorsports as a platform to promote the new vehicle, is one of three original equipment manufacturers serving NASCAR teams, along with General Motors Co.'s Chevrolet and the Toyota Motor Corp.
During the summer of 2020, Ford unveiled two one-of-a-kind electric performance vehicles made exclusively for research and demonstration purposes over the past several years: the Mustang Mach-E 1400 and the Mustang Cobra Jet 1400. The company has since used the two souped-up vehicles to show fans what their electric vehicle technology is capable of by putting high-profile drivers from NASCAR and NHRA behind the wheel.
"Our idea is let's get our performance brand ambassadors in these vehicles and have them experience them," Johnston said. "Because if you stick somebody like Joey Logano in the Mustang 1400 and see his reaction — this guy that has this unbelievable day job — it's just unbelievable to see these people (and) how excited they are about these vehicles and what they will do, and that starts resonating with fans."
Last month at Alabama's Talladega Superspeedway, the consumer edition of the Mach-E served as the pace car for NASCAR's Geico 500, marking the first time since 2012 that Ford had an electric vehicle front and center at the start of a Cup Series event.
Ford, which offers its professional drivers cars for personal use as part of their contracts, has provided several drivers with the consumer version of the Mach-E and plans to make electric vehicles the "first choice" for its endorsers going forward, Johnston said.