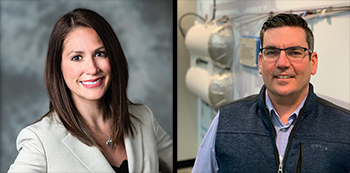 Roush CleanTech, a leader of advanced clean transportation solutions based in Livonia, announced the addition of Natalia Swalnick as its director of government affairs and the promotion of Adam Wilkum to director of eMobility.
Swalnick, who is based in San Diego, has more than a decade of EV experience and will lead public policy issues related to EV transportation and energy.
"The current draft of the Infrastructure and Jobs Act earmarks funding to EV programs, like bolstering the domestic EV manufacturing base and talent pool, and providing incentives to drive sales of electric trucks and buses," says Swalnick. "This funding will lead to new clean mobility technologies that we're well prepared to build and support with our growing EV team."
With more than 20 years of transportation experience, Wilkum will spearhead efforts to promote EV technology in the transportation industry while advising Roush CleanTech customers on the transition to BEVs.
"By dedicating personnel and technical resources to our electrification efforts, we are better positioned to support our customers as they navigate the entire EV ecosystem," Wilkum says. "ROUSH CleanTech has a long track record of helping fleets transition to alternative fuels by educating on operational impacts, offering world-class powertrain products, and supporting our vehicles with a broad service network."
Working with the company's government affairs and customer success teams, Wilkum will connect fleets with funding to purchase EVs, and advise customers on the EV supply equipment required to successfully deploy their vehicles.