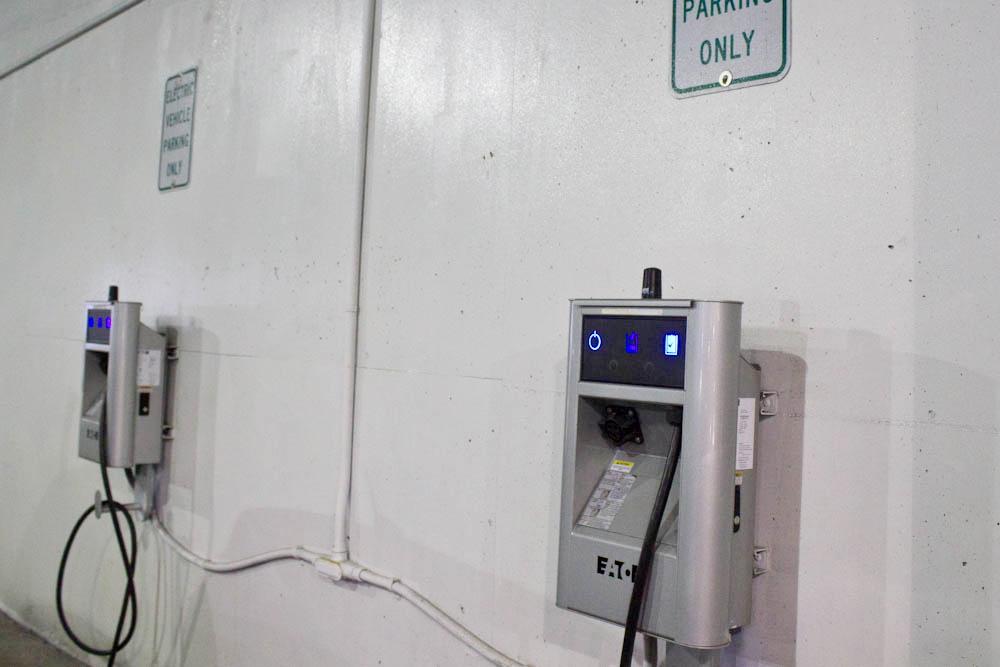 WILMINGTON — The City of Wilmington will soon install two new electric-vehicle charging stations on the ground floor of the Market Street parking deck, paid for by a reimbursable grant.
City council agreed to purchase two ChargePoint Express 250 stations for $118,225 Tuesday, covered by a national settlement with Volkswagen after the company rewired emission controls to circumvent requirements in a certain model vehicle.
RELATED: Wilmington eyes 100% renewable energy, electric fleet by 2050
The two new stations will provide nearly a full charge to electric vehicles in an hour — 30 minutes faster than the city's other public charging stations already installed in the Market Street, RiverPlace, and Second Street parking decks. Because the decks offer the first 90 minutes free, it's not guaranteed electric vehicle owners will pay a parking fee, either.
Electric vehicles mean fewer carbon emissions in the atmosphere. The city is using grant funding to install the stations but is paying the electric bills. Should taxpayers subsidize their use?
At an agenda review meeting Monday, councilman Kevin O'Grady first inquired about it when the city planned to transition away from covering the cost for electric vehicle owners to fill up. "They're basically filling up their gas tanks for free," he said.
As electric vehicles become more affordable and widely available, O'Grady said competition is bound to increase at charging stations.
City sustainability program manager David Ingram told council Tuesday, after reaching out to other cities statewide, he heard Durham, Asheville, and Winston-Salem all don't charge at their electric stations. The City of Raleigh charges a $1 an hour fee.
Mayor Bill Saffo said he thinks the city should begin thinking of ways to recoup the fees. O'Grady explained his questioning of the cost did not mean he was opposed to installing the stations.
"I support the expansion of it. In fact, I've driven hybrid vehicles for over a decade. And I've enjoyed the fact that I pay less gas tax than all of you who use only gas are paying. And that's something wrong in the system," he said. "The only problem I have with these is at some point, the taxpayers are paying to put power into the electric cars. Why aren't the people who own the electric cars paying that?"
Councilman Charlie Rivenbark said he thought local governments hosting charging stations was not appropriate. "That'd be like if we owned gas stations," he said.
Electric vehicle owners can have a hard time locating charging stations, especially when traveling far from home. Rivenbark said he thinks the private sector should expand stations. Councilman Neil Anderson agreed it's not the government's role to provide these stations but said the bigger issue is the city is giving up parking space revenue to install them.
"Electric vehicles don't pay for gas tax; that's what pays for the roads," O'Grady said.
Though increased electric vehicle use reduces carbon emissions, it will also reduce state revenue used to cover the cost to maintain roads. Road maintenance is notoriously expensive; it can cost up to $1 million to resurface just 1 mile of roadway.
North Carolina imposes a $130 electric vehicle fee to attempt to cover lost revenue. Excluding hybrids, electric vehicle owners pay an estimated $50 less in fees annually compared to gas-fueled vehicles, according to the N.C. Department of Transportation. Over the next 10 years, this could equate to between a $10 to $18 million revenue loss.
The state is considering how to even out the tax burden among all vehicle owners, including possibly changing the flat electric vehicle fee to a consumption model that would charge per kilowatt-hour.
N.C. had 13,482 electric and 158,081 hybrid vehicles as of 2017, projected to reach between 264,000 and 346,000 by 2030.
For now, the city will continue to foot the bill.
---
Send tips and comments to info@portcitydaily.com