The electrification of the automotive industry has hit the fast lane, and for that we have Tesla (NASDAQ:TSLA) to thank.
The company and its CEO Elon Musk are at times lightning rods for controversy, but it is hard to deny the impact they have had on the industry. Musk's vision for Tesla from the start was to prove to the world that electric vehicles (EVs) could be economically viable if done right, and by all accounts he has succeeded.
Of course, as they say, imitation is the sincerest form of flattery. A lot of companies have borrowed from Tesla's playbook, and they stand to profit as well.
Here's why three Motley Fool contributors believe Ford Motor (NYSE:F), Panasonic (OTC:PCRFY), and Lucid Motors, which is in the process of merging with Churchill Capital Corp IV (NYSE:CCIV), are set up well to benefit by driving the course Tesla has charted.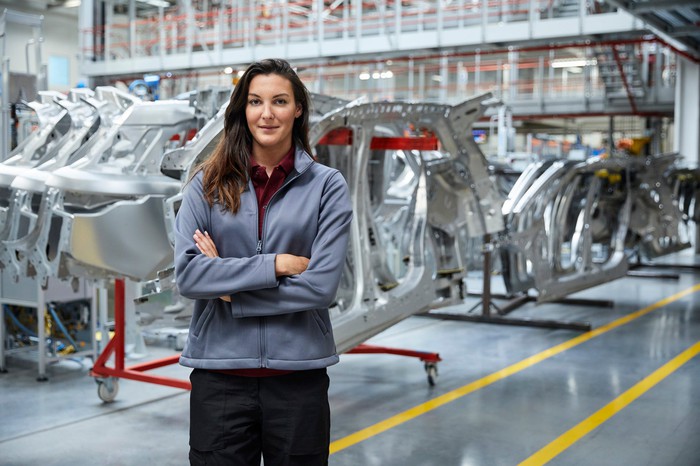 There's still time to climb aboard Tesla 2.0
Lou Whiteman (Churchill Capital/Lucid): A lot of companies are following Tesla's lead into electric vehicle manufacturing, but few have also copied Tesla's swagger.
Lucid, which is in the process of going public via a merger with special-purpose acquisition company (SPAC) Churchill Capital, plans to introduce its first vehicle later this year. The company is following Tesla's go-to-market strategy, starting with a higher-priced $70,000 sedan in order to recoup its initial investments faster and then slowly working downmarket to offer more affordable vehicles.
The company does not lack self confidence. Lucid bought advertising time during Musk's recent appearance on Saturday Night Live to show off its upcoming Air, which is designed to be a Tesla Model S competitor.
Lucid has more than 9,000 reservations for the Air, representing more than $800 million in potential sales. It is also working to repurpose its batteries as energy storage systems for residential and commercial units, similar to Tesla's Powerwall.
One other trait Lucid shares with Tesla is a sky-high valuation. The company's deal with Churchill values it at more than $30 billion. That's far below Tesla's $550 billion-plus valuation, but pretty frothy for a company that has yet to deliver a vehicle.
Lucid expects to begin deliveries later this year, targeting 20,000 in 2022 toward an eventual 370,000 vehicles per year at scale. If they can get there, and admittedly at this point it is still an "if" with lots of risks, it is possible Lucid's stock could take after Tesla and shoot higher in the years to come.
America's oldest automaker learned a lot from its newest
John Rosevear (Ford Motor): Perhaps the most important thing that Tesla has taught the auto industry is the most obvious: Electric vehicles can sell on their own merits if they're better than internal-combustion alternatives. 
EVs were a hard sell before Tesla came along, because they were seen as compromised, less-good vehicles that only existed to help automakers meet environmental regulations. Tesla's Roadster and Model S changed that perception — and those who were watching learned a lot from Tesla's experience.
Among the watchers were executives at Ford, who took that and other lessons to heart. Ford realized that it, too, could make electric vehicles that were better than internal-combustion alternatives, and that if it played to its own strengths and used the potential of EVs wisely, it could lead its more conservative customers to eagerly adopt zero-emissions products.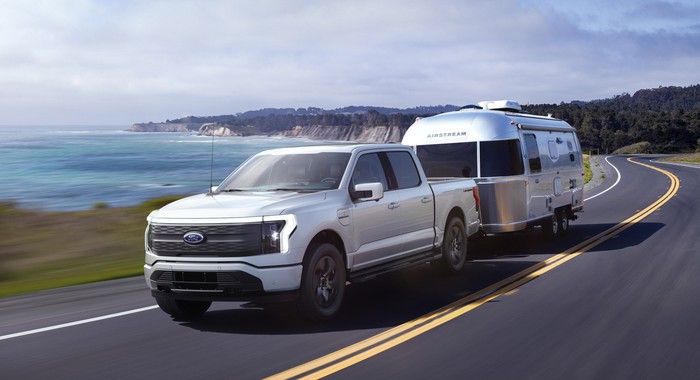 Ford did some deep thinking and then told auto investors how it would proceed. At its investor day presentation in September 2016, Ford said it would focus its electric vehicle efforts on products that played to its historical strengths: Pickups, SUVs, commercial vehicles, and performance vehicles.
It took a while but we're now seeing that plan play out. Ford revealed its battery-electric F-150 Lightning on Wednesday. When it arrives next spring, the Lightning (a pickup) will join Ford's electric Mustang Mach-E (a performance vehicle) and the upcoming e-Transit (a commercial vehicle). Analysts expect Ford to launch a new electric SUV in 2023, with more to come over the next few years.
The Mach-E is a terrific product, of course, and the Lightning appears to be another home run for the Blue Oval. It's a good bet that Ford's other upcoming EVs will also be strong contenders, and that Ford's stock price and bottom line will benefit as the world moves to electric vehicles, because Ford has learned its lessons well. 
Don't buy the gold miner, buy the shovel-seller
Rich Smith (Panasonic): Don't get me wrong. Tesla's cars are great and all — but they don't go very far without batteries. As a value investor, I like Tesla's most important battery partner, Panasonic, a whole lot more at less than 10 times free cash flow (FCF) than I do Tesla stock at more than 225 times FCF.
In the 12 months ending in March, Panasonic generated a whopping $2.5 billion in positive free cash flow. That's two-thirds more cash profit than the $1.5 billion in net income the company reported according to generally accepted accounting principles (GAAP). In fact, it's $100 million more than the $2.4 billion in free cash flow that Tesla reported for the same period. (Panasonic's net income was also bigger than Tesla's, by the way — $1.5 billion versus $1.1 billion.)
With $2.7 billion more cash than debt on its balance sheet, I clock Panasonic at an enterprise value-to-free cash flow ratio of just 9.1 — not bad for a company that analysts expect to grow earnings at nearly 18% annually over the next five years. And for investors seeking income, Panasonic pays a 1.7% dividend, which Tesla does not.
I also like Panasonic for its diversification.
As a parts supplier, Panasonic can sell its batteries to any car company that happens to succeed in the market. Right now, that's Tesla — a Panasonic partner since 2009. But in the future it might be Electrameccanica Vehicles or Workhorse Group — both of which are Panasonic customers according to data from S&P Global Market Intelligence. Panasonic has also supplied car batteries to Volkswagen in the past — a company with well-known EV ambitions. Should Europe continue to grow its domestic electric car industry — and J.P. Morgan thinks it will, projecting that electric and hybrid-electric vehicles will make up 30% of all European auto sales by 2025 — that could be an attractive market for Panasonic as well.  
My advice: In the middle of an electric vehicle gold rush, don't place all your bets on a single gold miner. Buy the company that can sell all of them new shovels.
This article represents the opinion of the writer, who may disagree with the "official" recommendation position of a Motley Fool premium advisory service. We're motley! Questioning an investing thesis — even one of our own — helps us all think critically about investing and make decisions that help us become smarter, happier, and richer.