With jobs on the line, the UAW is supporting the Biden Admin.'s push for electric vehicles in a big way, saying it is satisfied the president is preparing to protect the livelihoods of American workers at the same time. 
Internal UAW research indicates the union members now building vehicles with internal-combustion engines and transmissions could be displaced by electrification. The union is targeting new battery plants needed to power EVs to create new jobs and has pressed both General Motors and Ford for promises the new factories will be unionized. 
Biden emphasizes the electrified auto industry will be centered in the U.S. and will protect and create American workers' jobs as he pushes automakers to expand their EV fleets. The president proposes 50% of the vehicles sold in the U.S. by 2030 will be EVs. "Folks, the rest of the world is moving ahead, and we have to catch up," Biden says.
General Motors, Ford and Stellantis said in a joint statement they aspired "to achieve sales of 40-50% of annual U.S. volumes of electric vehicles…by 2030," Reuters reported. 
In addition, the administration is raising the fuel-economy and emissions standards for light-duty vehicles using engines that burn gasoline or diesel fuel. The new regulations will apply to vehicles built between now and 2026. Motor vehicles are considered the largest source of greenhouse gases and curbing their emissions is critical in slowing climate change as the transition to EVs gains momentum, according to environmentalists. 
The president also says he wants to see more semiconductors made in the U.S. An ongoing shortage of semiconductors has crippled global vehicle production and slashed dealer inventories of new cars and trucks. 
"We are at a critical time for the auto industry as countries compete to build the vehicles of the future," Ray Curry, the UAW's new president, says in a statement coinciding with the White House ceremony. "We are falling behind China and Europe as manufacturers pour billions into growing their markets and expanding their manufacturing. We need to make investments here in the United States. 
Getty Images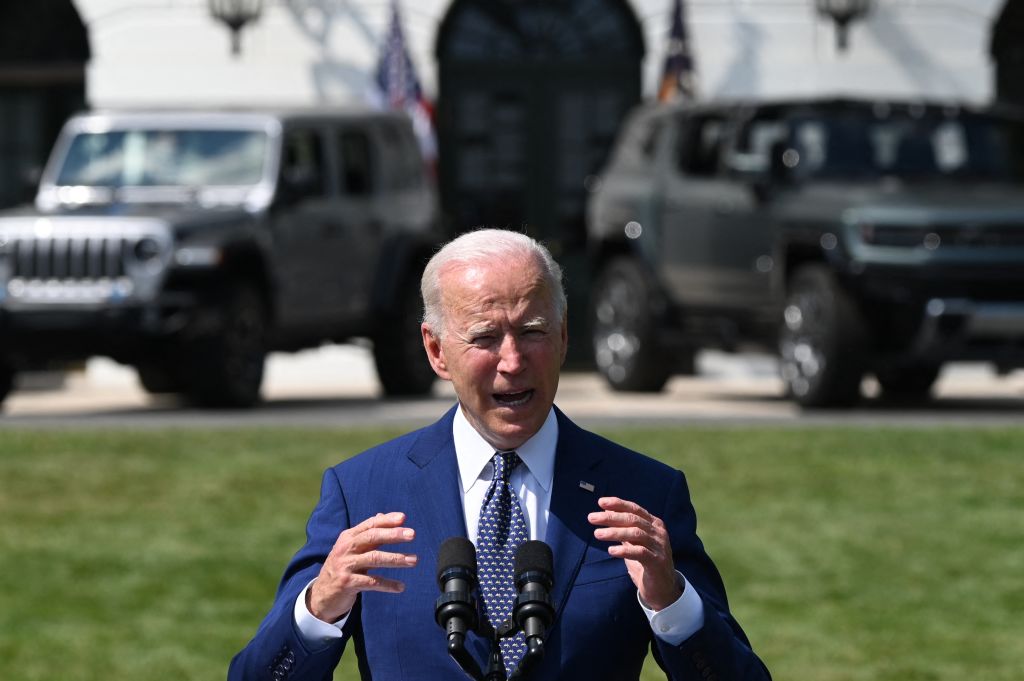 "Fortunately, President Biden recognizes the importance of this moment, and his Build Back Better Plan makes the bold investment in manufacturing, consumer incentives and infrastructure needed to ensure vehicles of the future are made in our country," says Curry, who took over as UAW president on July 1 during a strike at a Volvo Truck plant in Virginia where union leaders were caught between demands of members looking for more in wages and benefits and a desire to ensure the company would keep its promise to add 1,100 jobs to build battery-electric trucks. 
Curry says new investments alone are not enough. Despite grumbling by environmentalists looking for tougher rules, the announcement on emissions standards brings more certainty and allows better planning for the auto industry and UAW members' future jobs, he says.  
The UAW's focus, he adds, is not on hard deadlines or percentages such as those included in the commitments made by the automakers, but on preserving the wages and benefits critical to union members. 
"We must be ambitious, not just about retaining good union jobs but growing them and about expanding U.S. manufacturing of electric vehicles, from parts to assembly," Curry says. "It is incumbent that these future jobs will be good-paying, American, union-scale wage and benefit jobs that protect salaries and safety standards."  
Curry also emphasizes the administration's push to build electric cars, trucks and batteries should include an agreement to follow the policies included in the Protecting the Right to Organize Act, which expands to the rights of workers to organize a union. The measure was approved by the U.S. House and is pending in the Senate.