CHANDIGARH: The
UT administration
has decided to frame guidelines for installing
electric vehicle
(EV)
charging stations
on public land in the city.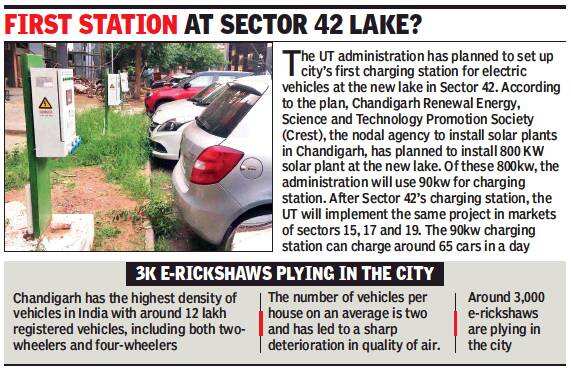 UT adviser Manoj Parida said Debendra Dalai, director, environment, has been made nodal officer to coordinate with departments for setting up stations across the city. "As the process involves different departments, Dalai was made the nodal officer," he said.
Times View
The need to minimise carbon emissions and other pollutants call for shift to electric vehicles. However, for this to happen effectively, there is a requirement of installing strategically located charging stations and infrastructure for the ease of consumers. This, in turn, throws up the challenge of managing the increasing electricity consumption and pricing effectively through a self-regulated grid, without making a compromise on network operational performance. All this calls for formulating a comprehensive strategy to make adoption of EVs viable.
Dalai, who is also Chandigarh Renewal Energy, Science and Technology Promotion Society (Crest) chief executive officer, said they are receiving request and proposals from public sector undertakings (PSUs) for setting up the stations. The UT is finalising guidelines, which will be completed in a month or two, and accordingly, permission will be given to PSUs and private companies, he said.
On already installed charging stations in different parking lots in the city, he said the guidelines will cover them as well.
He said Crest will be nodal agency for light vehicles and Chandigarh Transport Undertaking (CTU) for heavy vehicles.
Recently, the Centre had sent a communication to the administration and had sought progress report on the steps initiated to promote electric vehicles and charging stations. A senior official said the administration had recently succeeded in getting the nod of Joint Electricity Regulatory Commission (JERC) for fixing power tariff plan for electric vehicle charging stations. This was for the first time that the power tariff plan for electricity vehicle charging stations was fixed, he added.
The administration is already working on promoting hybrid and electric vehicles.
Recently, Centre had sanctioned 80 electric buses for Chandigarh under Phase-II of the FAME India Scheme.
Three years back, a team of transport department had visited Nagpur to study charging stations' set up in different parts of the city. Nagpur was the first city in the country to have in place electric vehicle charging stations.
The ministry has also suggested initiatives to promote vehicles like waiving of toll charges, parking charges and issuing green registration number plates.