That means more EV battery metal business was done in H1 2021 than all of 2020, itself a record year. 
The total battery capacity of EVs sold during June was up 160% year on year to 26.3 GWh, according to Adamas Intelligence, which tracks demand for EV batteries by chemistry, cell supplier and capacity in over 100 countries. 
To produce the most accurate data, the monthly battery capacity deployed numbers in the MINING.COM EV Metal Index do not include cars leaving assembly lines, those on dealership lots or in the wholesale supply chain, only end-user registered vehicles.  
Lithium leads the way
In June 2021, a record of more than 15,800 tonnes of lithium carbonate equivalent was deployed onto roads globally in batteries of all newly-sold passenger EVs according to Adamas. Average lithium on a per-vehicle basis including hybrids was up 30% year over year in June, jumping from 14kg to just over 18kg.
Carbonate made up 47% of the total versus hydroxide's 53%, with the latter favoured in the manufacture of high-nickel content batteries, Adamas data show. 
Lithium prices have doubled year to date and now tops $16,500 a tonne, (hydroxide ex-works China mid-August) according to  Benchmark Mineral Intelligence, a battery supply chain researcher and price reporting agency.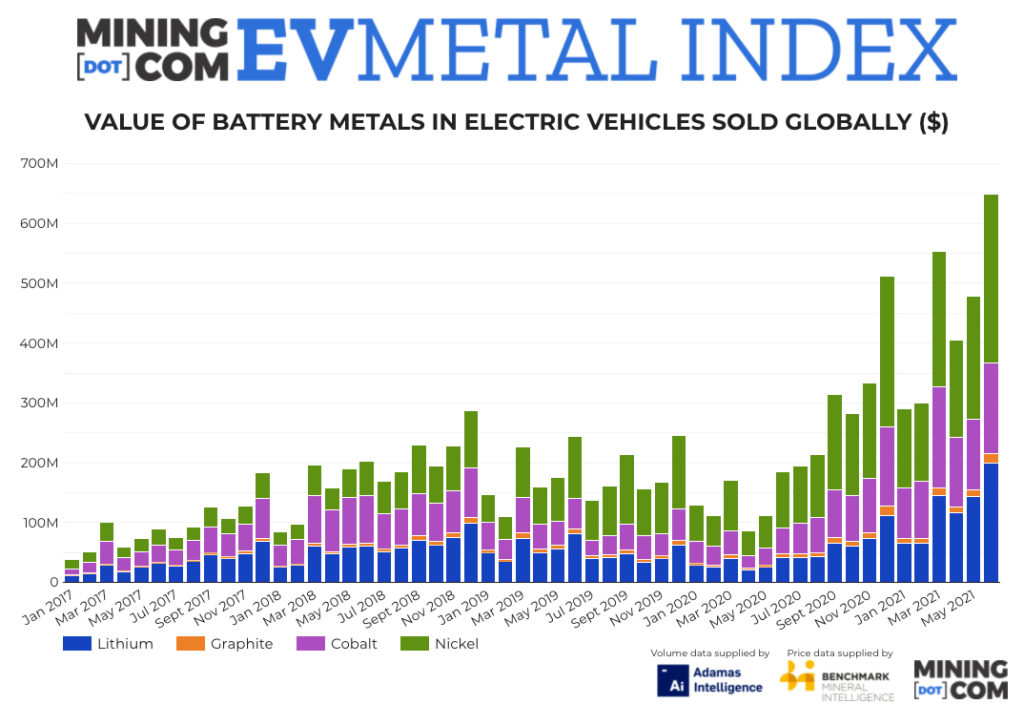 That lifted the lithium subindex 35% over May to a new monthly record just shy of $200 million. As a percentage of the overall index value, lithium represents just over 30%, up from a low of 20% in August last year when prices spent several months under $7,000 a tonne. 
Graphite use per vehicle jumps 36%
Cobalt and nickel deployment was up more than 110% compared to the same month last year. On a per vehicle basis nickel use is up 9% while cobalt has increased 6% compared to the same month last year. 
LME nickel prices have turned higher and are approaching the $20,000 level while nickel trading in Shanghai hit an all-time record on Tuesday at 149,870 yuan ($23,200) a tonne. Benchmark's index price for cobalt used in the battery supply chain has surged over the past year to comfortably above $50,000 a tonne compared to low $30,000s this time in 2020.
In June 2021, nearly 23,000 tonnes of synthetic and natural graphite were deployed globally in batteries of all newly-sold passenger EVs combined, a 170% jump over the same month last year. The global sales-weighted average amount of graphite deployed per vehicle jumped by 36% year-over-year, from over 19 kg to just above 26 kg, according to Adamas data.
Graphite prices have held steady at around $720 a tonne in 2021, after spending all of 2020 below $700 and hitting a low of $644 in September. Prices for the anode material peaked above $1,500 a tonne in early 2012.