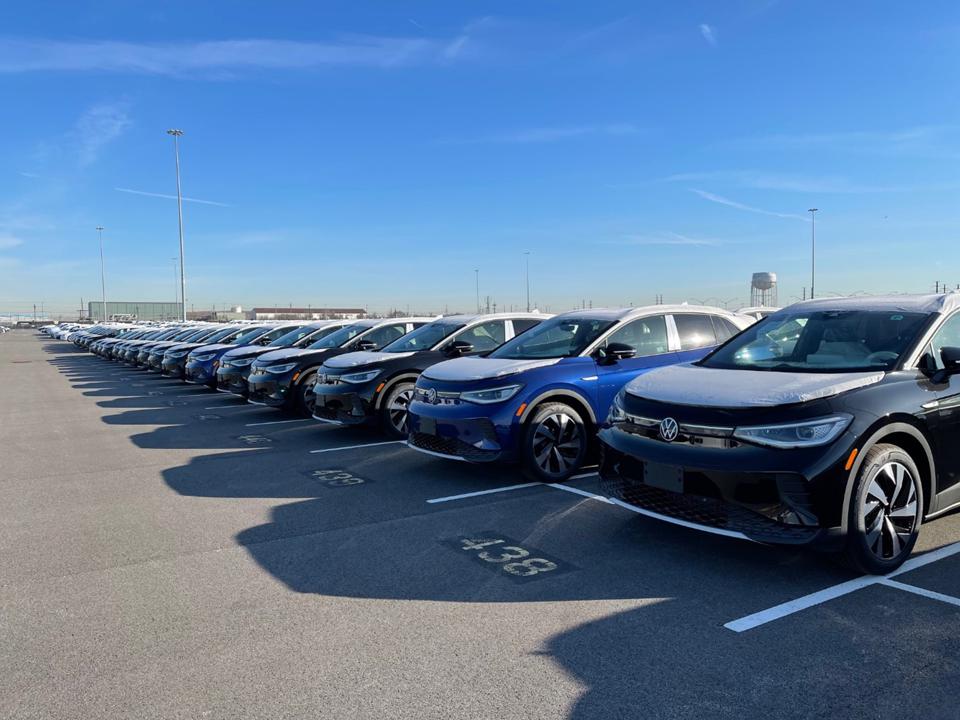 This bit of news is just one part of VW's overall electrification efforts, but it's an important step nonetheless. Today, Volkswagen announced it has started delivering the first units of the ID.4 to dealers in the U.S. This is a global vehicle, and the first ID.4 customer deliveries start in Europe and China next week.
While VW has sold other electric vehicles, like the e-Golf, the ID.4 is the first EV that the company is pushing in a big way. The global nature of the ID.4 is reason VW hopes to sell 150,000 of these "long-range electric SUVs" around the world this year and over two million over the course of the model's life.
The automaker says EVs need extra attention while in transit, including one that is foreign to gas-powered cars: maintaining enough of a state of charge in the battery throughout the entire trip from factory to the dealership. To get the cars ready for test drives and customer deliveries, VW has also installed a number of Level 2 EV chargers at "many" of its dealers in the U.S. over the last two years. Some dealers that are receiving the ID.4 also needed to get "appropriate vehicle lifts to unload the [ID.4] into showrooms and service bays," the company said in a statement. VW has over 600 dealerships in the U.S.
Over the last ten years, dealerships have emerged as a contentious space for EV adoption. On the one hand, they're the only game it town to buy an EVs from most automakers. On the other hand, some dealers have shown themselves to be resistant to change and the number of stories from EV advocates about less-than-fully-informed salespeople are common. VW said it has offered its dealers "comprehensive training to become certified in EV" sales and some Volkswagen dealers employ EV Specialists who can answer customer questions about the ID.4 or EVs in general. Plug In America offers an independent dealer education program called PlugStar that has an EV sales training component for dealers. You can find a PlugStar-certified VW dealers here.
Yesterday, Volkswagen announced a massive increase in in-house battery production to prepare itself for the EV avalanche that its is prepping for the coming decade. As part of its shift to EVs, the company is developing a unified battery strategy for most of its future EVs, which will make them more affordable, the company said. If all of these efforts succeed, the steps the company is taking with the ID.4 roll-out will be useful for years to come.