While there are many players in the electric vehicle ecosystem, the numbers suggest Tesla and VW are the two heavyweights, set to battle it out over the coming decade, with China's BYD ready to pounce on any slip up (its dominance in the bus and commercial vehicle market is under-appreciated).
Tesla currently sells more battery capacity in EV's than the next 4 biggest players combined, which gives a sense of how far ahead they are.
VW has climbed quickly into 2nd place, with 231,600 pure electric vehicles sold last year (well shy of Tesla which managed just shy of 499,550) and a total of 422,100 plug in electric vehicles.
The EV and battery story is bigger than these two heavyweights, but two big heavyweights duking it out is compelling viewing.
So without further ado, here are 5 key differences I see when comparing VW Power Day to Tesla Battery Day, and why they are significant in the race for EV supremacy.
Battery technology framing
The first key difference lies in how VW pitched its approach to battery technology, which when compared to Tesla, reveals more than the actual difference in their approach to battery technology.
VW tells us they are focused on "the unified cell", with up to 80% of their storage capacity to come in a single format, with 20% customised to niche use cases. Like Tesla, they are targeting a 50% cost reduction from their new approach.
But if we dig deeper, they should probably have called this a unified module or pack. Why?
It appears VW want to use a range of underlying cell chemistries (LFP, high manganese, high nickel) that all integrate in a universal "cell-to-pack" type of system. Admittedly, this is enabled by a unified prismatic cell format, but I think the "unified cell" pitch probably overstates the level of innovation going on.
This is reinforced by the ambiguity VW leaves when describing the underlying cell chemistry of its end-game – the use of solid state technology. It is suggested this would utilise Nickel:Manganese:Cobalt (NMC) chemistry, but the pitch was light on detail.
In contrast, Tesla has a focus on transitioning to a unified battery form factor (cylindrical 4680 cell), culminating in a high Nickel content cathode, free of cobalt, deployed in a cell-to-structural-pack system. Tesla Battery Day gave a fairly transparent window into the deep engineering challenges they face, and how they are tackling them.
VW's approach to matching chemistries to use case is expected. Tesla is using a similar approach, with LFP for the shorter range, made in China model 3, and a mix of high Nickel cathode chemistry across the balance of their fleet.
For me, their pitch of "unified cell technology" suggests VW are grappling for the perception of technology leadership, and looking for an edge in how they are perceived.
They haven't developed a unified cell technology (the prismatic format already exists), they seem to have developed a unified module or pack system that makes use of prismatic cells regardless of their chemistry type, as a way of exerting their influence over the battery supply chain.
This is a clever way for VW to exert its core strength, being its scale, and ultimately exert influence over the battery supply chain to bring down costs, but it does not suggest deep technology leadership.
In contrast, Tesla has gone deep on designing its own batteries at the cell chemistry level, and is commencing production of its own cells using proprietary manufacturing techniques unveiled on its Battery Day.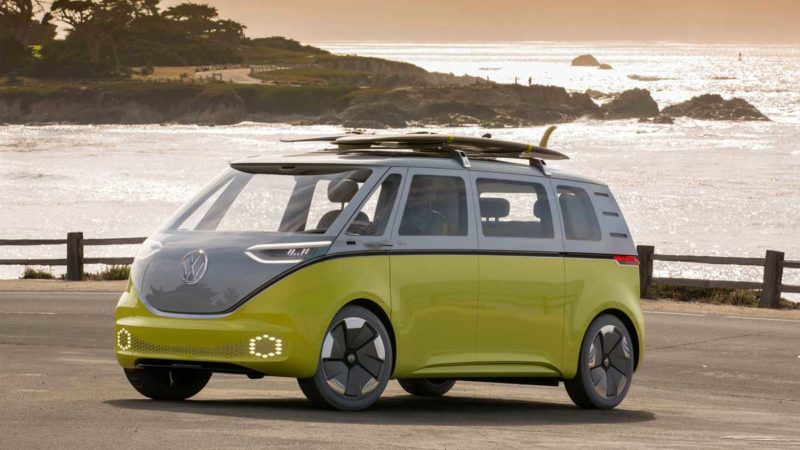 2. The breadth of the vision
VW Power Day was about much more than batteries. It was a way of selling its complete e-mobility vision, down to recycling of batteries, charging of vehicles, and the electric car as an energy asset.
Make no mistake, it was a broad and deep vision, and a compelling one.
VW outlined everything consumers expect of an EV leader down to sustainability in the battery metal supply chain, through to helping consumers reduce energy costs at home.
By necessity to cover the vision breadth, VW Power Day saw a series of presentation handovers from senior management and board members across the VW business, including presentations by supply chain partners. At times, these handovers were awkward (more on that below, and what this reveals).
In contrast, Tesla Battery Day was able to very much focus on batteries. Why?
Because we already know, or at least implicitly sense Tesla is all about e-mobility end to end, and a clear category leader. We have already seen Tesla charging infrastructure rolled out.
We have already seen Tesla in home battery systems deployed, seen its software help drivers avoid collisions, and heard about its battery management systems including automated energy market bidding at grid scale.
The breadth of VW's vision, while impressive, also tells us this is a company that needs to prove itself to the market, and that it feels the pressure to do so because it is coming from behind.
While I think much of the VW presentation was successful in conveying the breadth of VW's commitment, its video showing money printing as symbolic of how it will be able to produce battery cells in the future, fell flat.
The money printing clip revealed VW's lack of technology differentiation at depth, particularly when contrasted to Tesla's teaser video's of its roadrunner project showing cell production in action – i think this was deeply symbolic of the gap that remains between VW's ambition to be a technology leader, and their reality as a fast follower and scale integrator.
3. The ambition to scale
This one is simple.
Tesla's ambition is to get to 3TWh of production capacity by 2030.
VW's ambition is to get to 240GWh battery capacity by 2030.
The difference is more than 10x.
And while Tesla will have a hell of a time sourcing the likely > 1,000,000t of Nickel required to reach 3TWh, assuming a decent slice of that utilises the high nickel cathode, there is no denying their ambition outdoes VW by a factor of 10.
It also implies Tesla may see itself making a more aggressive move into being a battery OEM for the EV ecosystem, which would make sense if they establish clear cost leadership and a sustainable technology moat.
4. The breadth of speakers
 VW gave air time to senior leaders from across its business and partners.
On the one hand, this could be seen as a positive sign – diversity in leadership is generally seen as a strength, while Tesla is often perceived as the Elon Musk show, with Musk being a sometimes polarising public figure.
Yet at times this was awkward to watch with presenters coming and going at speed, surviving the distraction of a robotic charging station zooming across the stage (without explanation), and a few light hearted handover comments loaded with Freudian meaning – the one that struck me was the plea of one speaker to the next "don't make this too complicated".
It was the kind of nervous handover a school age sporting captain might make to their vice, a handover of someone unsure of themselves, and their team-mate.
It also reflects an organisation structure that must be groaning under the strain of commercial pressure to innovate. Big organisations typically struggle at innovation – they are riddled with entrenched career interests, have grown large around bureaucratic decision making, and risk aversion is often a celebrated virtue in senior leaders.
By contrast, Tesla Battery Day was the Elon show, though he has made a point of giving some of Tesla's technical leaders airtime in the public eye.
Musk is well known for being hands on in the business, whether it be working on the software underpinning FSD, or manufacturing systems that give Tesla an edge.
He has also been quite public in admitting some of their historical design flaws have come about due to organisation structure – it is easy for technical teams to find solutions to problems they are confronted with in isolation, but it often takes technical leadership with both deep and broad capability, to stand back and ensure those technical teams have asked the right questions, before leaping into solutions.
No doubt Musk has ruled with an iron fist at times when the pace of design innovation hasn't met expectations at Tesla, and you can't help wonder if VW struggles to achieve the same managerial cut through at a technical level.
I'm left with the impression VW is a diverse, and in many ways, still a traditional auto-business doing its best to innovate at speed with internal limitations.
Thomas Schmall (Board Member, Technology) thanks his team for pulling together Power Day "in record time", and suggests VW's 600,000 strong staff is the most impressive power you can imagine worldwide. It feels like an awkward sales pitch, capped off by an awkward "we will do this, we will rock that" lost in translation punch line.
Meanwhile, Tesla remains for now more akin to a start-up, where leadership is both chaotic and brilliant, and unconstrained by legacy organisational structure.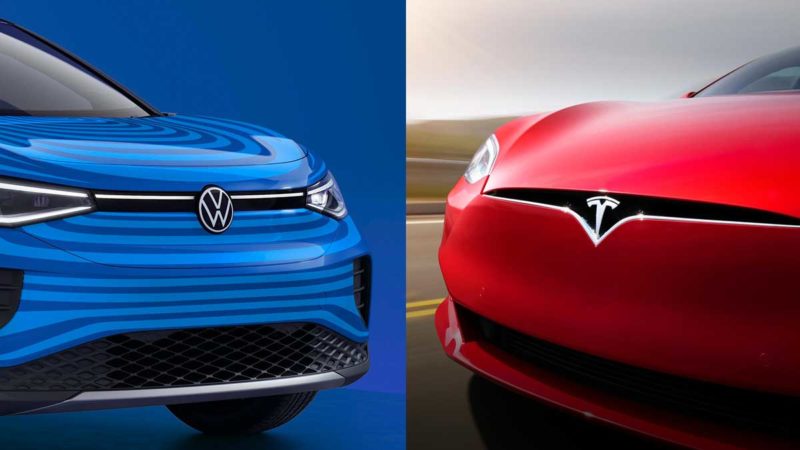 5. Vertical integration, and the EV as a home energy asset as an organising force
 One thing that was clear from VW Power Day, which resonates strongly with Tesla's strategy, was a commitment to vertical integration including into the supply chain where necessary.
Musk has joked that Tesla may get into mining, and certainly Tesla has flagged Nickel supply as the key constraint on their growth.
Similarly, VW appears unwilling to take any chances, with a focus on developing an EU centric, sustainable and transparent supply chain from raw material to finished product.
VW explicitly names vertical integration by direct investment or partnership, as critical to its strategy.
Perhaps more importantly for the energy ecosystem more broadly, VW is transparent in its vision for the electric car as an energy asset. They want to supply it with cheap energy via charging partners, and then help their consumers realise value from the car, be it supplying energy to the home, grid or a business.
This makes perfect sense, and I think it's exciting VW have confirmed a move into this space.
It is shaping up to be the last frontier in the battle for electricity supply chain supremacy, and I believe a strong argument can be made that it will be the final fatal blow to energy market retail incumbents – simply put, transport is far more valuable than electricity supply itself, so when the marginal cost of electricity supply from the mode of transport is negligible, as it is with EV's, the electricity supply chain gets squeezed.
To their credit, AGL appear to have seen this moment coming, and are experimenting with transport bundles. But they are so disconnected from where value is created in the new energy ecosystem, it could be a bridge too far for them, and others like them, to cross.
All in all, our primary takeaway from the VW Power Day should be that electric vehicles have arrived.
For a company of this size, with so many careers on the line, to make such a strong public show of its commitment to e-mobility is impressive, and a sign of a sector in the middle of a lighting fast transition.
Tesla may yet still end up the category winner, but the VW family of brands is going to make Tesla earn it the hard way, and that's a competitive discipline we will all benefit from.
About the author: Tosh Szatow is a sustainability and innovation junkie, co-founder at BOOMPower; and idea tinkerer at the Good Ideas Factory.