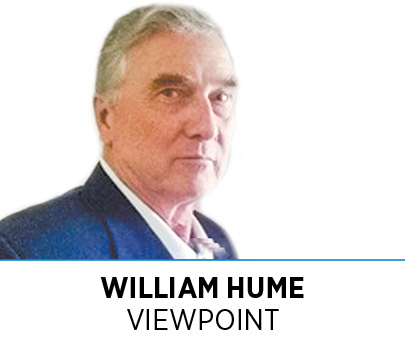 The Indianapolis 500 race is more than a worldwide motorsports event. It's a historic, unique, fascinating part of the American enterprise experience.
Attention to this once-a-year gathering of automotive technology, competition and corporate investment will become more addictive than ever in the future. It's going to be riveting!
The world is changing fast as a result of the COVID-19 era, which means life is going to be different in many ways going forward. How we approach doing business will change as well.
The best profit makers will be all about green climate innovations, and one of these is electrified transportation. The Indianapolis Motor Speedway can be a big part of clean-energy research and development.
There is a new business-development formula for IMS that is a collaboration—a partnership of renewable-energy providers, including university engineering departments, government investments and the track itself. Working together, these stakeholders—motivated by curiosity-driven automotive research—can invent new and relevant automotive power for future vehicles.
The new societal demands for clean, renewable energy and the pending, $2 billion federal infrastructure and jobs bill (with $174 billion, as proposed by President Joe Biden, earmarked for electric vehicles and infrastructure) are catalysts.
IMS can be technologically important in a massive way. The track's 2-1/2 miles of pavement over bricks isn't just for motorsports—it's a research facility. There are brilliant business opportunities today for IMS to seize and generate a new cash flow. Let's get to it.
Famous performance-car manufacturer Lotus of Norwich, England, has designed an endurance racing car called the E-R9. The design will be a four-wheel-drive, four-electric-motor, all-electric-power racer. It's designed to have batteries "hot swapped," which means very fast replacement during pit stops.
You might recall by digging deep in your memory of IMS history that Jimmy Clark won the Indy 500 in 1965 with a Lotus chassis and a Ford engine. Lotus brought incredible race machines to the Speedway from 1963 to 1968, terminating with the 1968 STP gas-turbine, all-wheel-drive Lotus 56.
The E-R9 can possibly be adapted to be an IndyCar and an Indianapolis 500 race competitor. This action would bring a dramatic focus on the 500 like never before and result in IMS' joining leaders in clean-energy power research. Invite Lotus today!
EnerDel produces lithium-ion batteries right here in Indianapolis. They produce all kinds of batteries for transit. Could this Indy-based company use the Speedway for research in the development area of fast-change competition battery power for motorsports? It's very possible.
EnerDel is just an example of the many Indianapolis companies that could participate in Speedway-based clean-energy research for electric power transportation. Let's make it happen.•
__________
Hume writes about transportation and his love for automotive competition. Email him at wrhdesign@hotmail.com.