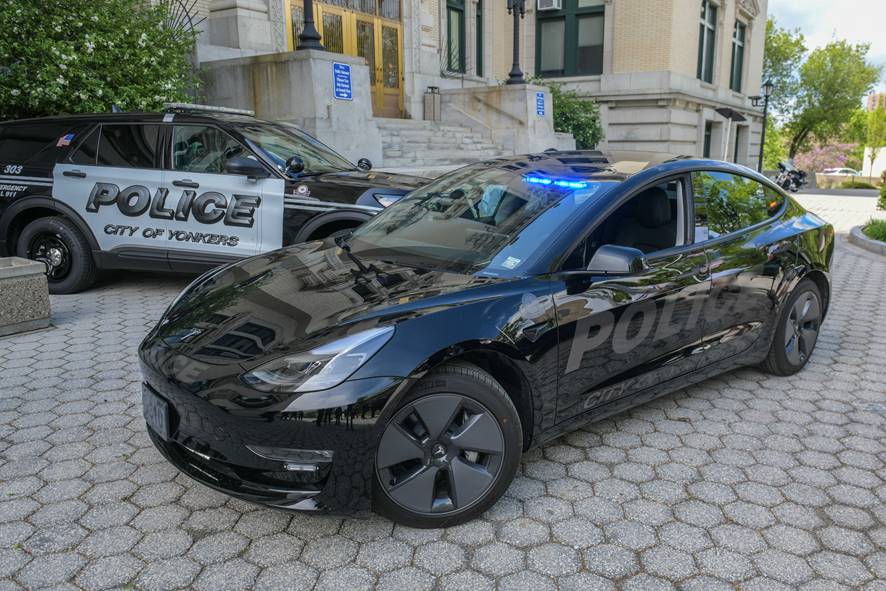 Yonkers Mayor Mike Spano today joined Police Deputy Chief Chris Sapienza and other members of the Department at Yonkers City Hall to unveil the city's first fully electric vehicle. The latest addition to the city's fleet is a new marked police Tesla Model 3 and is part of the city's ongoing commitment to its ongoing sustainability efforts. 
"Our city has become a progressive leader in sustainability, and today we have taken yet another step to provide for a cleaner, greener Yonkers," said Mayor Mike Spano. "The unveiling of the city's first fully electric vehicle strengthens our resolve in reducing vehicle emissions and fossil fuel dependence both good for the environment and our bottom line."
The purchase of the fully electric vehicle comes soon after the signing of Mayor Spano's Executive Order No. 1 of 2020, which makes alternativefuel vehicles the standard for light-duty city vehicles, which will further reduce fuel use and carbon emissions.Yonkers Police's Tesla Model 3 will be assigned to the Department's Traffic Unit, used for speed details, vehicle and traffic enforcement, and various other functions within the unit. The electric vehicle joins the city's growing green fleet which already includes 33 hybrid police vehicles. 
Yonkers Police Deputy Chief Chris Sapienza noted, "The Yonkers Police Department is enthusiastic at the prospect of deploying our first fully electric car in keeping with Mayor Spano's Green Initiative. Under the direction of Commissioner Mueller, we have appropriated our first Tesla Model 3, which will be assigned to our Traffic Unit. Aside from being ecologically sensible, this vehicle offers advantages over conventional police vehicles. They are faster, require less maintenance, and their onboard computer systems are more compatible with current police systems. They are all-wheel drive and use a safer and more efficient mechanical braking system. We are simultaneously building out our infrastructure to accommodate more of these vehicles."
The Tesla costs approximately $46,290 and has expected fuel cost projected savings between 15%-25% as compared to the traditional combustion engine patrol vehicles. Yonkers' current city fleet consists of over 1,000 vehicles, including over 550 light-duty vehicles such as sedans, vans, and SUVs.