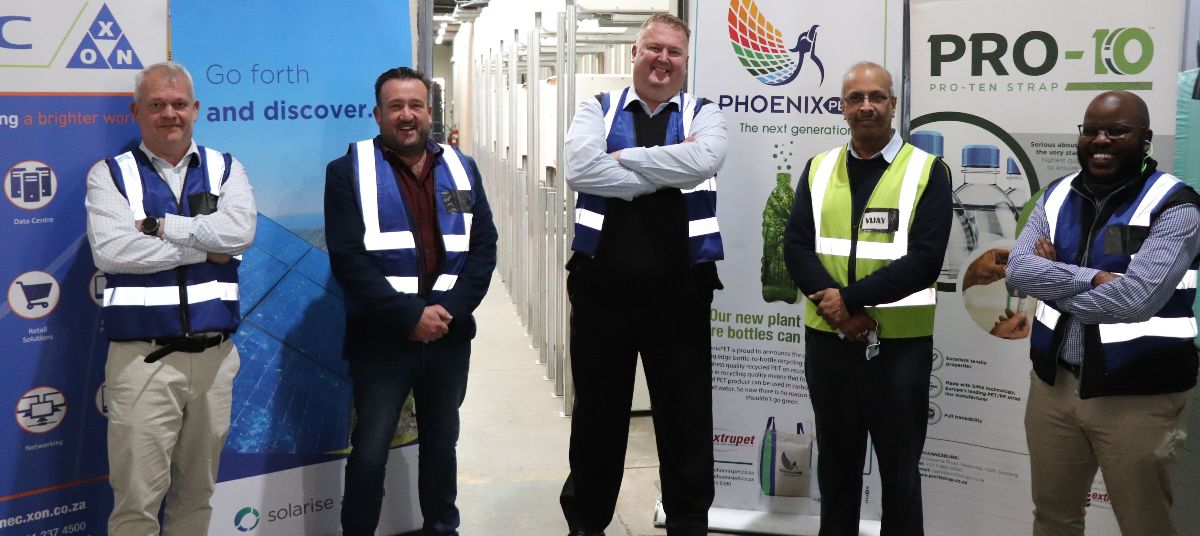 "Climate change is the greatest existential threat ever faced by humanity. It is the duty of every organisation to change the way it does business and adopt eco-friendly practices to help reduce climate change," said Vijay Naidu, Joint Managing Director at Extrupet. Extrupet recycles more than 4 million PET bottles every day at their Wadeville facility.
"Being one of the pioneering recycling companies in Africa, everything we do is dedicated towards building a greener tomorrow. We are always looking at new ways to reduce energy expenditure and decrease our impact on the environment, and a switch to solar energy was the next logical step towards a sustainable future," he continued.
The 1.3MWp solar plant has an annual generation capacity of 2GWh and will reduce its carbon emissions by 1,800 tonnes every year, which is equal to the carbon sequestered by just under 31,000 tree seedlings grown for 10 years.
"We started the journey with Solarise Africa and NEC XON two years ago and today we are proud to be one of the first companies in the recycling industry to adopt solar power. This is a significant investment, and we challenge other industries to do the same. We look forward to a very long and fruitful relationship with Solarise Africa and NEC XON," Naidu said.
Solarise Africa provided the full-service commercial solution to finance the project. "In addition to being one of the most innovative recyclers on the African continent, Extrupet wanted to take their commitment to sustainable development even further by utilising solar power," said Sakkie van Wijk, Chief Commercial Officer at Solarise Africa. "Not only is solar energy better for the environment, but it will also bring down electricity costs an estimated 30% from the first month and savings of around R130M to R140M over the course of the lifecycle of the solar plant."
"At Solarise Africa, we believe in collaboration and working with our partners to help Africa thrive. In spite of the global pandemic and all the related challenges, the team managed to deliver on time. We are proud to partner with Extrupet and NEC XON to help tackle climate change," van Wijk concluded.
The engineering, procurement and construction was managed by NEC XON, the combination of XON, a systems integrator providing custom ICT and security services and solutions in Southern Africa, and NEC Africa, the African business of global technology giant NEC Corporation. "The successful delivery of this solar plant is a very proud moment for us," said Herman Viljoen, Head of Alternative Energy Pre-Sale at NEC XON.
"This project was particularly interesting because of the high voltage system and transformer integration. This 1.3 MWp solar installation will produce an average 2 GWh of energy every year, and not only will it provide energy at a reduced cost, but it will also ensure that Extrupet has a consistent and reliable power supply, even when the national grid is under severe strain."