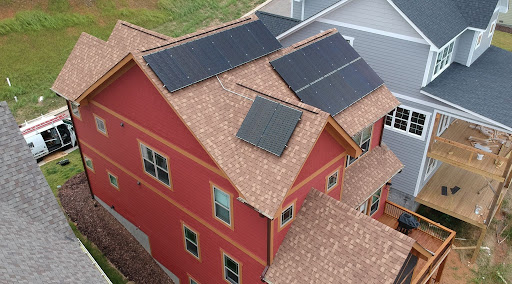 We're breaking down the facts vs. the fiction of solar energy with SolFarm Solar Co. | Photo provided
Stat: 2.3%. In 2020, that's how much of the total electricity in the US was produced by solar energy. (And 39% of all new 2021 generating capacity will be solar energy.) 
Have you considered going solar? It's natural to have questions, so we teamed up with the local pros at SolFarm Solar Co. to break down some popular misconceptions + separate the facts from the fiction. 
Solar is too expensive.
If you're interested in solar panel installation, financing options are available + can reduce monthly energy bills. Some customers also consider personal loans or second mortgages to cover the cost and save in the long run. National electricity rates climb, on average, ~4% every year. Takeaway: As the price of electricity continues to inflate, investing in solar energy can save customers money now + in the future. 
Production of renewable energy products is bad for the environment.
Like most things humans manufacture, producing items like solar panels does come at a cost to the environment. However, the environmental impact of building solar energy is far less than fossil fuel power plants, and solar energy components themselves become carbon negative (read: produce more energy than it took to manufacture them) just a few years after being installed.  
A quick comparison: 
All solar equipment is made in *insert country here*.
While many products are indeed manufactured overseas, there are great components produced right here in the US and Canada by solar panel manufacturers and racking companies. The local pros at SolFarm install as many made-in-the-USA products as possible. If a customer's preference is to use locally-sourced and American-made components, they can make that happen.
Solar will provide power to my home during a blackout.
Here's the thing: Not all solar energy systems are designed to provide power during a blackout. Backup power requires additional equipment and batteries to be installed. The large majority of solar energy systems for homes and businesses are installed to offset the power consumed from the grid utility. The pros: By producing your own power, you can reduce your utility bills and save money. By producing clean, renewable energy, your home or business is also reducing its carbon footprint. 
Solar panels cause roof leaks.
Local companies like SolFarm understand that customers may be worried about mounting equipment to their roof. Good news: Roof leaks are not at all common after a SolFarm installation. SolFarm offers service for not only systems they have installed, but also for any system installed by a competitor. They do see roof leaks from time to time, mostly caused by poor installation methods — but their combo of great materials + expert installation gives SolFarm the confidence to provide warranties against any roof leaks for years after installation. #ProTip: When considering a roof-mounted system, ask your installer about the attachment methods they will be using and what warranties they + the manufacturer offer. 
Interested in learning more about SolFarm's offerings? Contact them for a quote. Ⓟ
Poll: