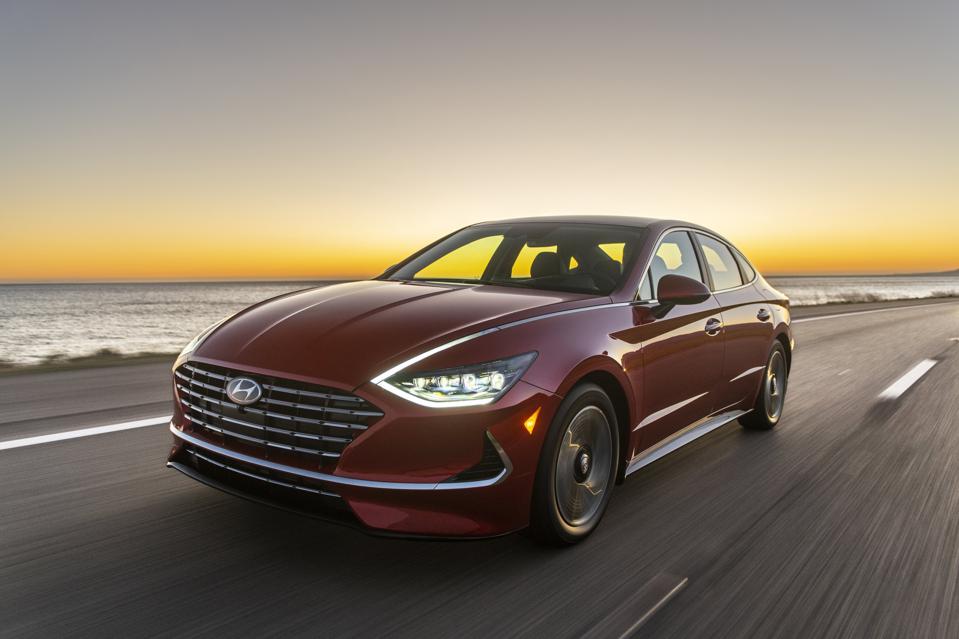 The future of automobiles probably looks a lot like the Hyundai Sonata Hybrid that I drove around southwestern Florida last week. It produces eye-popping readouts of fuel economy like 46 mpg, partly because it has solar panels etched into its roof, and it doesn't require range anxiety to do so.
The car is nicely and innovatively designed and gives off a more expensive vibe than the price supports. It's smooth and actually fun to drive. The Sonata Hybrid's safety-enhancing technologies clearly make the operating experience a more protected one.
Besides, it's bemusing to have restaurant valets bring your vehicle back with questions like, "Do those solar panels actually power the car?" rather than being agog about something like seat stitching or the size of the navigation screen.
And forget the fact that the new Sonata Hybrid remains — well, a sedan. Hyundai is one of the brands that has continued to stake its future significantly to this conventional automotive form even as it has been impressively building out its fleet of SUVs and crossovers, while domestic makes such as Chevrolet and Ford are largely abandoning sedans.
Sonata Hybrid combines great exterior styling, performance and safety amenities, and interior comforts along with the bonus of cutting-edge green propulsion — all in a package that's available for as little as about $28,000, up to more than $35,000.
Especially in a sunny market like Florida, discussion of the Sonata Hybrid must begin with a look at its solar roof system, the only solar roof that's offered in a normal-production passenger vehicle in the U.S. market and capable of charging the traction battery that powers the car's electric motors. Two solar panels occupy the car's roof — 39 by 26 inches each — while a solar DC-DC converter regulates voltage to the proper levels of 310 volts for the hybrid battery and 12 volts for the accessory battery, charging one at a time until both are full.
In practicality, the solar panels supply only a tiny portion of the Sonata Hybrid's overall power needs and require lots and lots of ambient sunshine to do even that. Using ambitious assumptions, Hyundai says that in a really sunny clime like Florida, the energy from the system could add up to about 300 kwh a year, or up to about 1,200 miles.
And the solar system will help even less in Michigan, where I live. But the point is that Hyundai has deployed solar-roof technology that surely it and other automakers will refine and improve over the years, adding to the overall appeal of the hybrid format — while the all-electric platform continues to struggle against a relative lack of charging stations and endemic consumer concerns over range anxiety.
Hyundai Sonata Hybrid also pushes the envelope in other important areas, including automated safety technology. A couple of them came in really handy while I was making rounds in Florida, including the one that notices you might be zigging and zagging a bit from drowsiness and pings you to "consider taking a break" to relieve your fatigue — featuring an icon of a cup of coffee.
That particular form of electronic assistance has become pretty common these days, of course. So has another one, but I experienced the second one for the first time in the Sonata Hybrid. Stopped at one of those long traffic lights Florida is famous for, behind one vehicle, I nodded off for a second — only to be pinged by the instrument panel and alerted to the fact that the vehicle in front of me had pulled away. I appreciated the notice.