BENGALURU:
Solar energy
plants meet about 20 per cent of
Karnataka
's daily
power requirements
as the overall share of renewables continues to climb. At 7,346 megawatts (MW), the state has the largest installed capacity of solar
power
in the country, and the biggest local plant is in Pavagada (Tumakuru).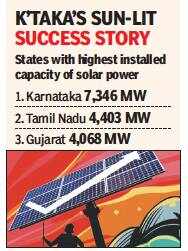 Last week, minister of state for power and energy (IC) RK Singh informed the Lok Sabha that Karnataka was far ahead of other states in harnessing sunlight. After Karnataka, Tamil Nadu (4,403 MW) has the largest installed capacity of solar power. Gujarat (4,068 MW) is third.
According to data from Karnataka Power Corporation Limited, solar energy accounts for more than 50 per cent of the state's installed capacity of green energy (13,544 MW). The government plans to expand it further by setting up a solar park in Firozabad, Kalaburagi. The park will have a capacity of 500 MW.
"The first-mover advantage has given us the edge to expand our infrastructure. We will see such parks become the norm," said additional chief secretary (energy) Kapil Mohan.
Green energy meets at least 45 per cent of the state's daily power needs. "Solar and wind power have a large contribution," he said.
The government has decided to reduce the focus on rooftop solar power generation as the scheme has become more commercial than intended. The original idea of promoting it was to help residential buildings and semicommercial sectors become self-sufficient. "The rooftop scheme was misused and it started draining the exchequer," said an official of the energy department.
As of February 28, Karnataka had installed rooftop solar capacity of 100 MW. Gujarat had 943 MW and Maharashtra 694 MW.
The rising cost of solar panels has also weighed on the Karnataka government's mind. The cost has increased by over 30 per cent because of a combination of factors linked to the border standoff between India and China, from where many solar components were earlier imported. "Karnataka is now focusing more on wind energy opportunities," said an official, adding that the state had identified three locations in north Karnataka for wind energy projects.