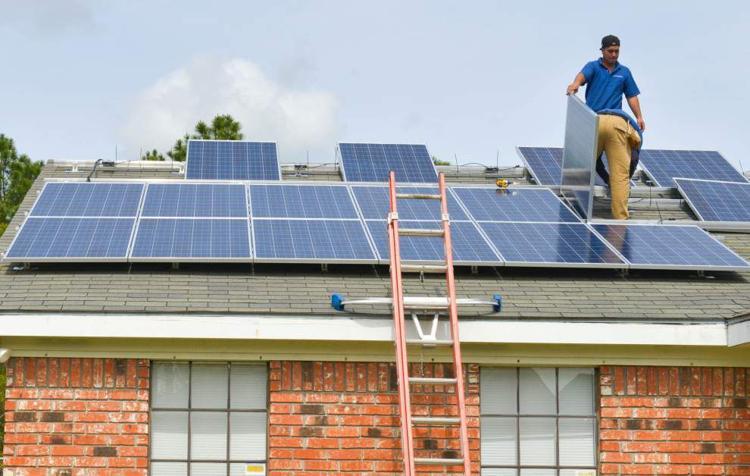 NEW ORLEANS — Since the City of New Orleans introduced the Solar for All NOLA program one year ago, hundreds of New Orleans homeowners and businesses are now enjoying the benefits of solar energy. Solar for All NOLA is a clean energy initiative available to all New Orleans homeowners and small businesses through the financial and resiliency benefits of rooftop solar.

Solar for All NOLA underscores Mayor LaToya Cantrell's commitment to reduce energy costs for lower-income families and those on fixed incomes, while creating quality jobs and making the city more climate resilient. Solar was the fastest growing source of new jobs in the U.S. before the COVID-19 pandemic and is expected to be a major player in the recovery of New Orleans' economy.
As Solar For All NOLA enters its second year, here are a few highlights from 2020:
GOING GREEN: More than 450 New Orleans homeowners and businesses took the opportunity to lower their energy costs through rooftop solar and energy efficiency.

SOLAR SAVINGS: Customers enjoyed more than $2.4 million in annual savings, an average savings of $532 per customer, due to rooftop solar and energy efficiency.

JOB CREATION: Louisiana now has more than 3,300 solar jobs, with nearly 1,300 solar jobs in the metro New Orleans area alone. Since 2015, the solar industry nationwide has grown over 200%.
The Solar for All NOLA 2021 initiative is being led by the Mayor's Fund, Forward Together New Orleans (FTNO), which is a local nonprofit dedicated to making New Orleans a fairer, more inclusive place by forging partnerships between community organizations and the business and philanthropic sectors. FTNO is working with two respected local solar businesses, PosiGen Solar and Solar Alternatives, to provide free solar evaluations to all homeowners and small business owners interested in seeing if clean energy can save them money on their utility bills. Given the fact that energy costs have started to go up significantly, it's more important than ever that homeowners and small businesses at least get a free evaluation to see if they can save money with local power.
"We are very proud of how well the Solar For All NOLA program did in its first year, during what was obviously a very challenging year," said Mayor Cantrell. "We have all spent more time in our homes in the past year than any of us could have imagined, and we are proud to be able to offer our citizens the opportunity to not only do the right thing for their household budget, but also the right thing for the environment. Programs like the one provided by PosiGen and Solar Alternatives are helping to make housing more affordable and put New Orleans at the forefront of smart, creative, clean energy."
"PosiGen's mission is to make solar available to everyone," said Tom Neyhart, PosiGen CEO. "The pandemic has proven to us that it's more important than ever that families and retirees can get their energy costs under control. We are happy to provide that opportunity through Solar for All NOLA. Our goal is to help as many people as possible, and because we focus on low-to-moderate income homeowners, we know we are making an impact on deserving families."
"New Orleans has been a leader in solar energy for almost a decade, and the Solar for All NOLA program will help the city reach all residents with the opportunity to save energy and help the environment at the same time," said Jeffrey Cantin, President of Solar Alternatives.
Importantly, the campaign makes it possible for most customers to go solar at no up-front cost to them. Solar for All NOLA offers 100% of solar feasible homeowners a financing solution, with either a no-money-down, no-credit requirement solar lease with energy efficiency upgrades, or traditional financing for eligible homeowners and small businesses who wish to purchase their system. The unique accessibility of this campaign brings solar and energy efficiency to homeowners who are left out of traditional programs and who can benefit the most from energy savings.
Interested customers can contact the PosiGen and Solar Alternative teams directly to sign up for a no-cost solar home or business assessment, or they can utilize Forward Together New Orleans staff to assist them with this service. For more information, visit www.solarforallnola.com or call (844) 78-SOLAR.
# # #