a self-supporting object that provides remote communities with energy, water, and shelter. that's what OF. STUDIO envisions with 'ephemeral station'. inspired by the banyan tree and hot air balloons, the speculative design uses recycled materials and incorporates a system of photovoltaic cells to turns the sun's rays into energy.

images and videos courtesy of OF. STUDIO
the proposal is designed for the US state of nevada. visualized within the sparsely populated community of gerlach, the ephemeral station is conceived as a sculptural object that leaves a strong impression on its users but minimal environmental impact on the site. like the great banyan tree, it's a place for communities to gather. and like hot air balloons, the station has the ability to move and transform in shape, according to external weather conditions. 'it will expand and contract as its internal temperature changes. this movement will give the idea the object is alive and constantly breathing. just like a living organism that produces and consumes energy,'  says OF. STUDIO.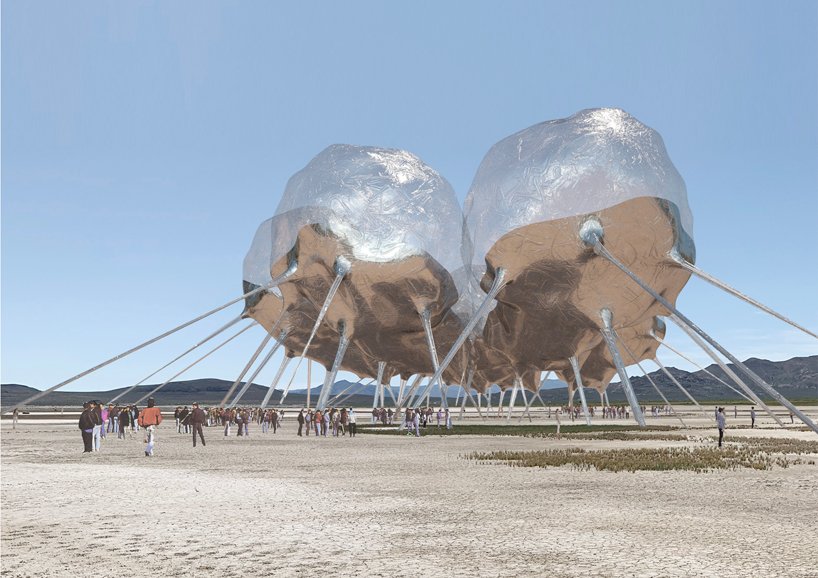 the ephemeral station is conceived as a sculptural object
the designers describe ephemeral station as an 'innovative shelter' that can be used to host a wide variety of functions: from food markets to live music. to host bigger events, the station can be scaled up to provide more space and more power. alternatively, a number of the cloud-like objects can also be clustered together to create a large covered site.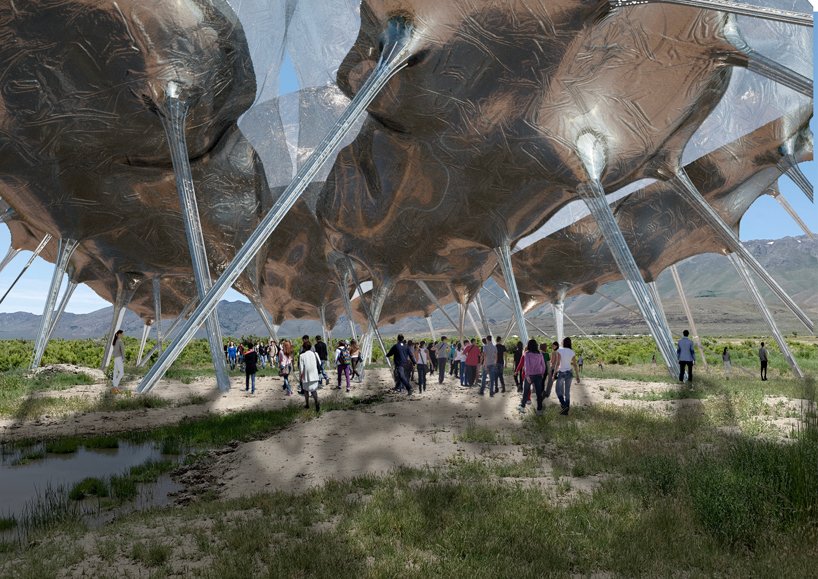 the shaded space underneath can host a wide variety of functions
the structure is composed of a primary steel frame that sits on steel ground plates. on top of the primary structure is a sheet of cotton onto which a series of photovoltaic panels are fixed. the station is then topped in a recycled polycarbonate balloon with an aluminium underbelly ceiling. the prototype to be constructed with completely recycled materials and using offsite fabrication to reduce harmful carbon emissions and to afford a more efficient construction process respectively. 
while developing the project, OF. STUDIO carefully analyzed the climate of gerlach and consulted solar energy systems and environmental design experts. this research provided the precise orientation of the station to ensure maximum solar gains throughout the year. the design team also considered elevated temperatures that could cause the PV panels to overheat. to try and mitigate this, they've incorporated an evaporative cooling system that doubles as a water filtration system. 

the station is orientated to ensure maximum solar gains
'to avoid overheating of solar PV, an underlying fabric is introduced that remains wet as it draws water from a small water puddle within the shell,'  explains OF. STUDIO. 'the heated internal air in the module results in evaporation (from underneath the solar panels), thereby both cooling the panels and resulting in water droplets collecting on the module's top inner skin. these droplets find their way to collection gutters and become a source of pure drinkable water. it is a similar process followed by small boats at sea to create fresh potable water from seawater.' 

ephemeral station materiality
the legs of the module work as capillary tubes to draw up underground or surface water, maintaining the puddle in the module. the extracted water is considered potable as it goes through heating and pasteurization. this distilled water is used for drinking and could also be diverted to irrigation systems in summer, such as micro-sprinklers. the design team estimates that 0.8 gallons of water could be produced per day, but it would require mixing with freshwater to achieve the required levels of saline content. depending on the level of salts in the original water, they estimate that this mix could be 50% distilled water and 50% of the fresh puddle water.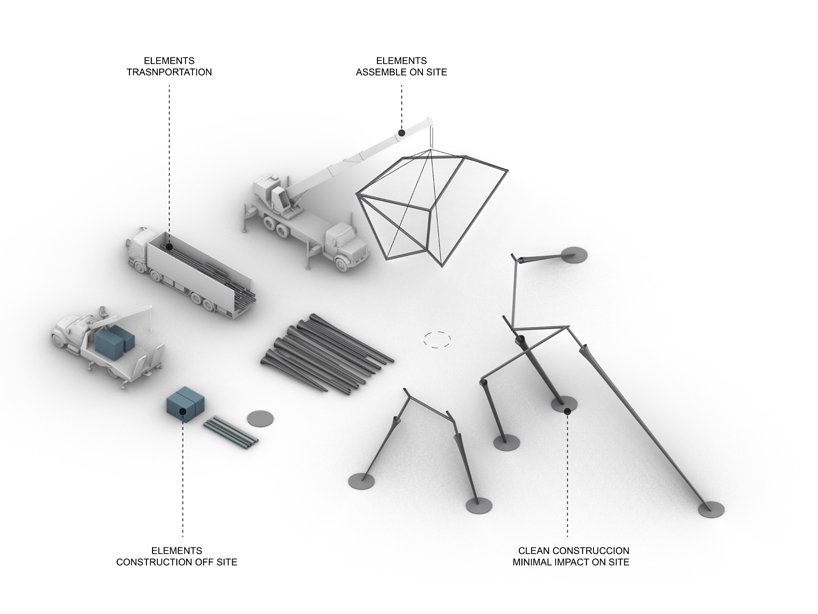 assembly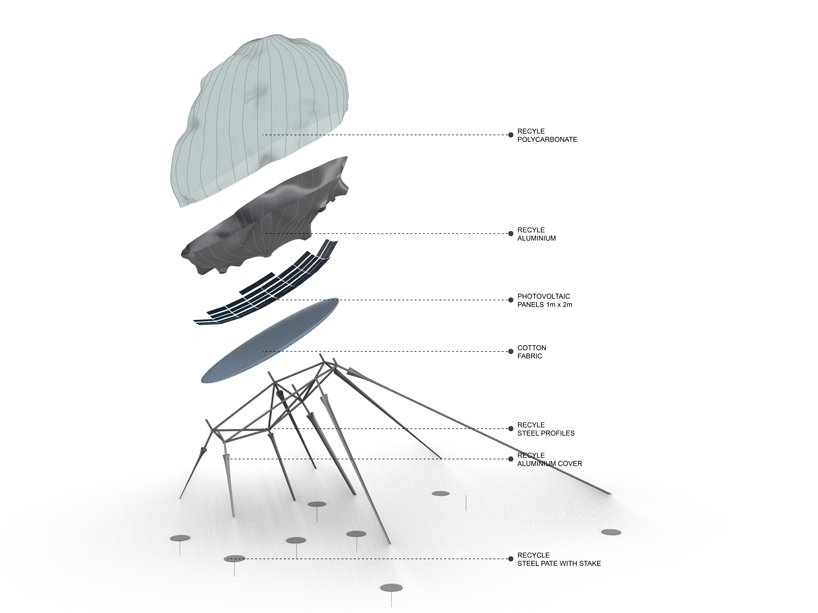 axonometric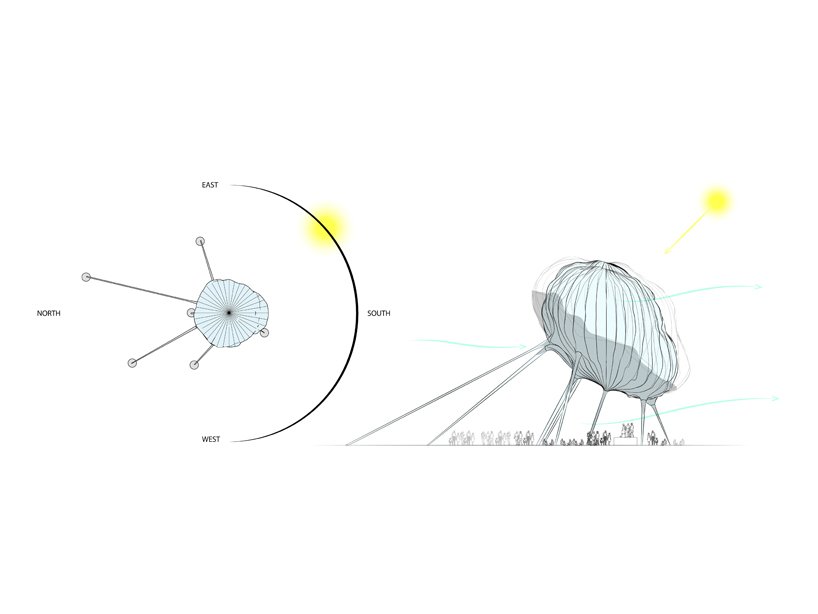 plan and elevation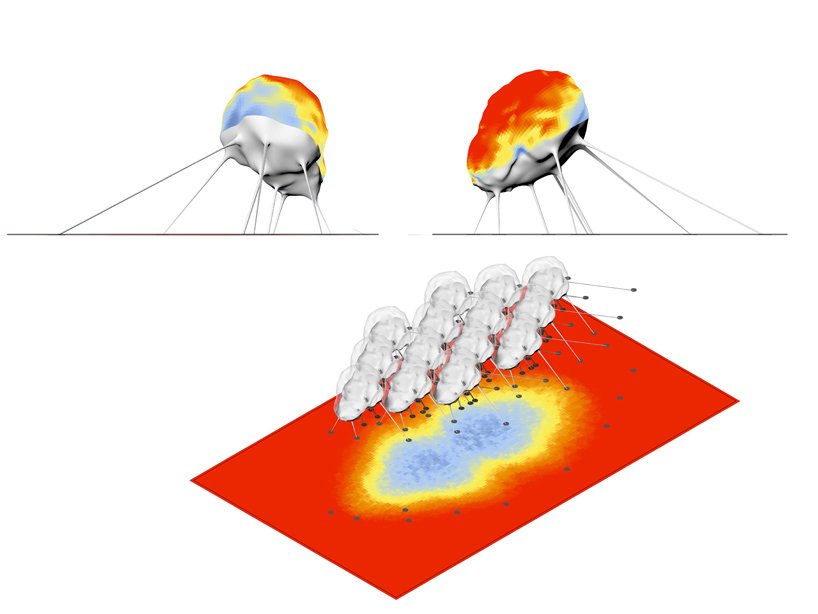 sun exposure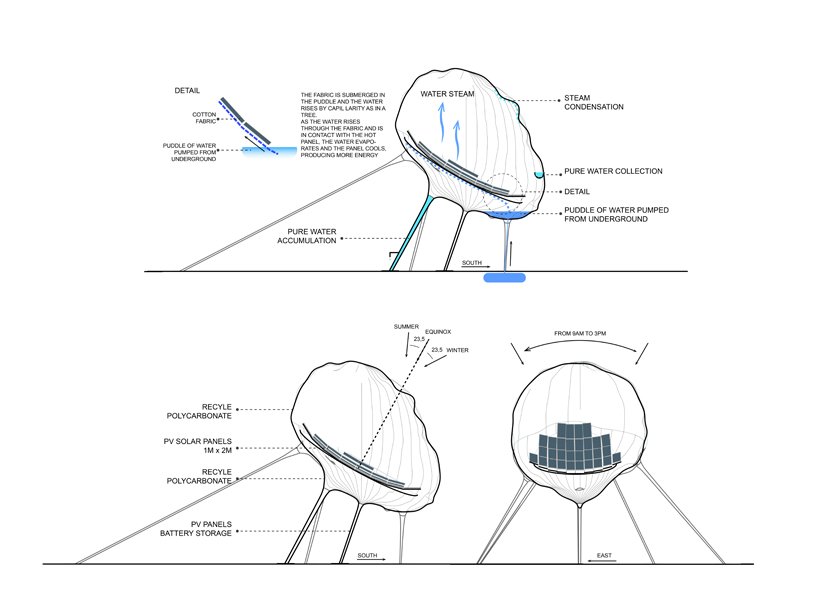 technology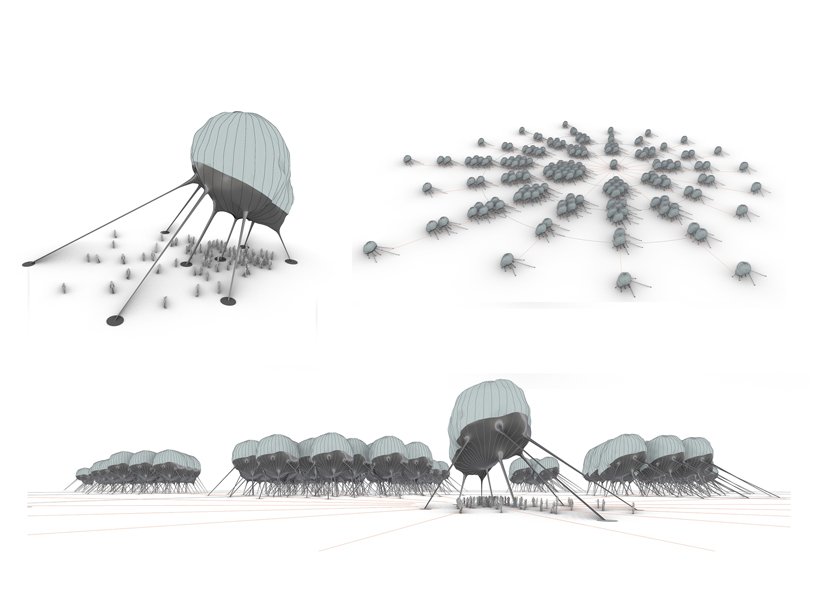 cluster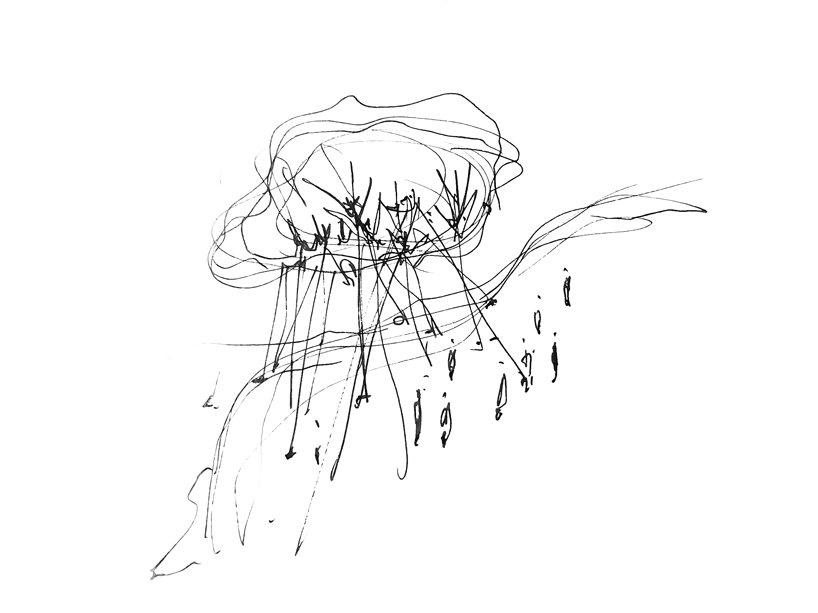 sketch
project info:
name: ephemeral station
design: OF. STUDIO 
consultants: engineer alfredo esteves miramont (solar energy systems), studio 4215 (environmental design)
designboom has received this project from our 'DIY submissions' feature, where we welcome our readers to submit their own work for publication. see more project submissions from our readers here.
edited by: lynne myers | designboom