California will build another massive solar power farm in its sunny desert. On May 3, the U.S. Department of the Interior announced that the Bureau of Land Management (BLM) had given the green light to a new major solar energy project called the Crimson Solar Project. Once the $550 million project is completed, it will have the capacity to power approximately 87,500 homes.
The facility will be built across 2,000 acres of BLM-administered lands as a 350-megawatt (MW) solar photovoltaic facility capable of storing 350-MW of energy to generate and deliver power via the Southern California Edison Colorado River Substation. The project will officially be owned by Sonoran West Solar Holdings, LLC, a wholly-owned subsidiary of Recurrent Energy, LLC.
Deb Haaland, the U.S. Secretary of the Interior, said:
The time for a clean energy future is now. We must make bold investments that will tackle climate change and create good-paying American jobs.
The project will hire 650 people for its construction. Once complete, it will keep ten permanent and 40 temporary positions for the duration of its 30-year lifespan. "Projects like this can help to make America a global leader in the clean energy economy through the acceleration of responsible renewable energy development on public lands," Haaland added.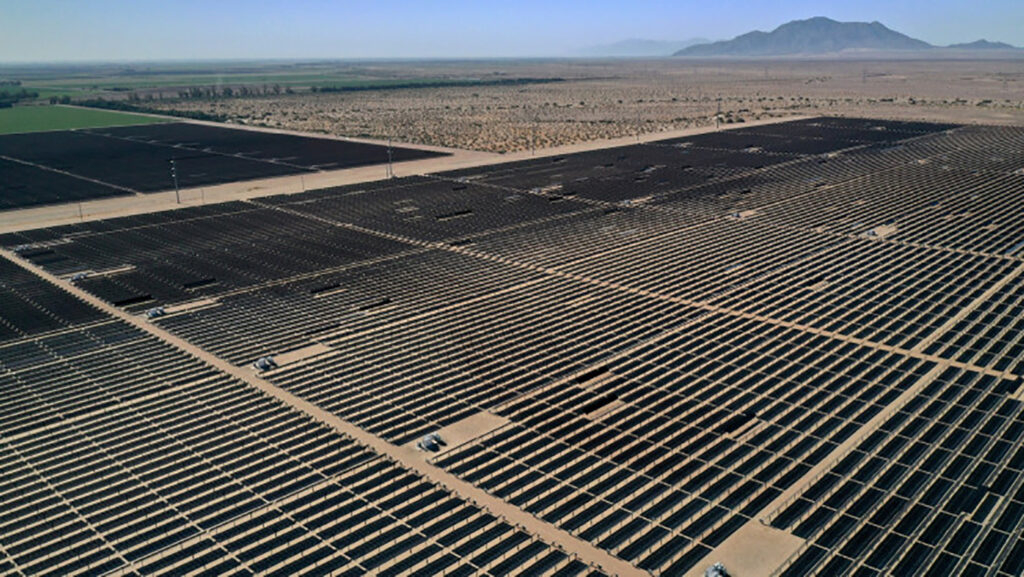 The Crimson Solar Project is on par with some of the country's largest solar energy farms. For example, the Solar Star solar farm is currently the biggest of its kind in the U.S., with approximately 1.7 million solar panels spread across two sites in California that generate 314MW and 265MW, respectively. Overall, it generates 579 MW of energy – enough to power 255,000 homes.
Other impressive solar farms in the U.S. include California's Topaz Solar Farm that can generate 580MW of power, the Ivanpah Solar (also in California) that delivers 392MW, and the Agua Caliente solar farm in Arizona that produces 290MW, among others.
Some companies and countries are expanding our knowledge of solar power by moving projects away from sunny places like rooftops or deserts and instead basing them on water.