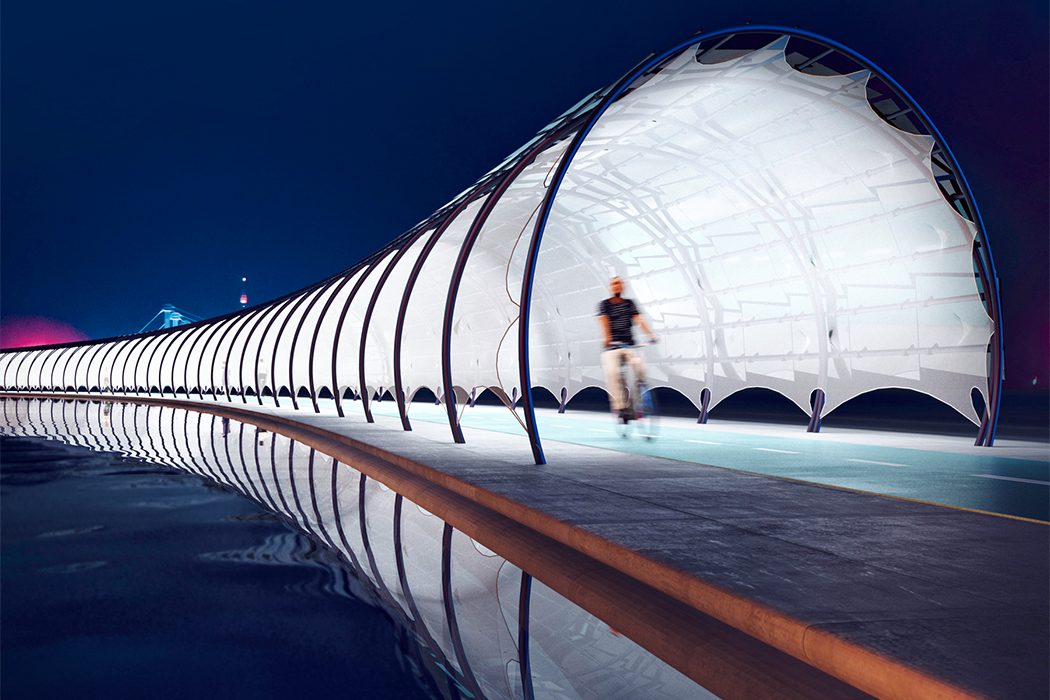 As we slowly, but hopefully find ourselves leading more sustainable lifestyles, city infrastructure seems to quickly follow suit. Electric car charging stations cropping up on street corners and smart benches using solar energy to generate power for WiFi hotspots have become everyday occurrences. In creating a sustainable bikeway, architect Peter Kuczia reinterpreted the typical bike path through a sustainable lens and conceptualized Solar Veloroute, a multifunctional photovoltaic pathway, and structure for city pedestrians and bikers.
Many people who live in cities are taking to biking for their preferred mode of transportation, prompting designers and city officials to reimagine bike paths and public transport. Bike roads, also known as Veloroutes are steadily becoming city staples, even mainstays for commuters on foot or bike. With the demand for Veloroutes increasing, Kuczia created a Solar Veloroute that comprises a photovoltaic tunnel structure that serves as a solar canopy for cyclists and pedestrians as well as a public facility where commuters can enjoy lit pathways at night and charging stations for bicycles or smartphones. Solar Veloroute presents as a partly-enclosed, rounded archway constructed from overlaid non-reflective glass-glass solar panels, which are attached to round tube steel purlins.
While the Solar Veloroute collects solar energy during the day for on-site charging stations and lighting, the surplus energy collected can be distributed and used for additional services. On the structure's sustainably sourced power, Kuczia says, "Just one kilometer of [Solar Veloroute] could provide around 2,000 MWh of electricity and could power 750 households or provide electricity for more than 1,000 electric cars driving 11,000 km per year." To ensure that Solar Veloroute doubly serves as an informal educational experience for the public to learn about sustainability, Kuczia placed display panels and posters with information about the benefits of using solar power on a global scale.
Designer: Peter Kuczia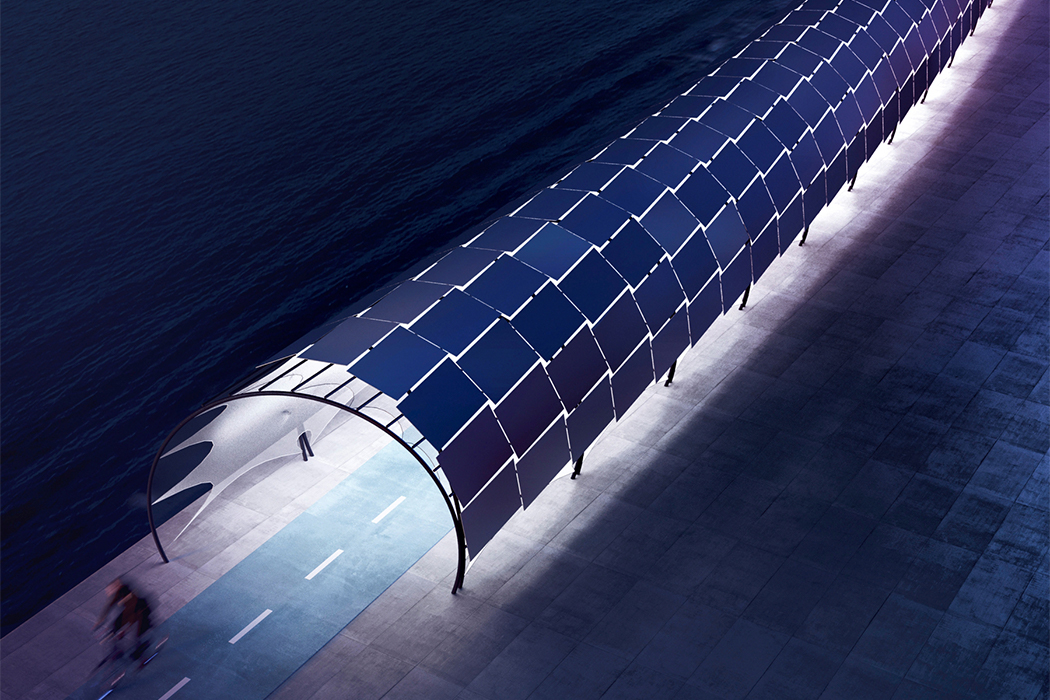 A fabric membrane provides an additional layer of protection for pedestrians and cyclists while gently distributing light.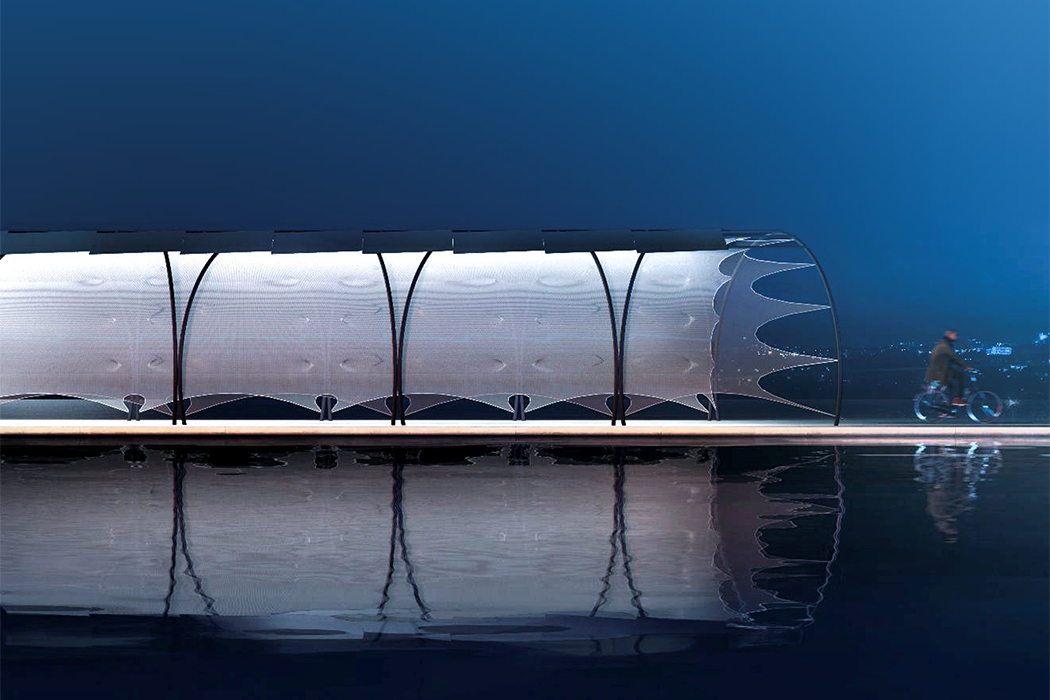 The partly enclosed photovoltaic archway is an architectural symbol for change from a gas-powered lifestyle to a more sustainable one.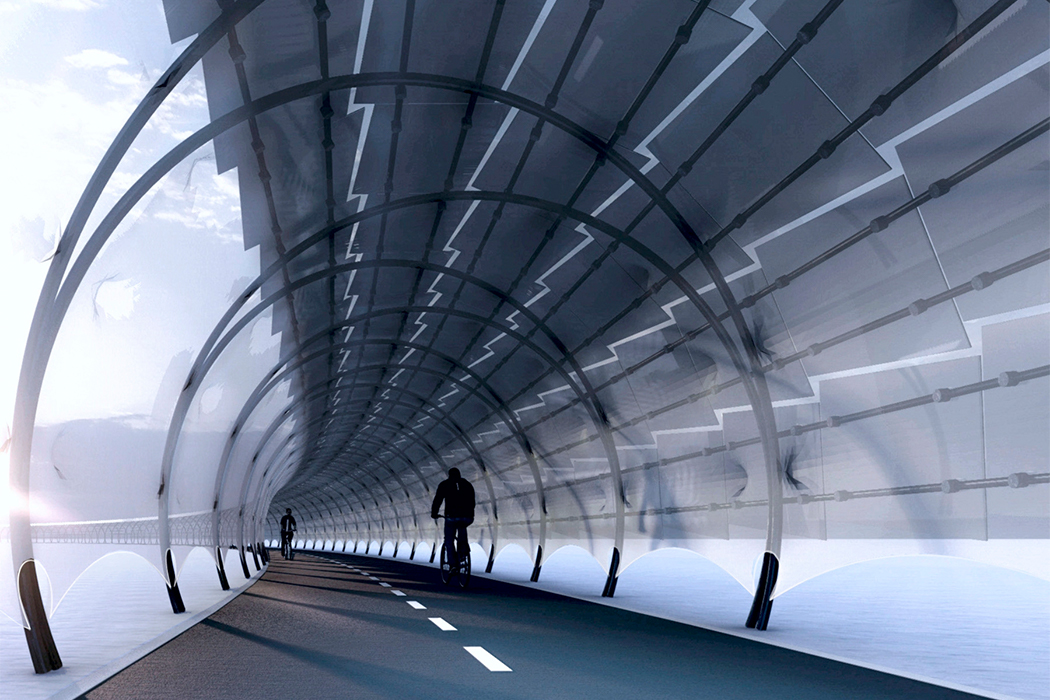 By following a repeatable series of steel elements, the Solar Veloroute can be replicated in any climate and city with the same kind of rectangular photovoltaics.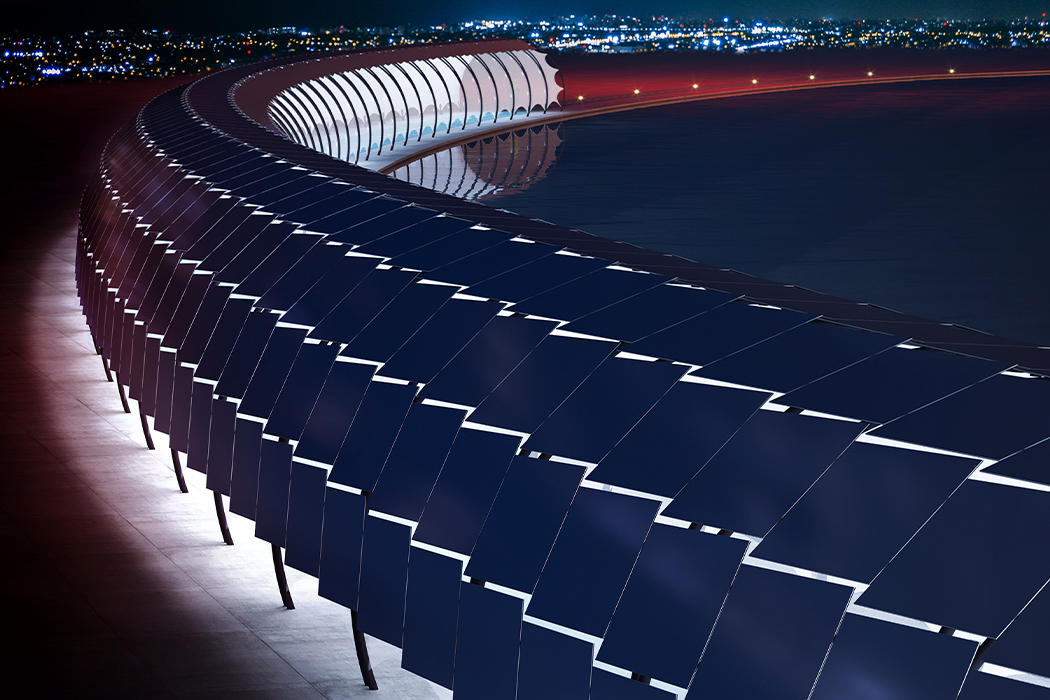 The photovoltaic panels collect solar energy to create power for charging stations and overhead lighting.