EA has suspended all discretionary content granting indefinitely amid the ongoing "EA Gate" scandal that has rocked the FIFA series.
Earlier this week Eurogamer reported on how the FIFA community had unearthed direct messages that appeared to show an EA employee selling coveted Ultimate Team cards for thousands of pounds on the black market.
These direct messages mentioned FUT Icon cards in packages priced 750-1000 euros. In one WhatsApp message, three Prime Icon Moments cards were offered for 1700 euros.
So we grind/trade/open packs and can?t touch these PIM players but EA employees sell them to people secretly for ,700?!?! LOL I respect the grind but my god… pic.twitter.com/CCnhjZbcgH

— Nick ?? (@Nick28T) March 10, 2021
This content is hosted on an external platform, which will only display it if you accept targeting cookies. Please enable cookies to view.

A special thanks to @RiberaRibell for the picture , he did an amazing work??
(continue in the comments)#fut #fifa pic.twitter.com/bJIg2rpWtI

— Arcade-Fut (@FutArcade) March 10, 2021
This content is hosted on an external platform, which will only display it if you accept targeting cookies. Please enable cookies to view.

— Arcade-Fut (@FutArcade) March 10, 2021
This content is hosted on an external platform, which will only display it if you accept targeting cookies. Please enable cookies to view.

Icon cards are among the most sought after in FIFA Ultimate Team. They include legendary players such as Brazilian Ronaldo, Pele, Ronaldinho, Zinedine Zidane and Ruud Gullit, and are near impossible to obtain through the mode's controversial loot boxes.
Even rarer are Prime Icon Moments – special versions of Icon cards that mark one game or tournament that was special for the players.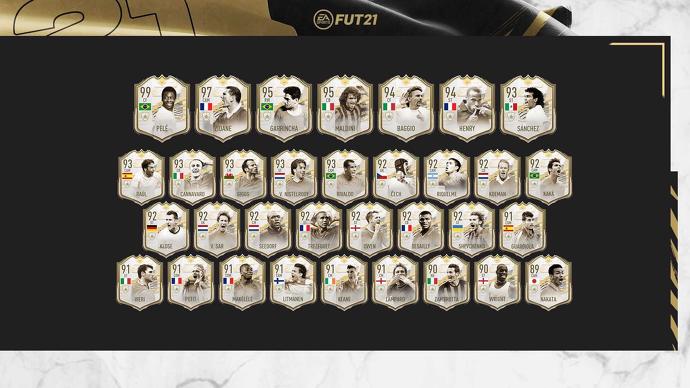 EA launched an investigation in response, and overnight provided an update:
"Earlier this week, we were made aware of suspicious activity relating to highly rated content in FIFA Ultimate Team," EA said.
"We learned that FUT items were granted to individual accounts that did not earn them through gameplay – i.e. by opening a pack, purchasing through the transfer market, completing a reward challenge (e.g. an SBC completion) or other engagement (e.g. viewing a Twitch Broadcast).
"It appears that one or more EA accounts, which were either compromised or being used inappropriately by someone within EA, directly entitled items to these individual accounts.
"The alleged behaviour is unacceptable and in no way do we condone granting or purchasing player items in exchange for money. This practice runs counter to the game's competitive integrity, is a violation of EA's User Agreement, and is not something we tolerate. We do not allow the trade or sale of items outside our game for many reasons, including that it would create an unequal playing field for our community."
Of course, EA does grant purchasing player items in exchange for money – via loot boxes.
EA insisted its initial investigation has shown questionable activity involving "a very small number of accounts and items", but despite this, called the alleged activity "unacceptable".
EA then vowed to take action against any employee found to have been engaging in this activity, to remove any items granted from the FUT ecosystem, and permanently ban any player known to have bought them.
EA then apologised to the FIFA community: "Regardless of these actions, we appreciate how concerning this is to all of our players, and we apologise for the impact of these improper grants within the community.
"We also appreciate how extremely annoying and frustrating it is that this practice might have come from within EA. We're angry too. We know that the trust of our communities is hard-earned, and is based on principles of Fair Play. This illicit activity shakes that trust. We've also been clear since the creation of Ultimate Team that items cannot be exchanged outside our game, and that's key to how we keep our game safe from manipulation and bad actors. This is a breach of that principle, as well – and we won't let it stand."
EA goes on to discuss content granting – something it rarely does. This is when EA gives Ultimate Team content to player accounts. EA said that unless these items are issued to replace lost content, they are usually non-tradeable items, which means they have no exchange value in the game, cannot be sold on the transfer market and cannot be shared with other players. Examples include items used in testing and quality verification, and discretionary content granting to athletes, EA's partners and employees.
Every now and then the community will discover a famous footballer's Ultimate Team because they've run up against them online, and you'll sometimes see the footballers use a special 99-rated version of themselves in-game. That's discretionary content granting to athletes.
"The items granted on a discretionary basis to these partners or employees are always non-tradeable and can be used only by the account to which they were originally granted," EA insisted. "We do not use this discretionary process to grant content to professional video game influencers."
Of course, this content can be used in Ultimate Team's competitive, pay-to-win multiplayer against other players online – a balance issue EA does not address in its statement.
EA said the sum of items granted through these three scenarios (customer experience, testing and partners) combined is less than 0.0006 per cent of the total player items in the FIFA 21 ecosystem. EA insisted these grants have no impact on the odds of any player in the ecosystem acquiring these players, they have no bearing on the overall volume of available content, and all content that is granted is untradeable, with no associated coin value.
"Obviously, the actions being alleged in this case fall far outside of these legitimate scenarios for granting content," EA said.
EA's investigation is ongoing, but the company said it has narrowed how this happened and identified the accounts that have received the content. Meanwhile, EA has suspended all discretionary content granting for an indefinite period.
"Once again, we highly value and appreciate the commitment and support of the FIFA community in helping identify this issue and will continue to provide updates as the investigation progresses towards conclusion," EA said.
One of the many issues with Ultimate Team the "EA Gate" scandal highlights is the artificial scarcity of these highly-coveted items. Some of the most powerful and most sought after cards in the game – the Prime Icon Moments versions of Ronaldo, Pele, Ronaldinho, Zinedine Zidane and Ruud Gullit, for example – have a below one per cent chance of dropping from a loot box. The exact probability of getting an Icon from a pack is unknown, because EA does not disclose exact percentage chances below one percent – a lack of transparency that has been criticised for some time.
EA is already facing two other lawsuits connected to Ultimate Team, one in the United States alleging the mode breaks California state gambling laws, and one in Canada accusing EA of running "an unlicensed, illegal gaming system through their loot boxes".
Loot boxes have come under increased scrutiny from government authorities in recent years, too, particularly in relation to their impact on young people. In January 2019, EA stopped selling FIFA Points in Belgium following government pressure over loot boxes. The Netherlands Gambling Authority has also declared loot boxes illegal because they are considered a game of chance, and therefore violate the country's Gambling Act. The Dutch authorities ended up issuing EA with a fine of up to €10m over loot boxes in FIFA.
FIFA loot boxes are currently not considered a form of gambling in the UK, although the government is taking a close look at them in that context. In July, the House of Lords gambling committee urged the government to "act immediately" to regulate them. The Department for Digital, Culture, Media and Sport launched a consultation on loot boxes in September and a review of the Gambling Act 2005 in December last year. It is due to publish a white paper before the end of this year.
FIFA hit the mainstream headlines last weekend with a Sunday Times investigation titled "FIFA's ugly game lures teens to gamble".
EA has called FIFA loot boxes "surprise mechanics", and in a statement given to the Sunday Times, likened them to Kinder eggs. A spokeswoman told the paper there was "no advantage to purchasing Ultimate Team packs rather than earning them", and that the majority of player packs were awarded through in-game accomplishments. She said users could track or limit their spend through FIFA Playtime, a new in-game tool, and said access to online gameplay could be restricted using parental controls on consoles.