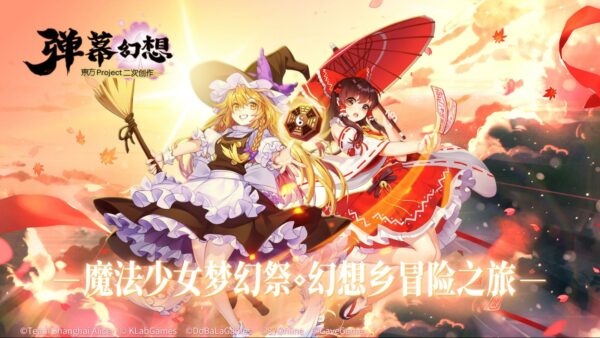 KLab and Shanghai-based Dobala Games are jointly developing a Touhou Project spin-off shoot 'em up under official licensing from Team Shanghai Alice, the companies announced. It will be released worldwide.
The official Simplified Chinese title of the game is 弾幕幻想 (Danmu Huanxiang), which can be read as Danmaku Genso in Japanese, but an English title has yet to be decided.
Pre-registration began today in Mainland China, where the game will be published by 37 Interactive Entertainment for iOS and Gave Game for Android. The official Weibo account is available here.
Here is an overview of the game, via KLab:
About the Game

弾幕幻想 (official English title undecided) is a side-scrolling action shooter. Players can fire barrages to defeat enemies, build their characters, and play with various other elements. This game is a spin-off based on the Touhou Project created by Team Shanghai Alice through an official creator license.

The game story begins when the peace in Gensokyo is once again disturbed. A strange magical presence is invading Gensokyo and causing the yokai to go berserk and destroy everything. The girls must set out on a journey to discover the heart of this disturbance and save Gensokyo from disaster.

About Touhou Project

The Touhou Project is the name of the series created by the doujin circle Team Shanghai Alice and set in the fictional world of Gensokyo. The core of the series is the bullet hell shooting game genre and is produced by ZUN who runs Team Shanghai Alice. Almost everything from the story, characters, programs, and sounds were created solely by ZUN. In addition to the shooting games, ZUN has also written novels and original manga has been produced based on the series.

The setting of the series, Gensokyo, is a world isolated from this one, where different races such as fairies, youkai, demons, ghosts, and gods as well as humans and animals all reside. The unique character stories, beautiful barrage brought to life in the games, and the catchy songs continue to be popular and attract numerous fans not only from Japan but all over the world.