One of the most used pieces of software on the planet is about to get an upgrade. Microsoft is set to announce a new version of its Windows software on Thursday, with a reported new look as well as upgrades under the hood. The new update, believed to be called Windows 11, comes six years after the last iteration, Windows 10, was first released.
Teams is taking on Apple's FaceTime
[11:47 a.m. PT]
One of the biggest complaints about Apple's FaceTime software is that it only runs on Apple devices. And even though Apple announced that this fall, Apple users can invite Android and Windows people into FaceTime calls, it's not like they have full access to the app.
Well, Microsoft believes its answer will be with its Teams software. The first way it'll do that is by building Teams into the Windows 11 taskbar — so, essentially, no need to install Teams separately anymore. With Teams available on Apple and Android devices already, that goes a long way toward helping Teams become a bit more competitive.
Read more: Windows 11 guns for Apple FaceTime with Microsoft's beefed-up Teams video calls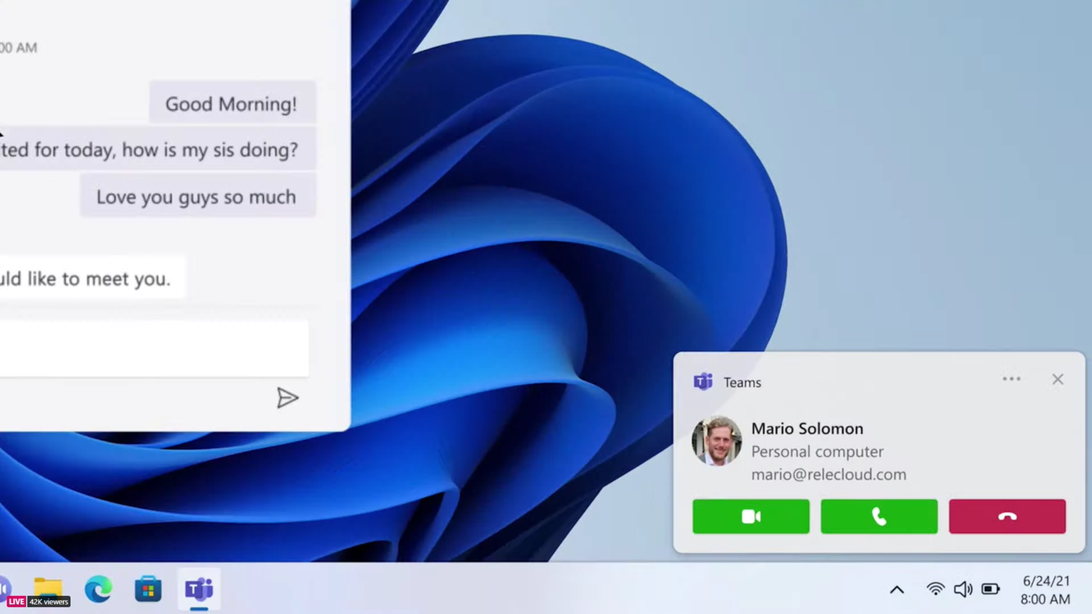 ---
Microsoft is making your computer more like an Xbox
[11:38 a.m. PT]
One of Microsoft CEO Satya Nadella's newest mantras is that Microsoft is "all in" on gaming. With Windows 11, Microsoft's folding in features like "Auto HDR," which uses computer intelligence to enhance the visuals in a video game. "The difference is stunning," said Xbox ecosystem exec Sarah Bond said during the event.
Read more: Windows 11 adds Xbox tech for better gaming
---
Windows 11 is official
[11:10 a.m. PT]
Microsoft officially announces Windows 11 (The name is real!). There's a bunch of new features, such as a Mac-like look, Microsoft Teams built in kinda like Apple's FaceTime, and widgets.
Read more: Microsoft Windows 11 is here
---
---
About to begin
[10:53 a.m. PT]
Microsoft's big event is about to begin. In the meantime you can enjoy that apparently someone found reference to the name Windows 11 in one of Microsoft's code bases in the Github service it runs, according to Bleeping Computer. So, there you have it. But honestly, with all the speculation about the name and all the hints, if Microsoft doesn't call this Windows 11, most people will probably think the last few weeks were an elaborate prank by the company's marketing team.
---