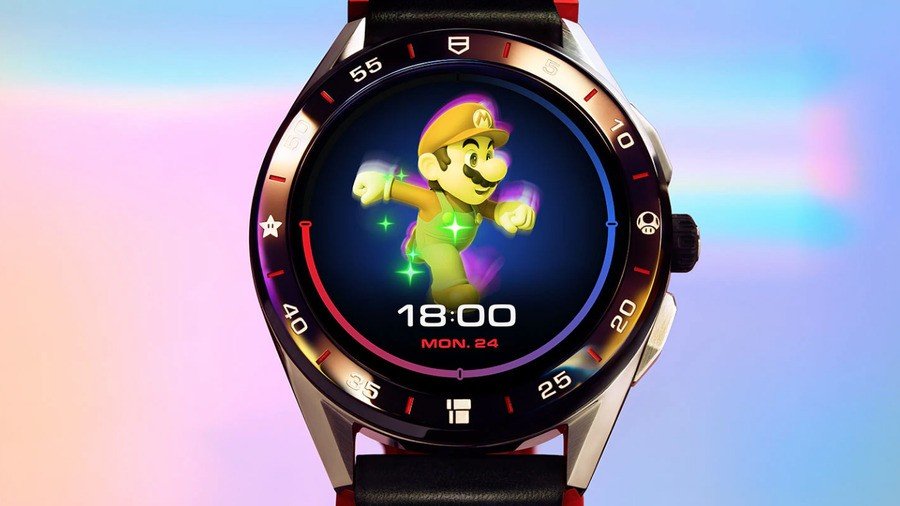 Update: Tag Heuer has now unveiled its the Tag Heuer Connected x Super Mario watch, a limited-edition piece that'll cost a staggering, if unsurprising, $2,150.
The new release is actually a special edition of the Tag Heuer Connected, a digital watch that uses Android's Wear OS tech (thanks, VGC). Over on the Tag Heuer website, visitors are taken on a tour of the watch's features, which include special animations that change as you meet certain activity milestones, different watch faces, and access to all of Google Suite's widgets such as Calendar, Emails and more.
On Instagram, Tag Heuer explains how you can get your hands on one:
Unveiling our newest collaboration that's sure to bring both the watchmaking and gaming worlds in new territories! Nintendo's iconic character, Mario, is taking over the TAG Heuer Connected with a new limited edition timepiece in a daring, creative style.


Available for purchase on July 15th, dropping at the right moment for you: 
Japan 10 AM – Local Time, 
Europe 10 AM – Geneva Time, 
USA 10 AM – Washington Time. And 2 hours before for the priority subscribers.
The Tag Heuer Connected x Super Mario watch will be limited to 2000 units, going on sale exclusively at select 'super boutique' locations and the Tag Heuer website from 15th July.
---
Original Article (Fri 9th Jul, 2021 11:00 BST): Luxury watchmaker and fashion accessory brand Tag Heuer has teased a new and surprising collaboration with none other than Super Mario.
Very little has been revealed about the collab so far, but what we do know is that an exclusive limited-edition product is set to go up for early access next week. You can register on Tag Heuer's website to gain access to this early listing if you wish; the page features a countdown to the big reveal, alongside an image of the Mario case shown above.
The collab was also teased on social media [Update – original tweet deleted, new tweet embedded]:
Are you intrigued? Assuming it's going to be a luxury Mario watch, are you going to be keeping an eye on that early access listing? Let us know your thoughts in the comments.