The following video summarizes this article:
New updates are being added at the bottom of this story…
Original story (published on January 29, 2021) follows:
There appears to be a recent server-side update on Google Chrome browser for Android following which the tab-view has been completely altered for many.
Previously, tabs used to appear in a vertical cascading list of cards that spanned the entire length of the screen. This view only allowed previewing one site at a time.
But after the update, tabs now appear in a grid layout allowing several opened sites to be previewed at once without getting obscured.
This change also opens up an avenue for Tab Groups support – something that wasn't possible earlier. Tab Groups facilitate smoother work-flow as tabs can now be organized into neat little assortments.
This is especially useful for power users that keep dozens of tabs open at once. With the change, it will be much easier to find them if there is a large number open at once.
However, there are a couple of downsides to the update too. One-handed usage has become a tad more difficult as tabs are now placed at the top of the screen rather than being aligned to the center. Also, there are many that simply do not like how the grid layout looks.
And while it's debatable if the changes are for the better or worse, it's quite clear that most have already made up their minds.
There have been plenty of complaints from angry users asking for the update to be rolled back. Many are also asking for a way to disable the tab groups and grid layout on Chrome.
This is an annoying feature. And it doesn't even ask if user want to enable it. Chrome devs become worse day by day. It causes many problem for my company when using our web apps with chrome, such as showing update popup randomly, breaks old features, and now this.
Source
If you are one of such users, then there indeed is a way to change the tab view in Chrome for Android back to its previous state. And it involves Chrome Flags.
How to turn off grid-view/tab groups on Chrome for Android
Chrome Flags are experimental features that aren't yet enabled by default but can be with just a few clicks. They're simple to use and can transform your browsing experience.
Similarly, there is a switch for the new tab grid-view as well under the list of available flags. To access it, you need to enter chrome://flags into the Chrome address bar.
You will then be directed to the flags page. Next, enter the words "tab grid" in the search bar following which you should see the desired flag show up just like in the below image.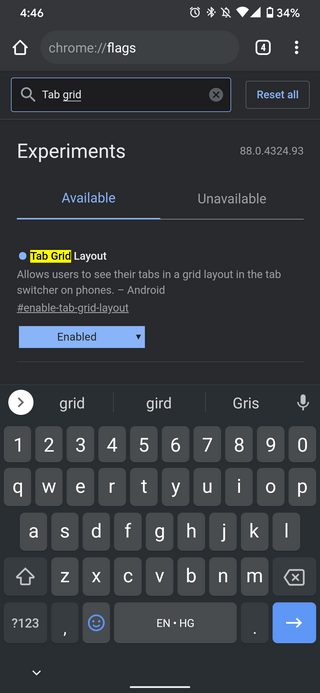 Simply select it and change its value from 'Default' to 'Disabled'. After this, restart Chrome a couple of times to see the grid layout revert to the good old vertical card view once again.
Furthermore, if you also want to disable tab groups on Chrome, just to be sure, then the #enable-tab-groups flag should help you with that.
Update 1 (February 04)
12:27 pm (IST): As per a Product Expert on the Google forums, it now seems that the option to disable group tabs via Chrome Flags has stopped working.
Seems like this flag was removed and this new feature is now by default, without an option to disable it.
Source
While we were unable to verify this, it could be possible that it actually is a server-side change and has been put into effect for select users only. If true, it's highly disappointing.
Update 2 (February 20)
11:12 am (IST): As per several Redditors, the grid layout/tab groups UI appears to now have been rolled back on Chrome. A great relief indeed, but there is still no telling if Google might bring it back.
After all, it could be quite possible that the rollback was initiated due to unmentioned bugs. Anyway, for now, it is advisable to find any Chrome flags that include the word 'group' and disable them.
Update 3 (February 22)
11:12 am (IST): Contrary to recent reports that Google had rolled back the grid for Tab Groups layout, 9to5Google says the feature is actually rolling out widely.
03:44 pm (IST): As for those uninterested in the new feature, there is room to disable it via the Chrome flags settings, again, contrary to recent reports that the flag had been completely removed from Chrome.
Update 4 (February 23)
12:51 pm (IST): We have tested the workaround to disable the grid view at our end and can confirm that it works. We are sharing the step-by-step screenshots below.
Update 5 (February 24)
For those of you who are interested in keeping the grid-view intact but wish to disable grouping, here's a user-shared workaround for you.
In the Chrome address bar type "chrome://flags," and you'll be redirected to the Experiments page. Over there, in the search box, type "Tab." Following the Tab Grid Layout, you'll see three Tab group flags namely 'Tab groups', 'Tab groups continuation,' and 'Tab groups UI improvements.'
Set all three of them to 'Disabled,' and then relaunch a couple of times for the grouping to be disabled while keeping the grid-view as it is.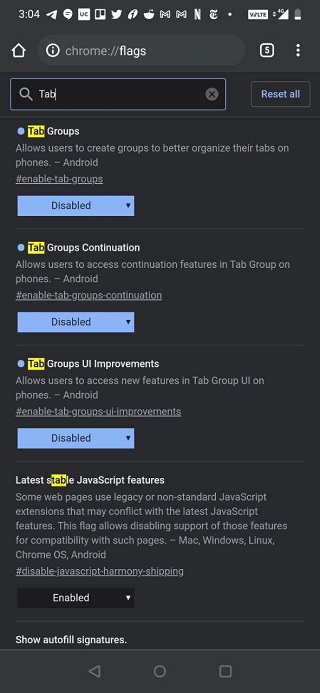 We've tested the workaround at our end and can ensure that it works.
Update 6 (March 02)
We've come across user queries regarding naming/renaming tab groups on Android, just as can be done on Chrome's desktop version. But going by the reports, the ability to rename and assign specific colours to tab groups is yet to be added to Android.
Update 7 (March 10)
We've already highlighted a workaround (update 5 section) to keep the grid-view as it is but disable grouping.
Now we've caught hold of another user-shared workaround wherein you have to set 'Tab Grid Layout' to enabled, 'Tab Group' and 'Tab Groups Continuation' to disabled and 'Tab Groups UI Improvements' to default.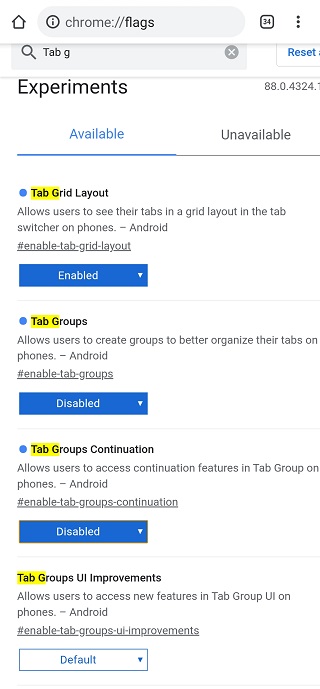 This will take away the 'Group Tabs' option that shows in the three-dot menu. We've tested the workaround at our end and can confirm it works.
Update 8 (March 18)
Just in case you aren't aware, sharing your feedback with the developers in case you don't like a feature (while it's still under the experiment phase) is very important. The reason being, the flags for a feature show up under the Experiments only when a feature is being tested, meaning, you still have the option the enable/disable it.
But once the feature makes way to the stable release, there is no way to revert the change, but get stuck with it forever. This information was recently shared by one of the product experts at the Google Chrome community while addressing users' queries on how to disable the Reading list feature that was added with Chrome version 89 recently.
So sharing feedback in case of the Tab Groups/Grid view feature in question in this post also becomes important. Else, once the feature makes way to the stable release, you won't have an option to revert the change. Take a look at how the expert explained the importance of timely give user feedback:
I would also like to recommend that if you don't like the function, send your opinion to the Chrome team about what aspect you don't like, or why you don't like it:
Report a bug or feedback on Chrome – Google Chrome Help
It is very important that you do this, since these comments will be received directly by the Chrome team (they do not usually go through the forums in Spanish). Also, it is important because if this function is set to the stable version for everyone, the flag will eventually be removed, and there will be no way to disable the option.
Update 9 (March 22)
In order to restore the cascading tabs in Chrome on your Android device, here's another workaround (slightly different from the one mentioned in this article) shared by a product expert at the community:
Please test another possible solution. It's about the flags again.

So: chrome: // flags and enter "grid layout" should appear:

1. Tab grid layout
2. Tab groups
3. Tab groups continuation
4. Tab switcher on return
5. GTS

And so set it to Disabled for 1,2,3,4 and Enabled for 5. Restart Chrome (or preferably restart the phone).
Update 10 (March 26)
Going by the information shared by one of the users, before the 'Tab groups' and 'Tab grid layout' flags are permanently disabled (with update version 90), one will be able to access them temporarily. Here's how:
These flags are set to expire in Chrome 90. After that you can access them temporarily by setting chrome://flags/#temporary-unexpire-flags-m90 until they're removed permanently.
Update 11 (March 26)
What if Google Chrome was fully customizable and experimental features like Reading List and Tab Groups were all under user control even when they hit stable? Let us know your thoughts by voting on this poll.
Update 12 (April 06)
In case you wish to disable tab grouping and bottom favicon bar, keeping the new tab grid layout intact, in the flags, set Tab Grid Layout to "Enabled."
In the flag search box in Experiments, type "Enable conditional tabstrip," and select "Disabled" in the drop-down menu. Relaunch chrome a couple of times for the change to be implemented.
Update 13 (April 15)
Going by the latest user reports, Tab groups/tiled-view is back for some, despite disabling them in the flags. But at least according to some of the affected, the workarounds shared in update 9 section of this article resolved the issue for them.
So those of you facing the problem can give it a shot.
Update 14 (April 16)
For those of you who are facing the issue wherein the disabled Tab groups/grid view is back again despite the flag showing it Disabled, here are a few user-shared workarounds you can try:
Set "Tab Groups" to Disabled.

chrome://flags/#enable-tab-groups

Then force stop the app and reopen.
Disable Grid layout AND tab groups, relaunch the browser then restart your device. Fixed it for me!
In chrome "Settings" "Accessibility"

"Simplified view for open tabs"
I went into flags, searched for anything tab grid related and disables them all (not sure if that helped) because nothing changed. Then I cleared cache and the "free space" storage. When I restarted chrome after that, bye bye dumb tabs!
Update 15 (April 17)
Going by reports, the latest update (version 90) may be to blame for re-enabling the feature despite it disabled in the flags.
So all you need to do is enable chrome://flags/#temporary-unexpire-flags-m89 and chrome://flags/#temporary-unexpire-flags-m88. Here's how a user has explained this:
Your Chrome probably got updated to v90, that's why the flags aren't working anymore.

You can enable them again by going to chrome://flags/#temporary-unexpire-flags-m89 and chrome://flags/#temporary-unexpire-flags-m88 and enable both of them.

Now your flags will work again. Just tested on a updated v90 Chrome
While another user suggests:
Chrome://flags

Set it up like this

Temporarily unexpire m88 flags: enabled

Tab grid layout: disabled

Tab groups: disabled

Tab groups continuation: disabled

Tab switcher on return: disabled

Enable tab-to-GTS animation : disabled

RESTART PHONE
PiunikaWeb started purely as an investigative tech journalism website with a main focus on 'breaking' or 'exclusive' news. In no time, our stories got picked up by the likes of Forbes, Fox News, Gizmodo, TechCrunch, Engadget, The Verge, MacRumors, and many others. Want to know more about us? Head here.