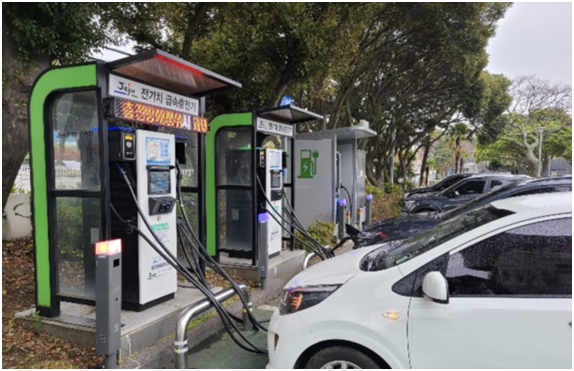 The South Korean government has decided to lower the price of an electric vehicle by at least 10 million won by 2025. In addition, it is planning to introduce electric vehicle battery lease so that electric vehicle buyers' initial purchase cost can be halved.
The electric vehicle price cut is slated to be based on dedicated platform development and domestic battery material development. In the case of passenger cars, Hyundai Motor Group's dedicated platform E-GMP is already being applied to the IONIQ 5. The government is going to support the same development for electric trucks and buses.
The battery lease will be applied to electric taxis and trucks and pilot projects to that end will be launched this year before the same projects for hydrogen buses in 2022. At the same time, the government is considering extending the green car tax benefits scheduled to expire in December this year. Also, the government is planning to maintain at least some subsidies even after the electric vehicle price cut by 2025.
A person who purchases an electric vehicle this year can receive a subsidy of up to 19 million won from the central government and a local government. It is up to 37.5 million won in the case of hydrogen vehicles. The subsidies for mini trucks and taxis are larger. However, the subsidy is zero for an electric vehicle priced at 90 million won or more and a 50 percent subsidy is applied to an electric vehicle priced at 60 million won or more and less than 90 million won.
The government is planning to increase the number of green cars on the road to 2.83 million by 2025. To this end, public vehicles will be replaced with green cars, car rental companies and major enterprises will be given purchase targets and incentives will be expanded for business vehicles.
For the purpose of electric vehicle charging infrastructure expansion, existing as well as new buildings will be required to be equipped with chargers. This is to raise the charger-to-electric vehicle ratio to at least 50 percent. In addition, 123 or more ultra-rapid chargers will be installed so that 300 kilometers can be covered after charging for 20 minutes.
When it comes to hydrogen vehicle charging systems, 450 units will be installed by 2025 so that at least one of them can be reached within 30 minutes from anywhere. This year alone, 51 and 180 units will be installed in Seoul and Gyeonggi, respectively.
The government's plans also include electric and hydrogen vehicle innovation for reaching a maximum driving range of at least 600 km and 800 km, respectively. The fuel efficiency of electric vehicles will be improved by at least 15 percent and the durability of hydrogen vehicles will be improved to 500,000 kilometers or more. Safety-enhanced all-solid-state batteries will be put to commercial use and liquefied hydrogen vehicles will be developed to reach a driving range of 1,000 kilometers. A total of 500 auto parts manufacturers will be turned into future car-related companies based on government assistance.