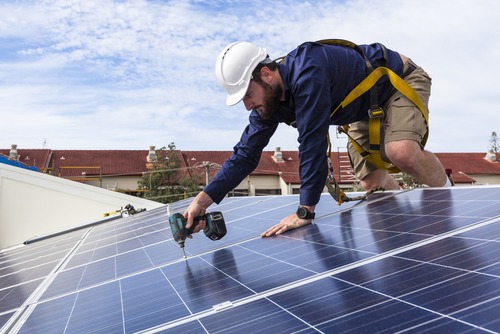 © Shutterstock
Pennsylvania Reps. Jim Marshall (R-Beaver/Butler), House Consumer Affairs Committee Chairman; Rob Matzie (D-Allegheny/Beaver), minority chairman; and Chris Quinn (R-Delaware) Consumer Affairs Committee Secretary, led a public hearing Thursday on solar energy and it impacts in the state.
The hearing, held at the Penn State Brandywine Campus, featured solar industry and energy industry professionals, as well as non-profit organizations heralding solar energy for the state. The legislators took testimony on how solar energy would impact the economic, business and community aspects of the state.
"With solar energy rising in popularity for customers, it is critical to hear how it could benefit the Commonwealth," Marshall said. "Our goal is to gather as much information on technology and energy in order to provide our consumers with reliable energy and reliable information for them to make an informed energy choice."
According to SEIA, more than 786 megawatts of solar energy have been installed in homes across Pennsylvania, making it 22nd in the nation for solar power. Witnesses at the hearing testified that there is enough power installed already to power nearly 97,000 homes in the state.
"I'm on record in favor of an all-in energy portfolio for Pennsylvania," Matzie said. "That includes renewables like solar. This is a great opportunity for members to get information on where we are and what is needed to get to that diverse and, in my judgment, necessary energy mix."
The PA Community Solar Economic Alliance applauded the committee's attention to HB 1555, especially highlighting the bill's ability to generate a $1.8 billion stimulus for the state's economy and provide financial relief for farmers, landowners and consumers.
"This hearing showed there is strong bipartisan interest to take action on solar energy," Quinn said. "Community solar in particular presents an interesting opportunity to leverage private capital to modernize our electric grid and bring cost savings to consumers and businesses."
Community solar projects would allow residents and businesses the option to earn a credit on their electric bill for their portion of power produced. Often installed on underutilized parcels of working farmland, the community solar projects would provide a steady income source for farmers facing continued economic struggle.
"Pennsylvania farmers have been at the mercy of low commodity prices and tough markets for years," said Darrin Youker, director of State Government Affairs for Pennsylvania Farm Bureau, which is a member of the PA Community Solar Economic Alliance. "We're asking the Pennsylvania House of Representatives to support HB 1555 and move it quickly to create new opportunities for farmers to provide for their families and their local communities through new tax revenues."
Currently, the percentage of the Commonwealth's electricity from solar is less than 1 percent, despite a 43 percent price decline over the last five years.